Dir: Tod Browning (Freaks, The Unholy Three)
Source Material: Stage Play "Dracula" by Hamilton Deane and John L. Balderston, which based on the book "Dracula" by Bram Stoker. (
source
)
USA
,
1931
Cast:
Bela Lugosi as Count Dracula
Dwight Frye as Renfield
Helen Chandler as Mina Harker
David Manners as John Harker
Frances Dade as Lucy
Herbert Bunston as Dr. Jack Seward
Edward Van Sloan as Prof. Abraham Van Helsing

Seen
:
April 18, 2009 and August 29, 2009
Reason to Review:
Vampathon: Vampire Film Marathon
* and
101 Films to See
list
I am only recently familiar with this version of
Dracula
, and after seeing other horror of the time period I wasn't expecting too much in terms of scares or atmosphere but it exceeded all expectations and I ended up loving it
back in April
so it was a thrill to revisit it again now.
There are several similarities of this 1931 version to
Nosferatu (1922)
as well as Bram Stoker's Dracula (1992), and even though I've only seen this one twice it really feels like 'the' Dracula. What makes all the difference? Bela Lugosi. Oh my, I loved Bela Lugosi as Dracula with his smooth, suave style that brings together power, charisma and patience. It is a very different spin than the bizarre
Nosferatu
, and lends strongly towards the glamouring aspect of vampires with grace and ability to function in high society. I also really enjoyed the performance by Edward Van Sloan as Prof. Abraham Van Helsing, a character I don't always connect to but in this case he is practical, scientific but also more accessible than other versions I've seen. Through the character of Van Helsing we dip further into vampire lore, often from the perspective of the cutting edge of science. The straight arrow factor shines through and plays out well and provides a natural pace to the explanation of events.
The visual style and art direction are a lot of fun, and although I didn't find the film scary, it holds up in terms of the tone of the film as a whole and give it a lovely theatrical vibe. Although some effects pretty simple in comparison to films now and sometimes used more than once, I never felt it broke me out of the film. In fact, there are several visuals that hold so strong in my mind I can visualize them easily and they range from the ethereal to starkness to great use of scale. Overall they compliment the film watching experience very well.
I did get a little confused over the new interpretations of the Renfield and Harker characters, but they are never my favourites so I let it pass. In this instance, Renfield feels rather random but provides a clever turn serving as The Fool. Mina and Lucy are incorporated well although it didn't feel like they got tons of screen time and nor are they as strong as we've seen them in other interpretations. Dracula certainly seems to like them though!
Overall, this is one of my front runners for favourite vampire films. Classic, compelling, nicely stylized and has an air of elegance. It certainly set the tone and images for films to come, along with setting the bar high.
Shannon's Overall View:
I loved it
I own it
I recommend it fans of vampire films, classic films and classic horror
Return to Film Reviews
, See all
Vampire Film Reviews
© Shannon Ridler, 2009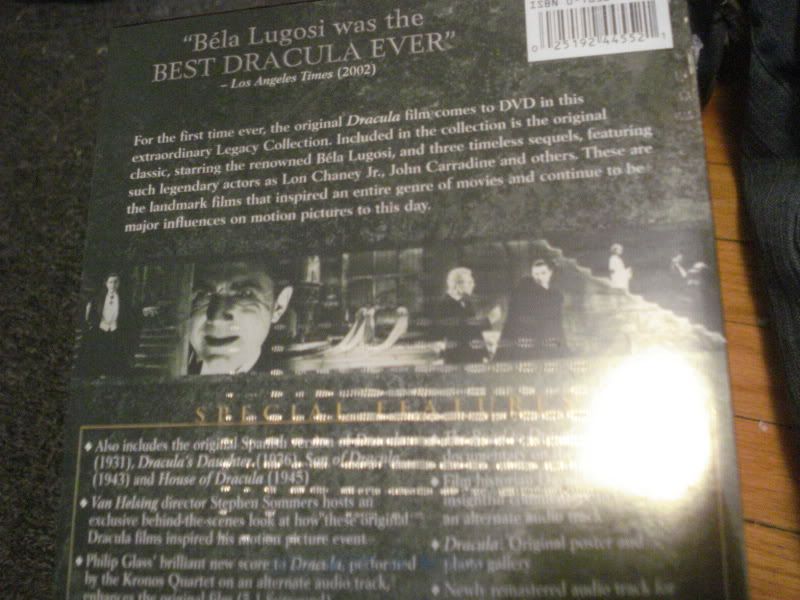 *
Vampathon
is a 16 week marathon explore vampire films from
Nosferatu (1922)
up to the upcoming release of
The Twilight Saga: New Moon