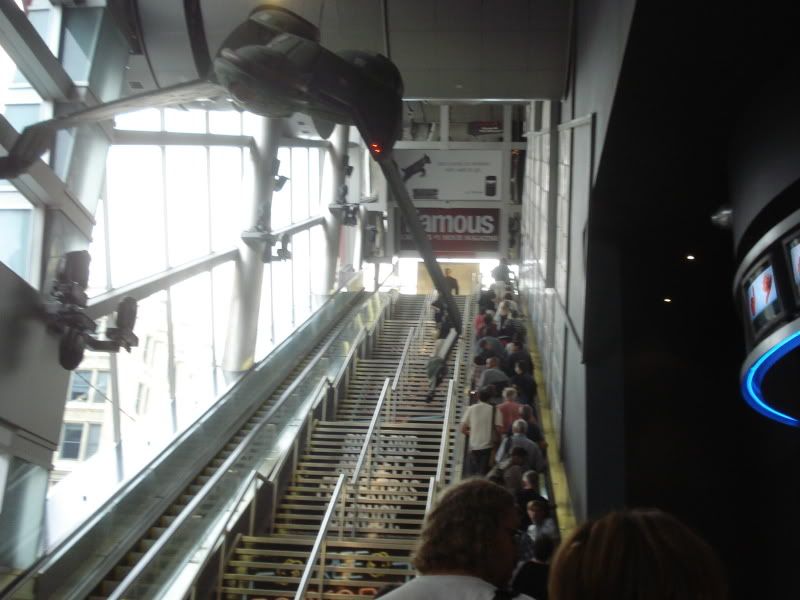 The hordes of folks at Scotiabank for the free
Antichrist
videoconference early Friday morning
There was something a little different in the air tonight that I couldn't peg down right away. Everyone looked pretty sparkled up. Then, it hit me that it was Friday night. Funny, to me it's just "TIFF Day 2" and the day of the week is almost irrelevant!
Along with the regular preshow promo reels this year they have added clips from Canadian films and events for 175 Years of Celebrating Toronto. I'm surprized they don't just use the term itself:
Demisemiseptcentennial
it just rolls off the tongue! However, I could see it being confused as it sounds like some kind of petite housing.
To hear all about Day 2 check out my
TIFF'09 Vlog for Day 2
.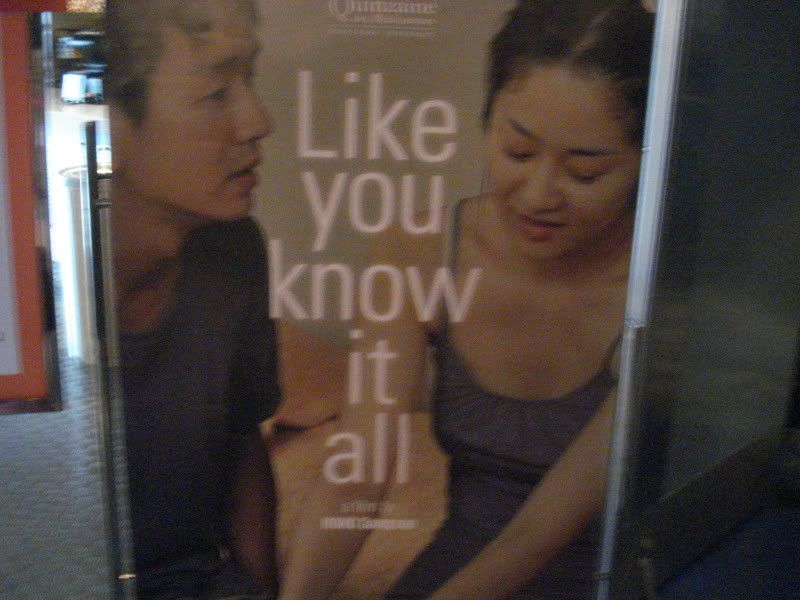 Like You Know It All / Jal Alijido Motamyunseo
Dir: Hong Sang-soo
Cast: Kim Tae-woo, Ko Hyun-jung, Uhm Ji-won
South Korea
I feels perfectly fitting to see, this film following a film director from event to event, at a film festival. The main character goes about life with very little preparation or direction but rather makes appearances at various events and seems to just let things happen. We start to see the results of between being easy going, and easily swayed and often those results are disastrous. This also allows for many socially awkward situations that often prove to be extremely effective comedy as well as serving as a gentle message that not making an outward effort leaves only the option of accepting offers from others. When the film was introduced to the audience, it was noted that the director was not in attendance and considering the film that might be ok. I would hva been very curious to hear what questions would have been asked at that Q&A!
Face / Visage
Writer/Dir: Tsai Ming-liang (Vive l'amour, The River, What Time is it There?)
Cast: Fanny Ardant, Laetita Casta, Jean-Pierre Léaud, Lee Kang-Sheng, Lu Yi-Ching
Belgium
/
France
/
The Netherlands
/
Taiwan
As I mentioned in my
vlog
when discussing this film I was initially enjoying this film for interesting vignette after vignette, but because slightly confused with a narrative started to show up, and the program book confirms that it is a narrative film. It's not often I can't follow a film, but in this one I found myself a little lost on the story and slightly disinterested as many of the characters were not very likable and I felt that there was a certain amount of film vocabulary necessary to understand all the references. However, the imagery used was absolutely astonishing and ranged from providing moments of pure beauty to fun musical numbers to playing with reflections. One of the most accomplished traits was the ability it had for making the viewer continually reassess and redefine what the the focus was intended to be at given points in the film which made watching it a strongly interactive experience.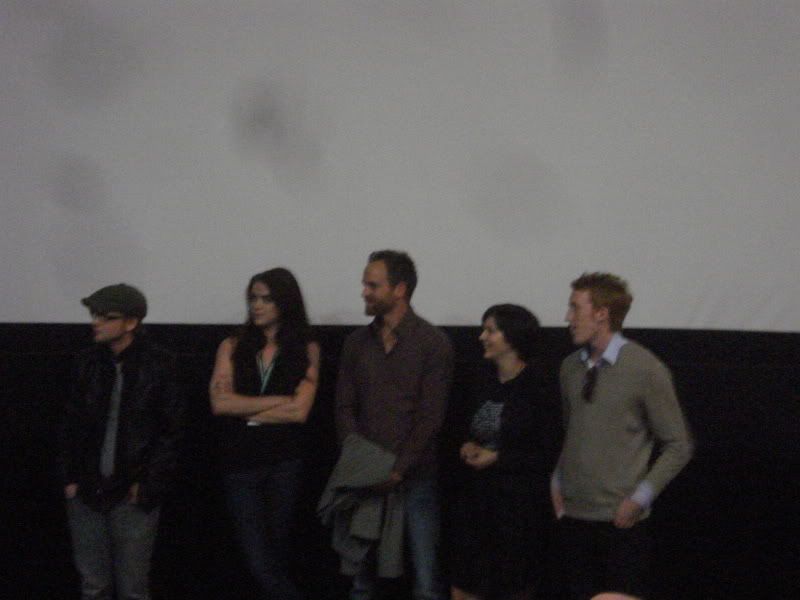 The Wild Hunt
cast (left to right) Ricky Mabe, Tiio Horn, Trevor Hayes, Claudia Jurt, Kyle Gatehouse
The Wild Hunt
Dir: Alexandre Franchi
Cast: Mark A. Krupa, Ricky Mabe, Tiio Horn, Trevor Hayes, Nicolas Wright, Terry Simpson, Claudia Jurt
Canada
Always interested in films that feature some aspect of gaming, The Wild Hunt having a focus on when the world of LARPing (Live Action Role Playing) and the real world collide, was a must see for me this year at the festival. As a study of human nature, societal interaction and personalities in the differences between a 'real' and 'fictional' environment, the film beings up many questions. In particular the examination of dealing with reality vs roleplaying and also roles in general along with wish fulfilment. I won't deny that this brought up complex moments, particularly when it came to gender dynamics but often had to step back after asking if at that moment everyone involved was getting or receiving exactly what they wanted. I enjoyed that it showed characters that had different intensity levels in the game, from the occasional player to die hards to people that just want to play. The film provides us with a huge amount of tension, often when the lines between the two worlds blur and you wonder if people are still thinking its a game The tension worked very well a lot of the time, but when it was held for a long period of time it felt too harsh because you find yourself actually worrying for the characters, perhaps because of the blur between the two worlds we feel so close to the characters.
The film was introduced as highly quotable, I have to say that I agree with that through and though and have had many of the lines running through my head since viewing. Comedy brightens the film through the enthusiasm of the players for when the game is played really well which gave a beautiful self awareness of the characters in their roleplaying world. The sets and costumes are fantastic, giving us a real taste of this world. The performances were strong, in particular from Mark A. Krupa as the LARPing immersed Bjorn and Trevor Hayes as the charismatic shaman Murtagh.
See selections from
The Wild Hunt

Introduction and Q&A with Alexandre Franchi, Mark A. Krupa, Kyle Gatehouse and Ricky Mabe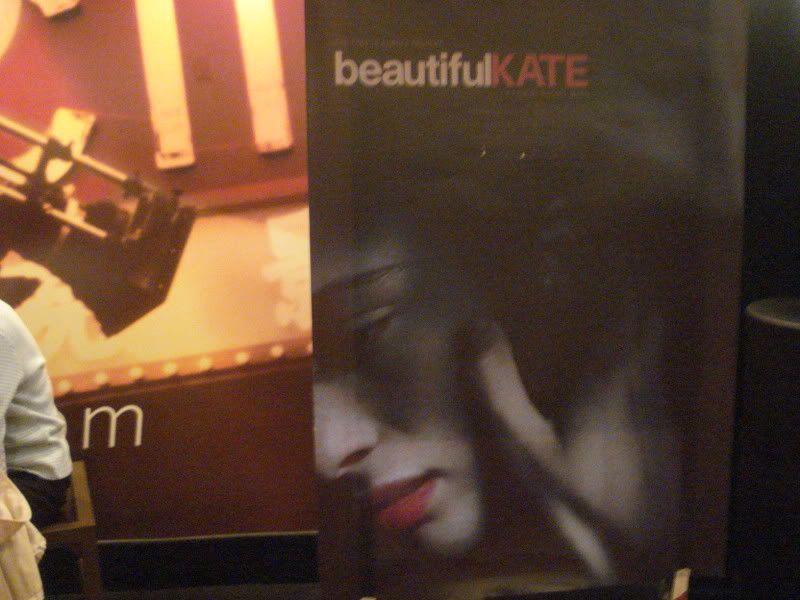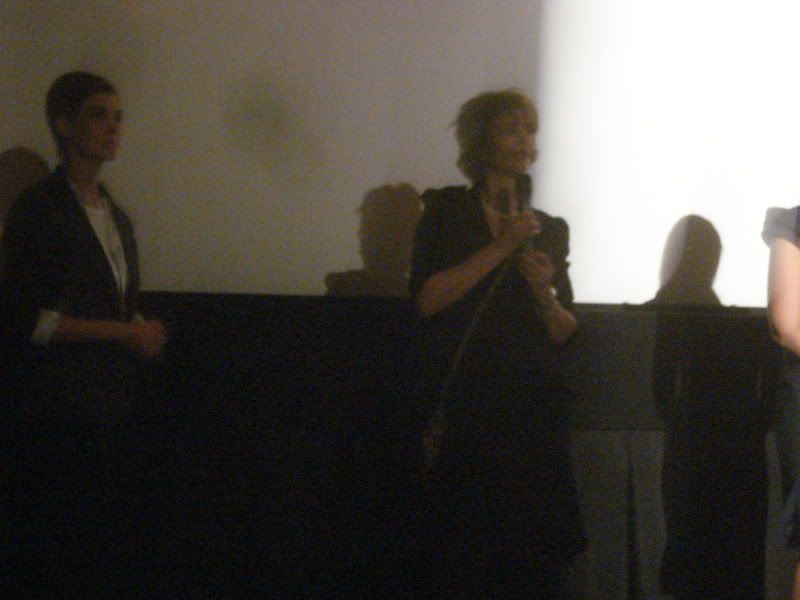 Beautiful Kate
director Rachel Ward (right)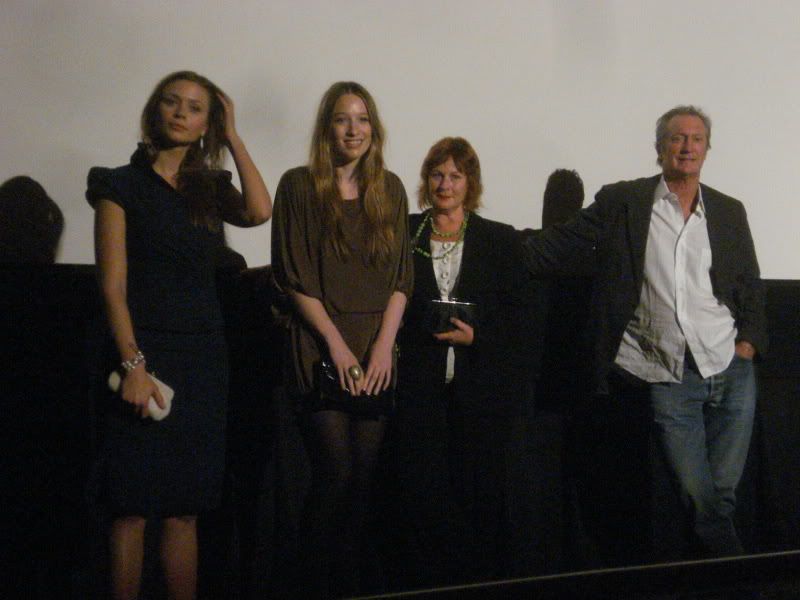 Beautiful Kate
cast & crew: Maeve Dermody, Sophie Lowe, Leah Churchill Brown and Bryan Brown

Beautiful Kate
Dir: Rachel Ward
Cast: Bryan Brown, Ben Mendelsohn, Rachel Griffiths, Maeve Dermody, Sophie Lowe, Scott O'Donnell
Australia
Beautiful Kate is a compelling film that is set in an isolated part of Australia and shows a reluctant reunion between members of a family that has been broken through tragedy in their past. Strong performances by Ben Mendlsohn and Sophie Lowe are a strong highlight in the drama that unfolds at a uniquely graceful pace. Relationships and memory are as key as the emotional journey for the characters and the audience.
See selections from the
Beautiful Kate

Introduction and Q&A with Rachel Ward, Maeve Dermody, Sophie Lowe & Bryan Brown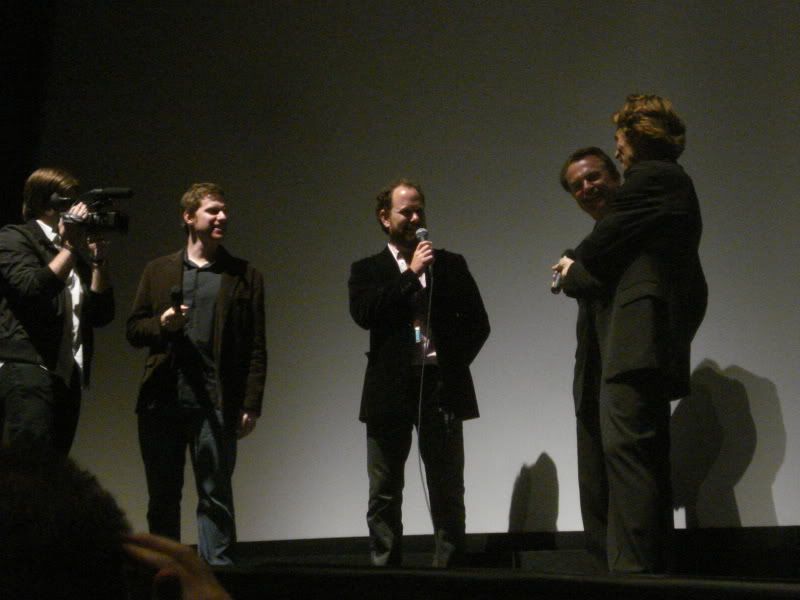 Daybreakers
directors The Spierig Brothers, Midnight Madness Programmer Colin Geddes, actors Sam Neill and Willem Dafoe
Daybreakers
Dir: Michael & Peter Spierig (Undead)
Cast: Ethan Hawke, Willem Dafoe, Claudia Karvan, Isabel Lucas, Sam Neill
Australia
/
USA
It's always fun to attend films in the Midnight Madness programme, it's late, people are enthusiastic and you know you are in for one hell of a ride. Daybreakers delivers on all counts, as a straight up action flick it brings us interesting characters, bucketloads of blood and cool cars. All that and a vampire film to boot. It's a new spin on the vampire genre, coming from the point of view a world populated by vampires and therefore the possibility of a 'food' shortage. The world it creates is very interesting and strongly structured, almost giving a feeling of martial law highlighting the limitations as opposed to strengths of a vampire and the undeadly disasters if precautions are not taken. Moral dilemmas are present and serve well, but I think we are really there for the action and the blood. Bring it on!
See selections from the
Daybreakers

introduction and Q&A with Michael & Peter Spierig, Willem Dafoe & Sam Neill
Daybreakers
directors The Spierig Brothers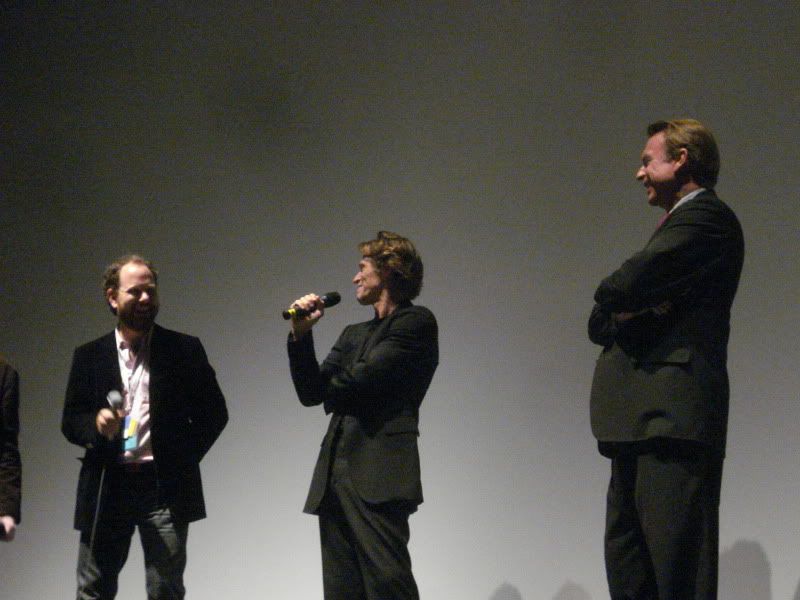 Midnight Madness Programmer Colin Geddes,
Daybreakers
cast Willem Dafoe and Sam Neill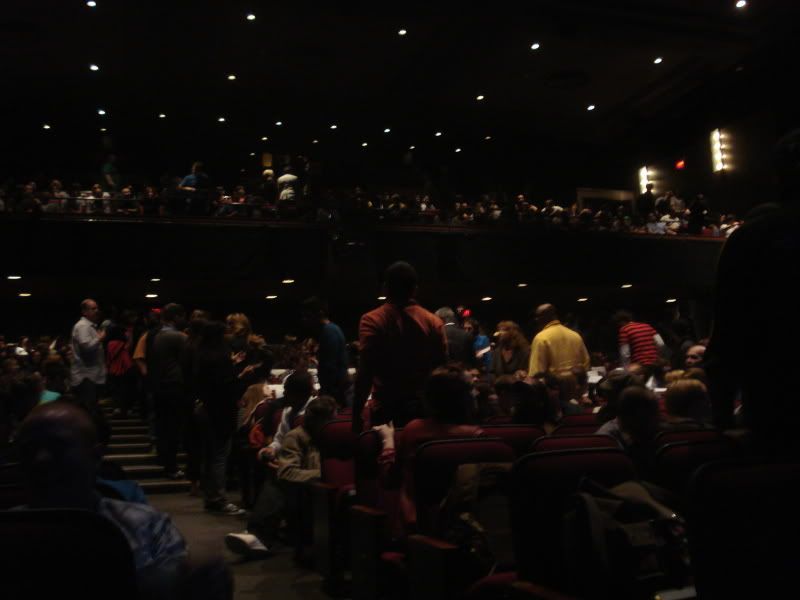 Massive audience for
Daybreakers
at Ryerson - were you there?
The
Toronto International Film Festival
runs from September 10 - 19, 2009 in Toronto, Ontario, Canada.