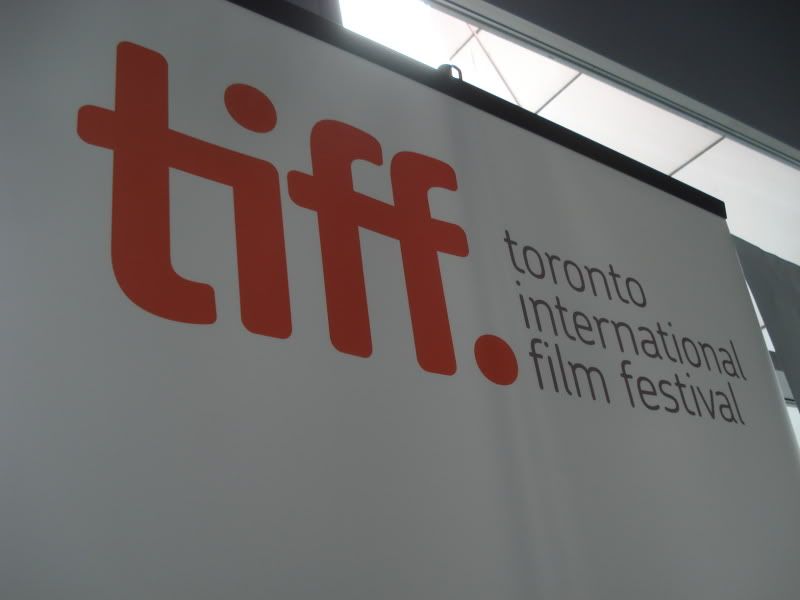 Day four was a day of extremely long lines queueing and curling around everywhere, most I avoided but wow it shows the difference in the volume of people that come out on the weekends. There were also random zombies about for the zombie walk and celebrating George. A Romero newly Canadian citizenship. Saturday was also the night of the Mystery TIFF Screening, which was
Making Plans for Lena / Non ma fille, tu n'iras pas danser
from director Christophe Honoré. Thank you to
MattMovies on Twitter
for confirmation of the film!
To hear all about Day 3 check out my
TIFF'09 Vlog for Day 3
.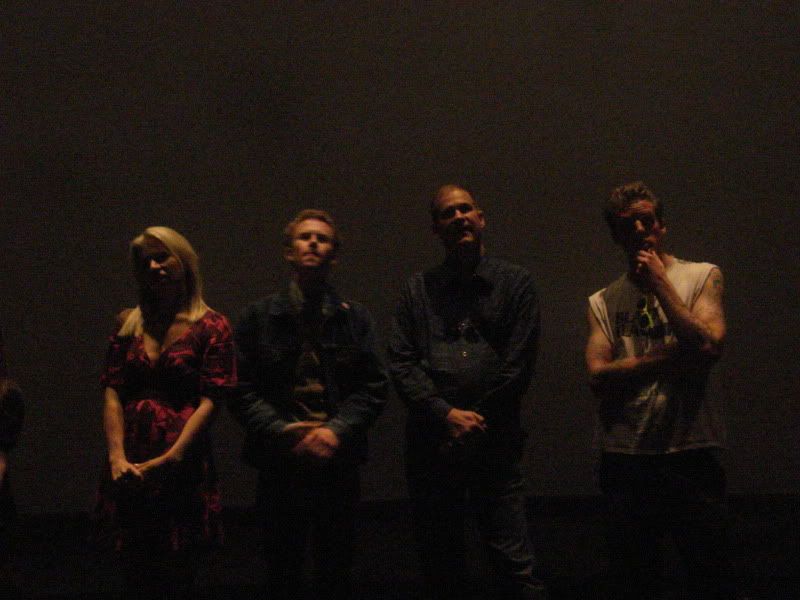 Year of the Carnivore cast & crew
Year of the Carnivore
Dir: Sook-Yin Lee (
Toronto Stories
)
Cast: Cristin Milioti, Mark Rendall, Kevin McDonald, Sheila McCarthy, Will Sasso
Canada
I was really excited to see
Year of the Carnivore
, Sook-Yin Lee's feature film directorial debut (
Toronto Stories
) and the film opened the Canada First! programme this year at TIFF. The film follows an adult woman who is openly naïve about sex and decides to follow advice to gain more experience by using a very direct approach. This lacking on to any advice given word for word allows many comedic opportunities, often to rather awkward results. It is also a journey in identity and shows us that sometimes the clearest way to find ourselves is by acknowledging who we aren't as much as who we are.
See selections from the
Year of the Carnivore

Introduction and Q&A with Sook-Yin Lee, cast & crew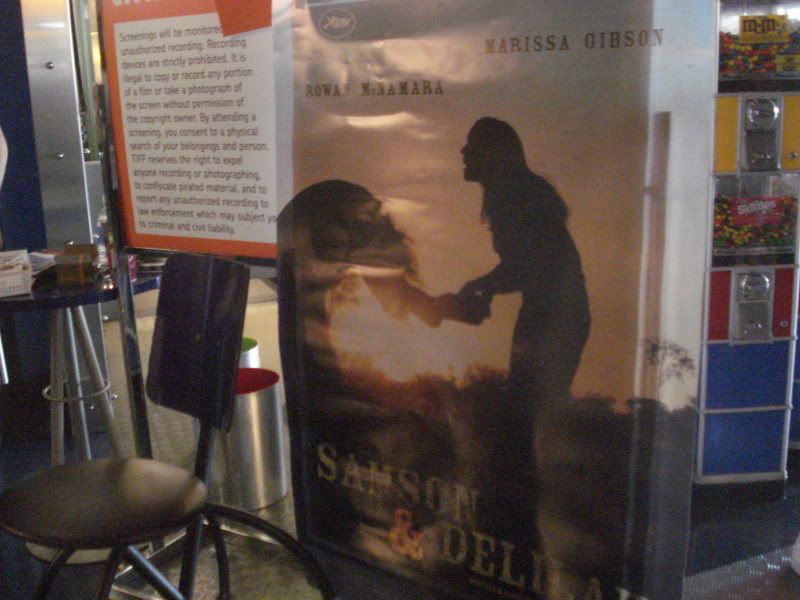 Samson & Delilah
Dir: Warwick Thornton
Cast: Rowan McNamara, Marissa Gibson, Mitjili Gibson
Australia
My first reaction this this film was that it sits us in a harsh world. The isolation, limited choices and zero opportunity are some of the harsh factors that brings our two protagonists Samson & Delilah together reluctantly as outcasts. I found this film a little hard to watch as the theme of hopelessness is so strong, and it was hard to watch such awful things happen to people who really don't deserve it. Does it tell an important story? Absolutely, but it was a pretty painful story. It did outline one of my favourite themes though, the theme of choice - no matter what the situation we still do have choice over out own actions and responses.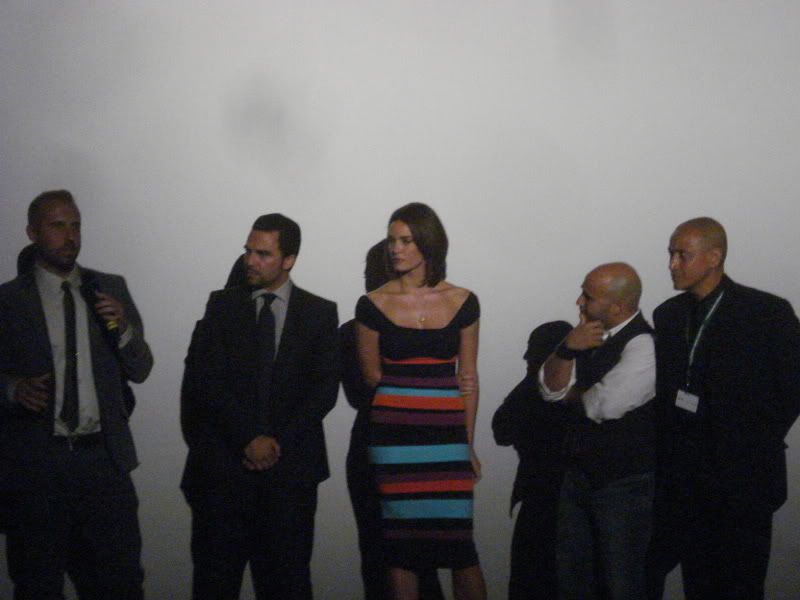 La Soga director Josh Crook, writer/actor Manny Perez and cast Denise Quiñones, Juan Fernandez (far right)
La Soga
Dir: Josh Crook
Cast: Manny Perez, Denise Quiñones, Juan Fernandez, Paul Calderon, Fantino Fernandez
Dominican Republic
/
USA
La Soga was one of the films I was a little hesitant on seeing, due to the violent nature involved but I am so glad I took the chance at is it the best film I have seen at the festival so far.
After contemplating the film, I originally thought it was about characters with moral ambiguity, but it is the complete opposite. Almost all the characters morals in the film has a very strict morals, it is just that you may or may not agree with them. This is the films strength is that it highlights so clearly the reasonings behind the choices made which can lead to a life that you would not expect nor wish for anyone. The story and history unravels itself at a beautiful pace keeping us while always keeping the characters close to your heart, even as the crime world and order world show remarkable parallels. Given the dangerous world in which it is set, we see a fair amount of violence, vengeance and chases which are never glorified but always intense. The score and music in the film is fantastic. The real tipping point is the breathtaking performance by writer/actor/co-producer Manny Perez as La Soga, who skillfully draws us in further and further into his life and the dark world that surrounds and envelops him.
See selections from
La Soga

Introduction and Q&A with Josh Crook, Manny Perez, Denise Quiñones & Juan Fernande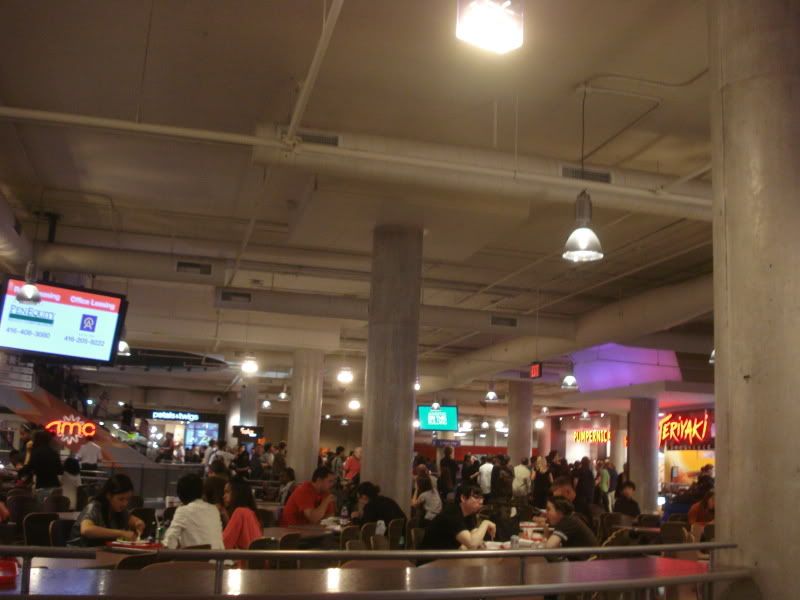 Crazy lines swerved all around the AMC 3rd floor
The
Tor
onto International Film Festival
runs from September 10 - 19, 2009 in Toronto, Ontario, Canada.