The Road
line swiftly moves into the theatre
Day 5 was a short & sweet day with only attending 2 screenings and the films are oddly similar with
George A. Romero's Survival of the Dead
and
The Road
. Both are have the strong theme of survival, but go about it very different ways.
To see and hear all about Day 5 check out my
TIFF'09 Vlog for Day 5
.
George A. Romero's Survival of the Dead
Dir: George A. Romero (Night of the Living Dead,
George A. Romero's Diary of the Dead
)
Cast: Alan Van Sprang, Kenneth Walsh, Devon Bostick, Richard Fitzpatrick, Kathleen Munroe
Canada
I love a good zombie movie in the afternoon. Even though I'm sure it isn't as hyper as seeing it at midnight would have been, it's still a great way to relax, have fun and cheer for the slow-walking, non-talking, brain-eating undead.
Survival of the Dead
picks up a tangent story from
Diary of the Dead
, and leads us is a strangely Western direction - but it totally works! It pulls out a lot of genre recognition laughs that add to the mix of zombie goodness from fun effects to crazy kills and everything in between.
See selections from
George A. Romero's Survival of the Dead

introduction by Colin Geddes
See also:

George A. Romero's Survival of the Dead
DVD Review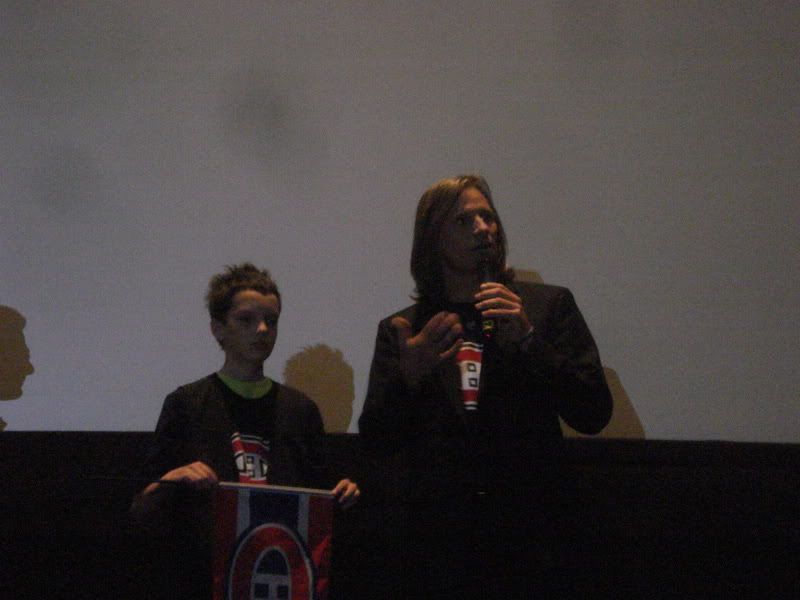 The Road actors Kodi Smit-McPhee and Viggo Mortensen
The Road
Dir: John Hillcoat (
The Proposition
)
Cast: Viggo Mortensen, Kodi Smit-McPhee, Charlize Theron, Robert Duvall, Guy Pearce
USA
The screening of
The Road
certainly felt like the place to be - I ran into so many people there and ironically I never thought I would get a ticket for this screening! I read the novel on which it is based by Cormac McCarthy and was completely absorbed by the post apocalyptic world, the journey and relationship between the characters. When images starting appear for the film I was impressed by how spot on the world was in relation to the book. Visually, it is stunning in a open and very harsh way and the performances by both Viggo Mortensen and Kodi Smit-McPhee are very strong. One of the thing that was unique about the book was that it was sparse and ambiguous, but the film adaptation filled in a lot that was left blank in the book which I didn't think was necessary but did create a more accessible an emotional story. I expect it will be very well received not only at the festival but during its upcoming theatrical release as well.
See selections from
The Road

introduction with Kodi Smit-McPhee and Viggo Mortensen
The
Toronto International Film Festival
runs from September 10 - 19, 2009 in Toronto, Ontario, Canada.