Day 9 was a day of running around from theatre to theatre, starting the day off at Scotiabank and after watching the film I realized that was the last time I would be there for TIFF in 2009. It's funny, originally I was a little miffed that almost every day would start at Scotiabank, but eventually it because a pleasant ritual. Funny how that happens. Midmorning I scooted over to Ryerson for a double bill there, then headed off to Varsity to meet
my sister Jamie
and finish off another double bill there. All in all a great day!
To see and hear all about Day 9 check out my
TIFF'09 Vlog for Day 9
.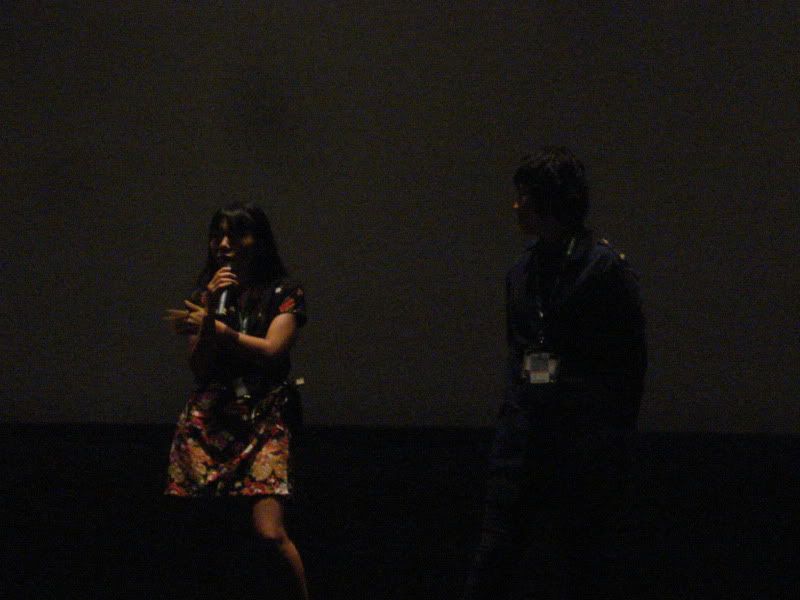 She, A Chinese director Guo Xialo with TIFF Staff Vicci Ho
She, A Chinese
Dir: Guo Xiaolu (The Concrete Revolution, How Is Your Fish Today?)
Cast: Huang Lu, Wei Yi Bo, Geoffrey Hutchings, Chris Ryman
UK
/
France
/
Germany
Fascinating personal journey told in a chapter style method with a beautiful and understated performance from Huang Lu. It took me a while to get used to the unique storytelling style, as new scenes didn't initially explain how we got to where we were, but once you relax into it and just accept it I started to really enjoy it. It was fascinating to see Mei's journey through life and her chance encounters, strong subtle will and choices. It wasn't always easy, in fact it was never easy but it showed her strength and persistence.
See selections from
She, A Chinese

Q&A with Guo Xialo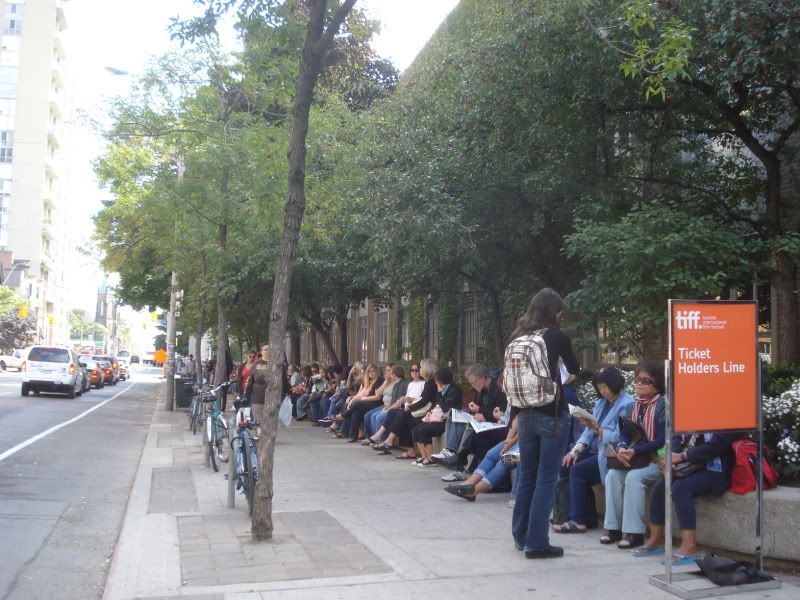 Big line at the Ryerson for the afternoon screening of
Whip It
Whip It
Dir: Drew Barrymore
Cast: Ellen Page, Marcia Gay Harden, Kristen Wiig, Drew Barrymore, Juliette Lewis, Alia Shawcat, Eve, Zoe Bell, Jimmy Fallon, Daniel Stern
USA
I rarely choose films at TIFF that are soon to be released theatrically (Oct 2/09), but I couldn't pass up the opportunity to see the directorial debut from Drew Barrymore based on the
Shauna Cross novel
about a misfit played by Ellen Page who joins a roller derby league in Texas. Who would want to wait a second more than they had to before seeing this? Not me! The film was all I had hoped for and more. The story is great and the characters are fantastic, Ellen Page is perfectly cast as the slightly awkward Bliss who tentatively steps out from her conservative world into the smash up crazyland of roller derby. It's a beautiful blend of comedy and drama making us laugh as well as cry, with characters whose relationships are touching and strikingly believable. Marcia Gay Harden as Bliss' Mom give a fantastic performance as does the stellar Juliette Lewis as Iron Maven. The roller derby scenes are awesome and you can't help but cheer along which is easy to do given the fantastic soundtrack. One hell of a good time.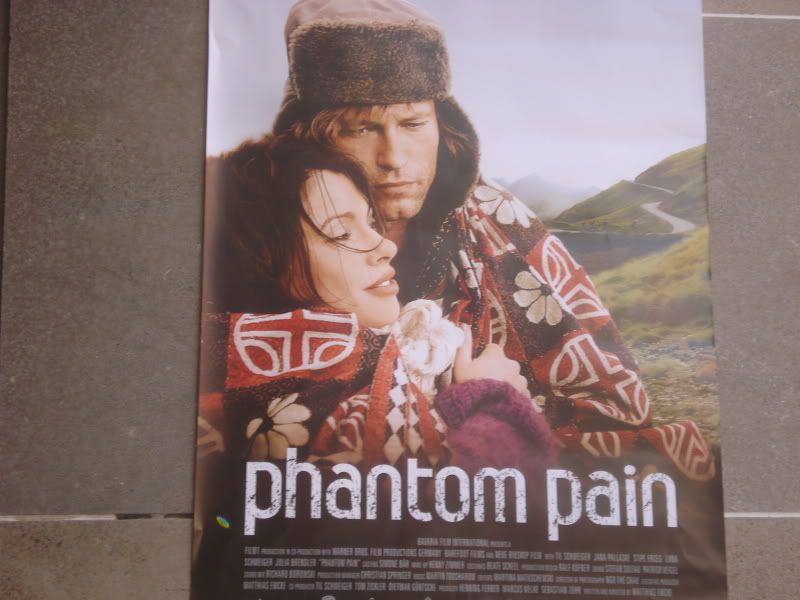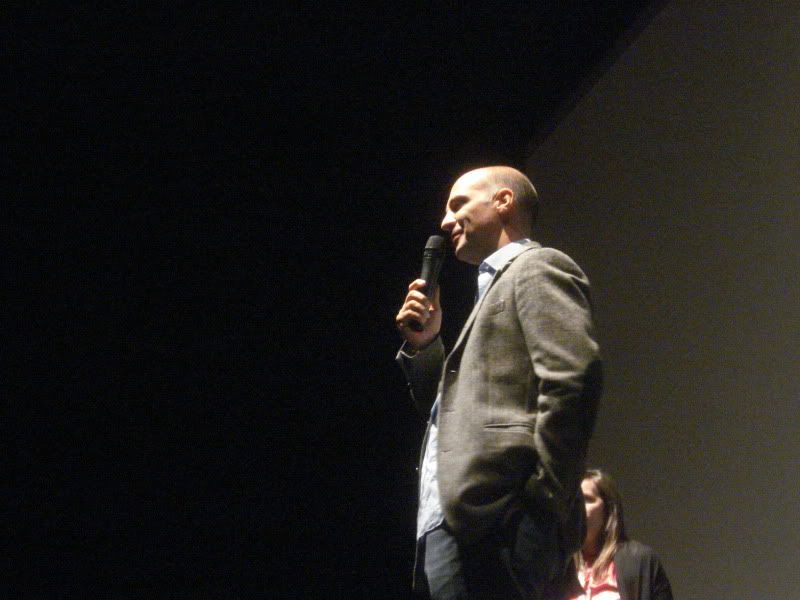 Phantom Pain director Matthais Emcke
Phantom Pain / Phantomschmerz
Dir: Matthais Emcke
Cast: Til Schweiger, Jana Pallaske, Stipe Erceg, Luna Schweiger, Julia Brendler
Germany
It was wild to see a German film, in German, with German actors that was inspired by the story of Canadian Steven Sumner. That kind of blew me away when they introduced the film but I like how it shows that personal stories are international and can be shared around the world. This film does just that by showing us the personal journey of a man whose life changes drastically after an accident. The title tells us this as Phantom Pain refers to the still felt pain after the loss of a limb. The film is subtle in showing us the synchronicity of life even at times when things are really tough. The film features fantastic performances not only by the phenomenal Til Schweiger, but also Stipe Erceg who plays Mark's loyal friend Alex.
See selections from
Phantom Pain

Introduction and Q&A with director Matthais Emcke
Varsity Line for evening shows
Timetrip: The Curse of the Viking Witch / Vølvens Forbandelse
Dir: Mogens Hagedorn
Cast: Jonas Wandschneider, Clara Maria Bahamondes, Jakob Cedergren, Stine Stengade
Denmark
I think for this year forward I will make a point of picking a Sprokets film to see at the festival, I started last year with
The Secret of Moonacre
and here again with
Timetrip: The Curse of the Viking Witch
. Not only was watching this kids film with a packed house a fun experience, but the film was fantastic! We have time travel, vikings, witches to start and add to that great characters including a touching brother/sister relationship. It was possibly the funnest film I saw at the festival. I have to admit that I've never seen a kid's flick that had so much swearing in it but that might be a uniquely Canadian perspective.
The Good Heart
Dir: Dagur Kári (Dark Horse)
Cast: Brian Cox, Paul Dano, Isild Le Besco
Iceland
/
France
/
Denmark
/
Germany
Nothing like ending the night off with a really dark comedy. Brian Cox, whom now seems to always be referred to "The Great Brian Cox" and rightfully so, stars as Jacques, a grumpy man but a man with a plan. Randomly enter Paul Dano as Lucas, the sweet natured homeless man and you can't have two more opposite characters. A bizarre friendship begins to brew and we are along for the ride through all their ups and downs. A beautiful supporting cast round enriches the world and entertains us to boot. An fascinating exploration of chance and choice,
The Good Heart
was a happy surprize.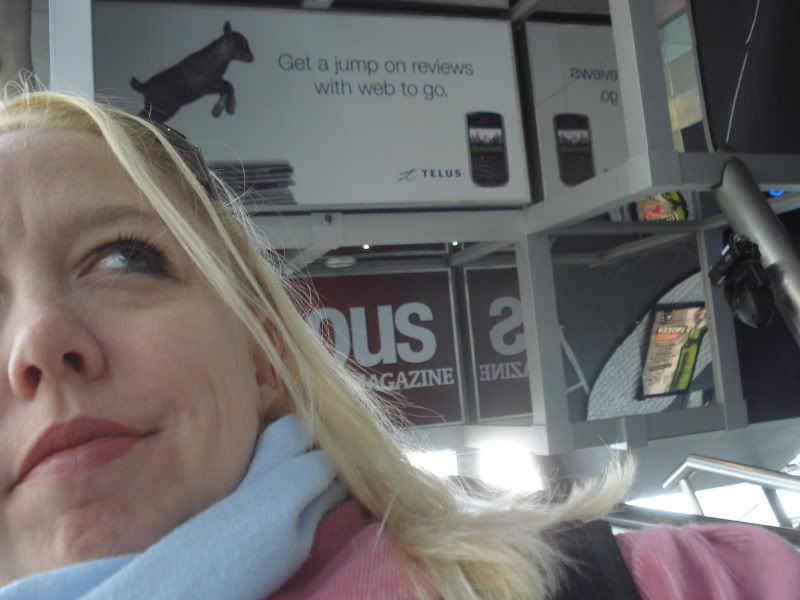 Descending Scotiabank escalator for the last time this festival
The
Toronto International Film Festival
runs from September 10 - 19, 2009 in Toronto, Ontario, Canada.