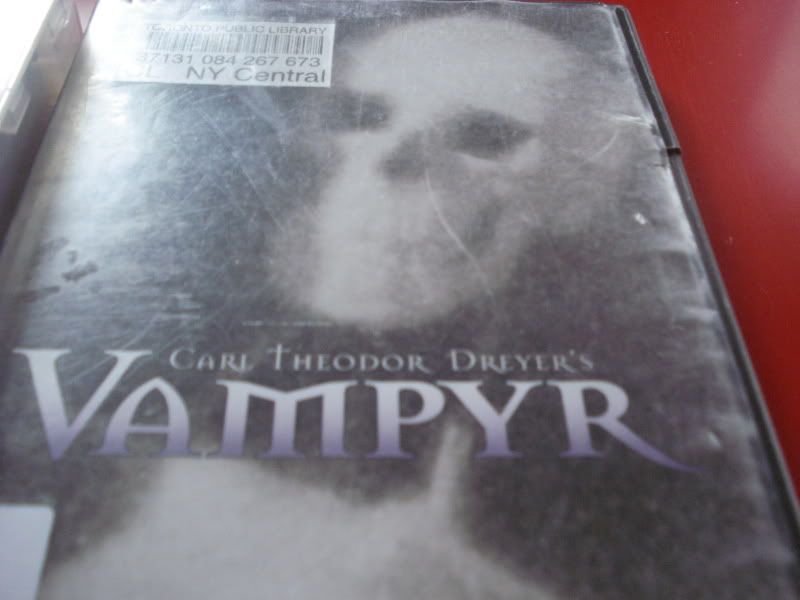 Dir: Carl Theodor Dreyer (The Passion of Joan of Arc)
Source Material: the novel "In a Glass Darkly" by Sheridan Le Fanu
Cast: Julian West, Maurice Schultz, Rena Mandel, Sybille Schmitz
France
/
Germany
,
1932
Seen:
August 29, 2009
Reason to Review:
Vampathon: Vampire Film Marathon
*
Vampyr
was quite a hidden gem for me, I had ordered it from the library thinking it was
Nosferatu (1922)
, which I had already seen but wanted to get a look at in a different format. Then I realized it was a completely different film by Carl Theodor Dreyer (The Passion of Joan of Arc) no less! Add to that it's a different story than Dracula. I was already over the moon as I sat down to watch it and low and behold it turns out to be a fantastic, textural and unique brand of vampire films. I was one happy camper.
Even though film in a time close to
Dracula

(1931)
, Vampry has a completely different feel and story. It's textual feel heightens the tone of the film, which in essence could be seen as a drama/thriller but as it's fuzzy and blurry it enhances it add a creepy edge. The main character Allan Gray is curious at heart and the his adventure reads like a supernatural travelogue. Quite the find, I'm thrilled that there is a
Criterion edition
of the film. It's one for the wish list.
Shannon's Overall View:
I loved it
I'll watch it again
I'd recommend to fans of classic, vampire and textural films
Return to Film Reviews
, See all
Vampire Film Reviews
© Shannon Ridler, 2009
*
Vampathon
is a 16 week marathon explore vampire films from
Nosferatu (1922)
up to the upcoming release of
The Twilight Saga: New Moon