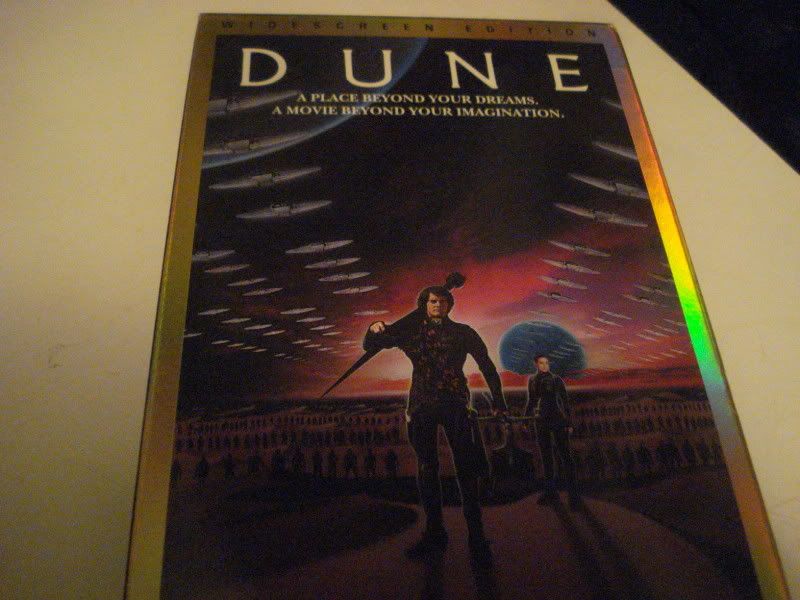 Dir: David Lynch (Inland Empire, Mulholland Dr., Blue Velvet)
Cast: Kyle MacLachlan, Jürgen Prochnow, Francesca Annis, Kenneth McMillan, Virginia Madsen, Sean Young, Patrick Stewart, Sting, Linda Hunt, Brad Dourif, Max von Sydow, Dean Stockwell
USA
,
1984
Originally Seen:
At home, sometime in the
80's
Revisited:
October 18, 2009 on VHS! (Original 127 minutes version)
Reason to see:
Revisiting it for
It Used to Scare Me Tuesdays
This is a less traditional choice for
It Used to Scare Me Tuesdays
(I've only done 2 so far - but that's enough to set a tradition up, no?) as it is science fiction and not horror and I don't think many people would consider it scary. But, I remember viscerally reacting to the film and being completely freaked out, yet barely remember what it was about except 'The Spice', the hovering/flying guy and the fact that Sting was in it. The moment I looked it up and saw it was directed by David Lynch, it started to fall into place why it would be scary as the atmosphere and tone could really come into play.
Revisiting
Dune
was easy, as for some bizarre reason I own it on VHS. It wasn't long before I realized why I couldn't remember that plot in detail as we quickly are drawn into a whole other world with governments, planets, families and power systems. I could barely keep everything straight this time and you can feel that the film has a weighty task of condensing the world of the book therefore uses the tactic to introduce, clarify and sum up key points using voice overs throughout the film.
Dune
has a lot going for it, the huge world and epic power struggle are obvious highlights but what I found more interesting than the plot or setting was the design of the world and the actors. And I say actors intentionally as I didn't connect to many of the characters, but it sure was a treat to see performances by Jürgen Prochnow (Das Boot, The Seventh Sign), Dean Stockwell ("Quantum Leap", "Battlestar Galactica"), Patrick Stewart ("Star Trek: The Next Generation"), Linda Hunt (The Year of Living Dangerously), Brad Dourif ("Star Trek: Voyager") and of course Sting. I didn't even realize until after the fact that that the main character Paul Atreides is Kyle MacLachlan ("Sex in the City") in his first role. Wow. The design of the world in the film is spectacular, even 25 years after the fact. There were a few things that effects wise may not be what we are used to now but the key is in the fascinating ideas which really hold the test of time. I also enjoyed the sheer scale used, they certainly weren't afraid to go big! The inclusion of psychics in regular society was wild to see, especially considering how powerful they were and how it highlighted a Matriarchal subculture.
But, was it scary? Yep, it was. Originally I primarily found the scenes with the character Baron Vladimir Harkonnen (Kenneth McMillan) were the ones that scared me. He is portrayed as literally bubbling over in grossness, overbearing, mean and creepy. What was more scary this time was the corruption and greed in the Harkonnens who are willing to do awful things in order to attain power, from general meanness to the enthusiasm for terrorizing others. It's not the traditional scary things, but it still bothers me whether it is conceptual or shown on the screen.
Shannon's Overall View:
It was better than I remembered
I'd watch it again, but not often
I'd recommend it to fans of epic films and science fiction
Return to Film Reviews
© Shannon Ridler, 2009