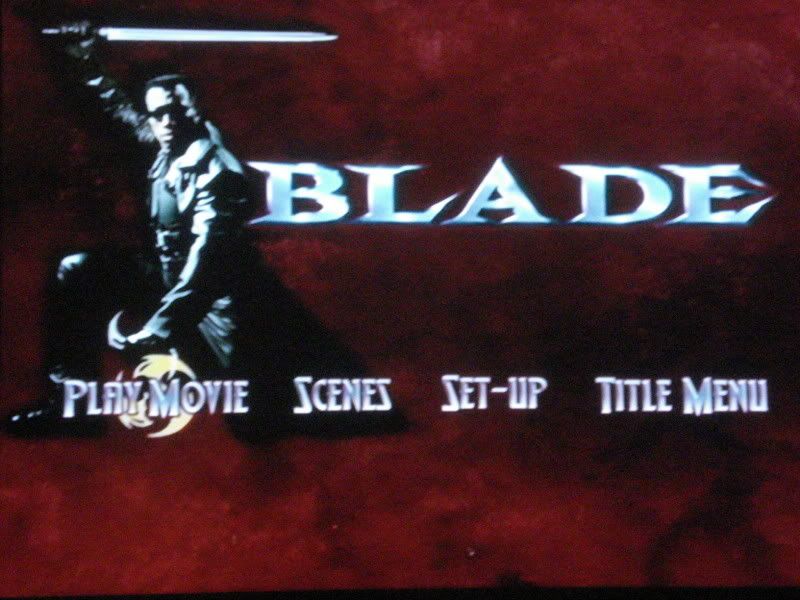 Dir: Stephen Norrington (The League of Extraordinary Gentlemen)
Source Material: based on the Marvel Comics character Blade (
source
)
Cast: Wesley Snipes, Stephen Dorff, Kris Kristofferson, N'Bushe Wright, Udo Keir, Traci Lords, Donal Logue
USA
,
1998
Seen:
Originally seen theatrically, revisited on DVD November 17, 2009
Reason to Review:
Vampathon: Vampire Film Marathon
*
Upon first viewing it was a suprize to really like it. It has a great opening sequence that matches style, action and cleverness quickly and efficientely. I was immediately drawn into this world, the characters and the unique take on vampires. Wesley Snipes is fantastic as Blade, a vampire hunter who is cool as a cucumber as he works on fighting vampires every chance he gets while serving up some great one lines along with way.
As a vampire film, it had a fresh take on the lore setting the film in modern day and bringing not only great action but also guns'n'gadgetry aspect to the film making it feel almost Bond-like with Kris Kristofferson who plays what would be a parallel role to what would be a perpetually pissed off Q. Wesley Snipes continues to showcase here that he is a great action star and does a brilliant job bringing Blade to life. We also are introduced to whole vampire culture and hierarchy (which retrospectively is surprizingly familiar to
Underworld
which came out a few years later), which include bad ass vamps representing both the old world (Udo Keir as Dragonetti) and new (Stephen Dorff as Frost). I also loved the style of the film, not only visually with art direction and costuming but the pacing and playful tone.
Overall, it's a great combination of cleverness, action with a nice touch of humour. I enjoy it every time I watch it.
Shannon's Overall View:
I love it
I'd watch it again/buy it
I'd recommend it as fans of vampire & action films
Return to Film Reviews
, See all
Vampire Film Reviews
© Shannon Ridler, 2009
*
Vampathon
is a 16 week marathon explore vampire films from
Nosferatu (1922)
up to the upcoming release of
The Twilight Saga: New Moon