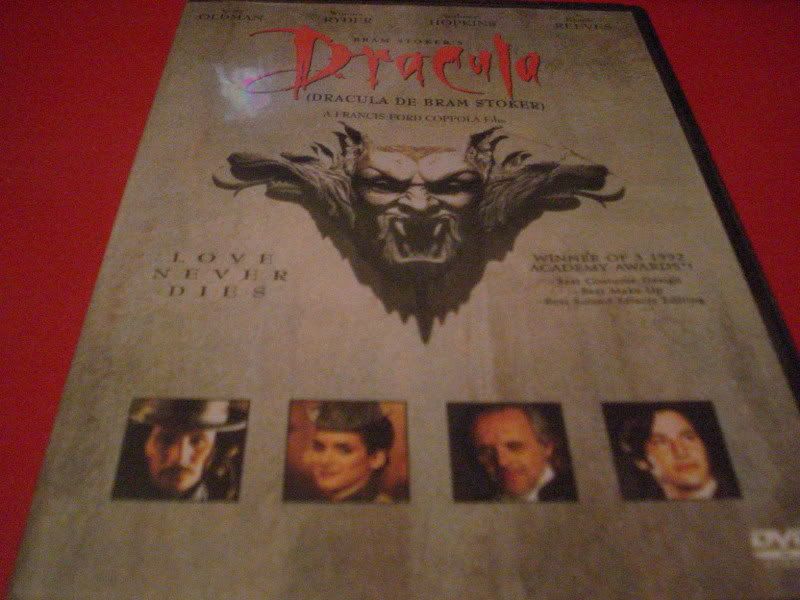 Dir: Francis Ford Coppola (The Godfather, The Godfather II, Youth Without Youth)
Source Material: the novel "Dracula" by Bram Stoker
Cast: Gary Oldman, Winona Ryder, Keanu Reeves, Sadie Frost, Richard E. Grant, Anthony Hopkins, Cary Elwes, Bill Campbell, Tom Waits
USA
,
1992
Cast:
Gary Oldman as Dracula
Winona Ryder as Mina
Keanu Reeves as Jonathan Harker
Sadie Frost as Lucy
Richard E. Grant as Dr. Jack Seward
Anthony Hopkins as Proffessor Abraham Van Helsing
Cary Elwes as Lord Arthur Holmwood
Bill Campbell as Quincey P. Morris
Tom Waits as R.M. Renfield
Seen:
Originally during theatrical release, revisited November 7, 2009 on DVD
Reason to Review:
Vampathon: Vampire Film Marathon
*
Ah, the 1992 Francis Ford Coppala version of Dracula. I remember seeing this one in the theatre. I remember thinking that the character of Dracula was played by several different actors. How times have changed. I can now spot Gary Oldman anywhere, even here.
Continuing with the tradition of highly stylized versions of the story, such as
Nosferatu (1922)
with it's rich shadows and beautiful composition, and
Dracula (1931)
with it's beautiful blend of elegance with eerie atmosphere, the 1992 version of Dracula creates a rich and colourful world full or romance, desire and hunger. The vision is big and in epic terms, but only some of these succeed.
First, let's look at where it does succeed. The art direction is fantastic, the world it creates if vast and draws you it. We see a colourful and vibrant world, which is a nice change of pace from the dark, dreary and horrific take which is so often used. The use of colour alone in entrancing to watch. After that, my favourite part of the film is Gary Oldman, with an impressive and multi-layered performance as Count Dracula through the ages. I also enjoyed the romantic elements of the film, and that there is a strong focus on Mina's journey and her decisions which are featured more prominently than in other versions of the story.
Now for the not so great moments. The acting ain't so hot. I am a big believer in Keanu Reeves but this is not his best performance. Same goes for Anthony Hopkins. The performances are hard enough to believe within the context of the film, but with these actors I kept thinking why is he (the actor) doing that? I was also not a big fan of this interpretation of Lucy, and how she spends most of the time withering and squirming, often out of her clothes which just seemed ridiculous. In terms of the visuals, I will give them credit for taking big risks, but for every time it worked there seemed to be another time where it really didn't. As much as I enjoyed numerous aspects of the design, I actually laughed out loud at times often at the various stylings of Dracula in terms of hair, clothes, form and transition. I also didn't see any rhyme or reason to the differences thematically nor within the context of the story.
I hesitated in reviewing this version of the story as I know it has a strong following of those who love it, but I view it rather harshly. But, I can't t ignore it within the context of the world of vampire films and it does do a great job with the romantic elements of the story and creating a beautiful, dark world.
Shannon's Overall View:
I didn't love it
I own it (for the
vampathon
... really!)
I'd recommend it for fans of historical romantic vampire films & for the art direction
Return to Film Reviews
, See all
Vampire Film Reviews
© Shannon Ridler, 2009
*
Vampathon
is a 16 week marathon explore vampire films from
Nosferatu (1922)
up to the upcoming release of
The Twilight Saga: New Moon