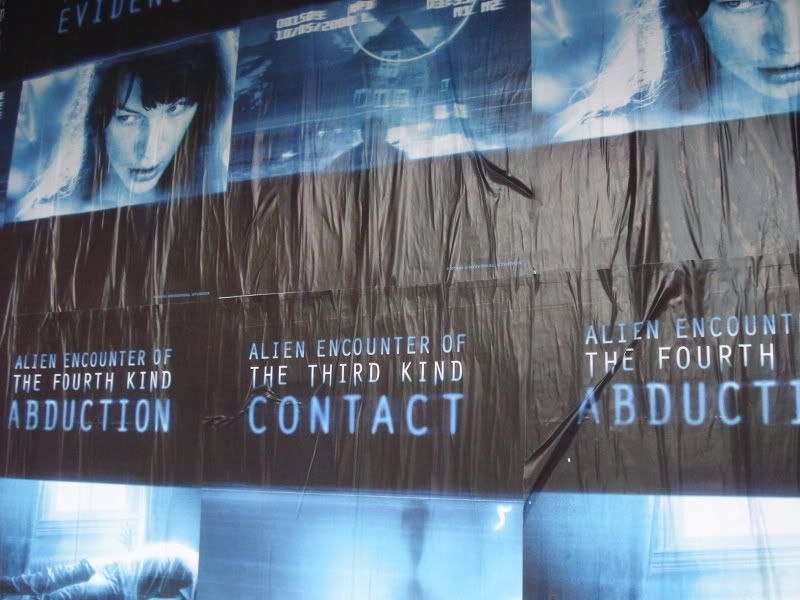 Dir: Olatunde Osunsanmi (WIthIN)
Cast:
Milla Jovovich, Elias Koteas, Will Patton
USA
,
2009
Seen:
November 7, 2009 at AMC Yonge & Dundas
Reason to see:
Looked freaking scary!
The Fourth Kind
is pitched as being based on real events. The film indicates that everything is supported by archival footage however even just a few days out of release this does not appear to be the case. This article over at
CNN.com
indicates that the events in the films setting, don't match up to what has happened. This poses an interesting question about playing with the audience. For me, I find the heart in the horror here lies beyond the actual 'possible' archive footage but rather the ideas in the film and how they were presented.
I went into the film believing it what it says. Is it scarier if you think it's real? Yes. Is it still scary even if you don't think it's real? Hell, yes. One thing that seems to get missed on the 'is it real or isn't it real' discussion is that even if what they are showing as 'archival' isn't really, that doesn't mean it isn't based on true events or that something similiar couldn't have happened. This isn't the first time we have these kinds of encounters, and likely won't be the last.
The style of the film is unique, combining the footage of archive and dramatization and the majority of the time it worked very well. It keeps the viewer on their toes constantly thinking, shifting, reacting to the possibilities that are presented. The story itself is intriguing and the acting is solid. Considering some of the content shown, I'm relieved that it doesn't look real but that doesn't mean it wasn't a good film. It was scary as all get out, and I think that was the real intent.
I can say that it freaked me right out, even felt unnerving after the fact of hearing it might not be real. It's stuck with me for days. Not all films can do that, but
The Fourth Kind
certainly did.
Shannon's Overall View:
I was truly scared by it
I'm not sure I could sit through it again - too scary
I'd recommend to fans of scary movies
16 minutes of preshow including 1 commercial and 6 previews:
The Wolfman (2010)
, Shutter Island, From Paris with Love,
Daybreakers
, The Crazies
and
The Book of Eli
Return to Film Reviews
© Shannon Ridler, 2009