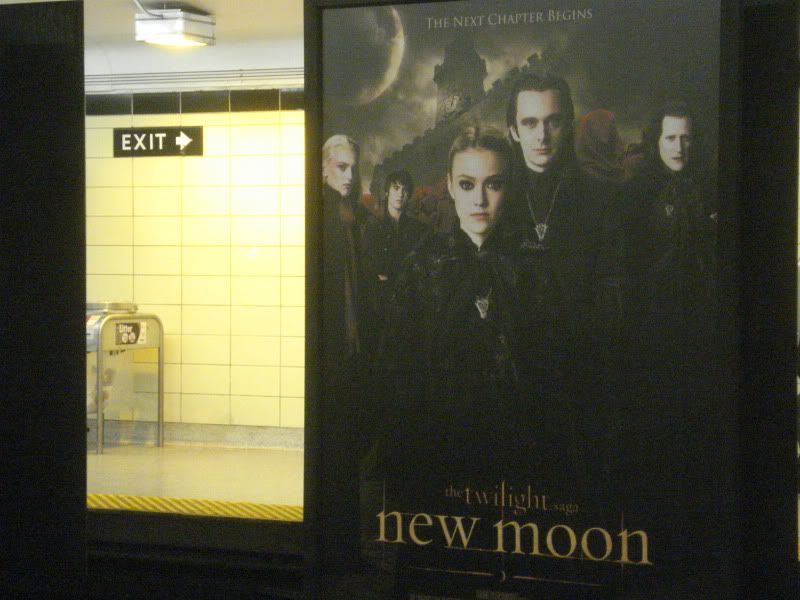 Only 2 More Mondays until New Moon! I don't think I'm the only one counting down the days as this weeks poll of what
November releases were you most looking forward
shows
New Moon
topping the list with a whopping 45%.
Posters Galore!
Out and about there are posters and promo material everywhere you look! Subway stations in Toronto have tons of them if you haven't seen enough in the theatres themselves. In addition to the
first poster we saw
with Edward in the front and Jacob between him and Bella, now we have 2 more sprouting about town. The Bella & Edward together poster with the Cullens in the background (pictured below), along with The Volturi looking delightfully ominous (pictured above).
Jamie Campbell Bower on "The Prisoner" on AMC
Can't wait until Nov 20/09 to see Jamie Campbell Bower? Well you are in luck, as he won't be playing Caius until New Moon but he will be on "The Prisoner" on AMC. "The Prisoner" is a miniseries that is a remake of a 1967 TV series of the same name where a man wakes up in a faux-idealic-therefore-bizarre place known as The Village. The new version starst James Caviezel as Number Six (played by Patrick McGoohan in the original) & Sir Ian McKellen. The really exciting thing is that it will be on
AMC here in Canada
, which I couldn't confirm until recently. The miniseries runs November 15 - 17, 2009 from 8:00 - 10:00 PM showing 2 episodes per night for the whole 6 episode series. See more about "The Prisoner" on
IMDb Page
.
I Want Some More: Vampathon

The
Vampathon: Vampire Film Marathon
continues with reviewing vampire films and last week we take a look at Mr. Zombie George A. Romero's
Martin
from 1977 and it certainly has the 70s harshness all over it. Overall, it may be the original spin I've seen on vampire lore yet. Next up is the love it or hate it 1992
Bram Stoker's Dracula
directed by Francis Ford Coppola starring Gary Oldman, Winona Ryder, Keanu Reeves and Anthony Hopkins. Review will be up Wednesday November 11, 2009.