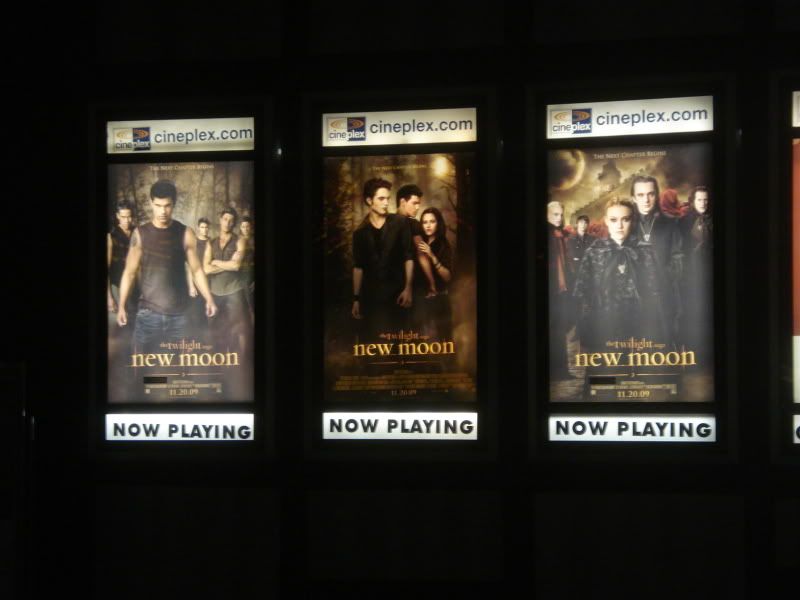 Box Office Blow Out
In the US New Moon had the
biggest midnight screening
($26.3 million) and
biggest opening screening
($72.7 million). It also sits at #3 for the
highest grossing opening ever
($142.8 million), behind The Dark Knight and Spider-Man 3. In
North American and Canada
it had the biggest weekend box office for 2009.
Women in Hollywood Discussion
Women in Hollywood
posted this article featuring
Women Writers Talk About New Moon
, myself included and posed questions ranging from the anticipated success of New Moon to if Twilight gets enough respect in the Hollywood and in the blogosphere. It's fascinating to hear the different voices and perspectives.
Podcasts Talking About New Moon
Marina
& I's have an epic chat about
The Twilight Saga: New Moon
over at
Before the Dawn: A Twilight Podcast - Episode 28
and it's a total spoiler zone as we talk about it in almost every aspect including the end. Other interesting conversations out there to check out are
Drive Like Cullens
(whom I share a lot of opinions on) and
Steady Diet of Film
. I'm also looking forward to checking what the folks from
Imprint
have to say about the film. Few interesting video reviews out there like this one from
Richard Crouse
whom I agree with on many points, and a rather positive review
from
Mark Kermode
. You can also check out the footage from the Live Podcast at
Borders here
, including an great appearance and interview with actor Charlie Bewley (Demetri).
New Moon Reactions
So far the voices on
New Moon
feel a bit polarized, the critics don't seem to like it, the fans reaction range from loving it to being disappointed but overall not feeling like there are a lot of voices from the fans on if they liked it but there is lots of news on the box office, TV appearances, etc. So far it's on
30% on Rotten Tomatoes
, on
4.5 IMDb
and
45 on Metacritic
. The most common phrase I've heard to describe it are 'faithful adaptation' from critics and 'better than the first one' from fans.
New Moon DVD Details
Wow, the film was released only three days ago and we already have information from
MTV with an interview with director Chris Weisz
who reveals that the DVD with have a commentary track with him and the three big stars: Kristen Stewart, Robert Pattinson and Taylor Lautner. I'll be looking forward to hearing that. The article also outlines some deleted scenes that will be included.
No Breaking Dawn News
Ok, I'll admit reporting on the fact that there is no news is a little weird, but I really thought we'd have heard inklings on whether or not a Breaking Dawn film is going to be going ahead. Last year we heard the day after
Twilight
's release that
New Moon
was in the works. Lots of rumours, including whether or not it will be 1 or more films, but so far nothing solid. I can't imagine it being more than 1 film, but then again it's my least favourite of the books.
I Want Some More: Vampathon

The
Vampathon: Vampire Film Marathon
is now complete as it was a countdown to the release of
The Twilight Saga: New Moon
. I have to admit it feels a little bittersweet given that
New Moon
did not meet expectations, but it was fun to revisit some of my favourite vampire films as well as seeing tons of great vampire films like
Near Dark
to
Strigoi
. I'll be doing a sum up of the experience later in the week so keep your eyes peeled and your necks covered for it. It's going to be so strange not to be watching vampire films every week, I wonder how I'll keep busy.