Day 2 was a Filipino night at Reel Asian, starting off with
Fruit Fly
a hilarious musical following Bethesda, a Filipino adoptee through soul searching and performance art. After that we were treated to
Yanggaw
a Filipino vampire horror drama about a creature called the aswang. Wow. I'll tell ya the night packed a punch!
One of the lovely things about the Reel Asian festival is the community spirit and community partners that are involved in the process. Both screenings of the evening we preceded with words and support from film festivals and community groups including
QAY (Queer Asian Youth)
,
Kollaboration Toronto
,
fu-GEN
,
Toronto After Dark Film Festival
,
Twitch
and
kapisanan philippine centre
. There was also awesome news from
Inside Out Toronto LGBT Film and Video Festival
who will have their 20th anniversary with the 2010 festival and they shared some of the upcoming programming which will include a 3D screening of an Andy Warhol film and a Scratch & Sniff screening of
Polyester
. Now that is something not to be missed!
Want to hear more? Check out my
Day 2 Vlog here
.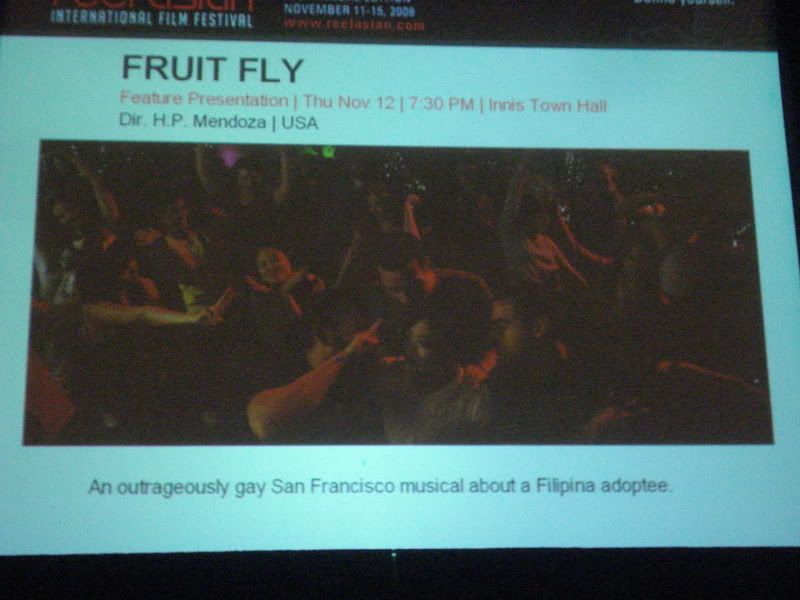 Fruit Fly
Dir: H.P. Mendoza
Cast: L.A. Renigen, Mike Curtis, Theresa Navarro, E.S. Park, Aaron Zaragoza, Christian Cagigal, Don Wood
USA
Fruit Fly
is an absolute delight. We are introduced to Bethesda, a Filipino adoptee and performance artist who travels to San Fransisco on the soul searching work in progress that is her life. Did I mention it's a musical? Oh yes, it's a musical. Bethesda stays in a communal living space bringing little space but many new friends and connections into the gay and arts communities. It's a fantastic film following her adventures and will be a joy to watch but even moreso for anyone who has ever been involved in theatre, gone clubbing, taken public transit or been involved in the arts in any form. C'mon - you know that is you! It's no suprize it's already a multiple festival winner with the infectious tunes, remarkable wit and stays heart.
The soundtrack to Fruit Fly is available on iTunes, and includes fantastic songs like the witty Fag-Hag, urban reality of Public Transit, hilarious We Have So Much In Common and heartfelt I Won't Be Here Long. Fun times.
See selections from the
introduction and Q&A with Fruit Fly director H.P. Mendoza here
.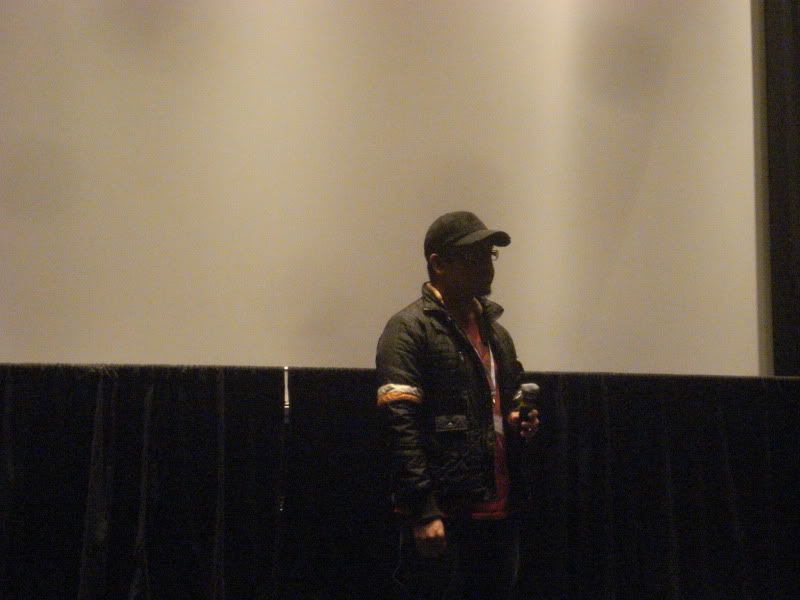 Fruit Fly director H.P. Mendoza
Yanggaw
Dir: Richard Somes
Cast: Aleera Montalla, Ronnie Lazaro, Tetchie Agbayani, Joel Torre, Gio respall
Philippines
I'm always interested in new takes on vampire films, and
Yanggaw
certainly provides a unique perspective on the genre. The vampire like creature in this film is an aswang, which comes from Filipino folklore and has many similarities to the commonplace vampire, but the film itself isn't commonplace at all. The film successfully blends the horrific nature and tendencies of the creature itself alongside the dramatic tension of how people would react if this was their reality. What would you do if someone you loved turned into such a creature? Would you even believe it? How far would you go to keep yourself, your family, your community safe? It's fascinating to see such an emotional chord struck on a family level in a genre that is often left to romance and allure. This is full on creature with no qualms and the contortionist like performance of the aswang is creepy as all get out. The film pulls no punches, be that on scares or emotions.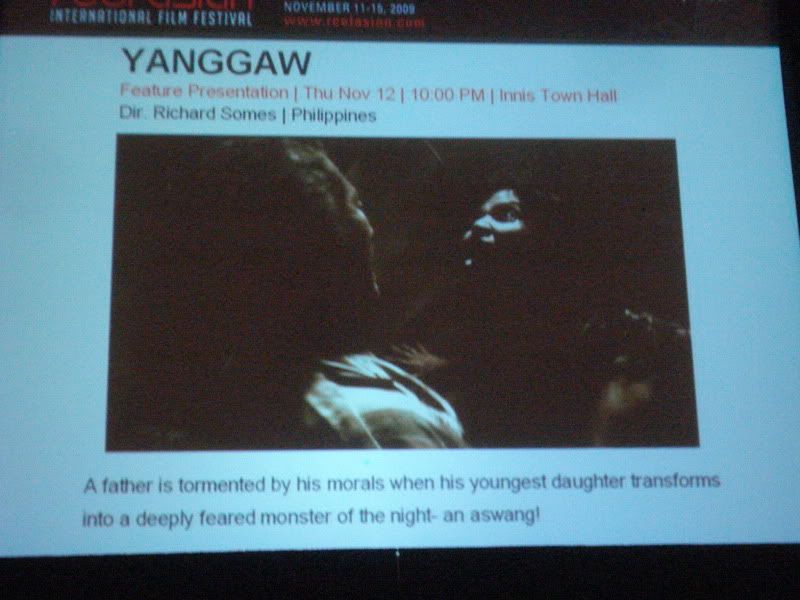 The
Toronto Reel Asian International Film Festival
2009 runs from November 11-15, 2009 in Toronto, Ontario, Canada.