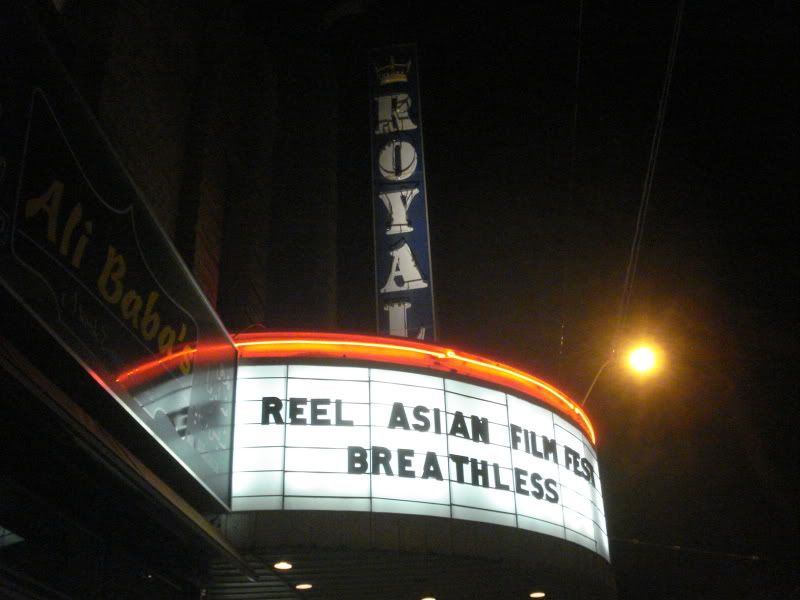 Sunday was the Day 5, the closing day of the
Toronto Reel Asian International Film Festival
and a marathon long day of back to back to back screenings. Starting early at Innis and just shy of avoiding the Santa Claus Parade was a screening of
A Schoolgirl's Diary
, and it was a rare treat to see a film from DPRK (North Korea) and then ending the evening off at the Royal with the Awards Ceremony and the presentation of the hard hitting South Korean film
Breathless
with director/writer/main actor Yang Ik-June in attendance. It was one hell of a way to end yet another great year for Reel Asian.
Listen all about the day over at my
Day 5 Vlog
.
Chosun Forever
director Joo Hyun Kwon (right)
Chosun Forever
Dir: Joo Hyun Kwon
Documentary
Canada, 30 minutes
Insightful documentary on a family that has roots that start in North Korea and have since traversed to South Korea and landed now here in Canada. It's amazing to see a journey from this perspective, and to see how although times change not all things change. The film delves into the family relationships and their challenges when belief systems are not shared different, be they political, religious or general world views. I was very impressed by the openness of the people involved, it feels very brave of everyone to share their stories with the audience.
See selections from the
Chosun Forever

Q&A with director Joo Hyun Kwon here
.
A Schoolgirl's Diary / Han nyeohaksaengeui ilgi
Dir: Jang In-hak
Cast: Pak Mi-hyang, Kim Jin-mi, Kim Yeong-suk
DPRK (North Korea)
What a rare opportunity to see a film from North Korea, I knew right away that I wouldn't pass up the opportunity to see it. I did not have many expectations going in, which led to being surprized by the film many times over. The film follows the story of a family from the perspective of the eldest daughter and focuses on family issues including an working away from home father, the conflict between individual desires and that of the family, as well as general day to day life. Overall it's extremely 'family friendly' right down to out of the blue physical comedy to lighten the mood. Although it did keep a lot of lightness, it was in no way saccharine. The challenges faced by the main character where simple and complex and ranged from a personal level to family level to maintaining a certain relationship with society as a whole. Even thought not overwhelming for the entirety of the film, there is a clear social message and patriotic tone within.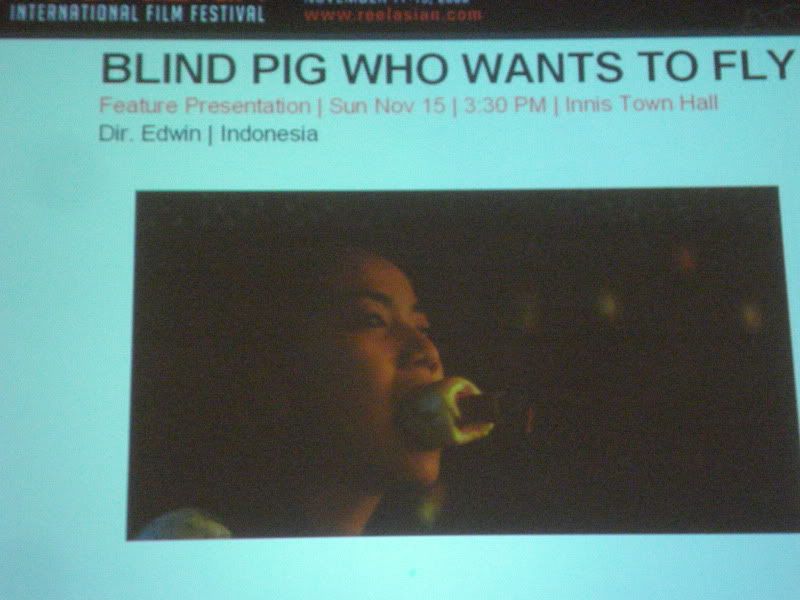 Blind Pig Who Wants to Fly / Babi buta yang ingin terbang
Dir: Edwin
Cast: Ladya Cheryll, Carlo Genta, Pong Harjatmo, Joko Anwar, Wicaksono, Clarine Baharrizki, Andhara Early
Indonesia
Hearing that the film was a series of portraits exploring identity, I was very curious to see how the film would be presented. Although it took a bit to settle into the unusually pace I found myself compelled by the structure of the film, which is narrative with a story to tell but is presented not in a strictly chronologically manner. I found that fascinating as it was a reminder that in life we are always influenced by our past and have the power to change in the future. You certainly felt strongly for the characters in the film, and the challenges they face by the very open racism that surrounds them. I will freely admit that I'm sure I didn't pick up on all the cultural nuances, although did great appreciate the
introduction
which highlighted some of the key contextual issues of the film. I really enjoyed seeing the friendship of Linda and Cahyono which subtly captured the relaxed comfort level between friends whom have faced trying times.
See introduction to
Blind Pig Who Wants to Fly
by Reel Asian International Programmer Raymond Phathanavirangoon, who gives the
audience a little history & context for the film here
.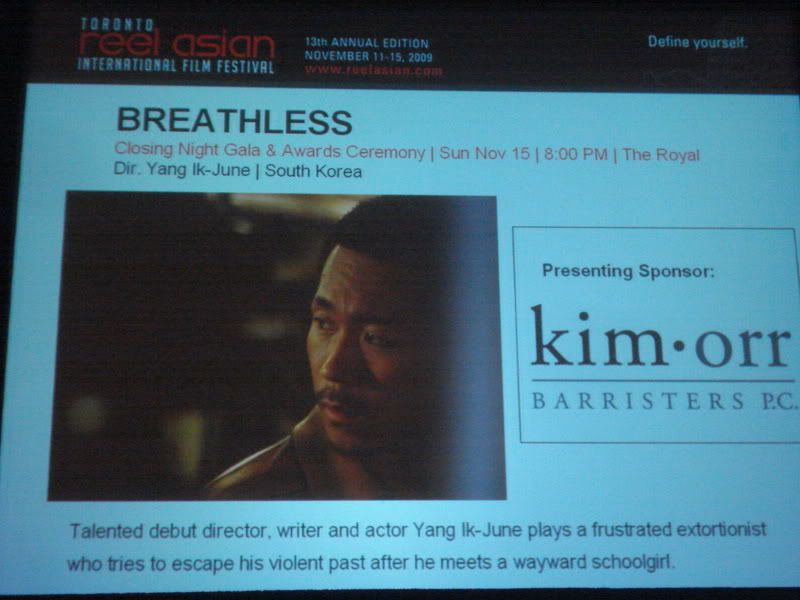 Breathless / Ddongpari
Writer/Dir: Yang Ik-June
Cast: Yang Ik-June, Kim Kot-bi, Jeong Man-shik
South Korea
A powerhouse film to end a powerhouse festival,
Breathless
leaves you just as the title would indicate as it masterfully charges and holds tension throughout. The film follows Song-hoon, played by writer/director Yang Ik-June, a gangster/debt collector whom seems to enjoy his job a little too much and has no problem transferring his work skills into day to day life. There is a lot in Song-hoon's character that shows the result of an unguided life, and this echoes in other facets of the film where you see people doing what they need to to survive and not knowing any different. In fact, with the characters being so harsh it makes you hope all the more that they will find a way to learn, grow and change their ways and it presents the question of are we a product of our upbringing and social situation or do we have the power to change? Yang Ik-June strong performance of Song-hoon draws us in every time he is on screen, although he isn't the only character we are introduced to. As a polar opposite we meet Yeon-hee, a schoolgirl played by Kim Kot-bi, whom subtly surprizes us throughout the film with her strong backbone and fearless abandon. But the magic and heart of the film stems from the unconventional relationships, including that of Song-hoon and Yeon-hee, that seem so unlikely but ring so true. It also does a fantastic job at showcasing the different roles people play within their lives, and how that affects them on multiple levels.
Although there is a huge amount of violence and colourful language may make it unsettling, but the story it tells is one well worth wading through the harshness. While this is no easy task, it helps to know that the creation of this films was a cathartic process for director/writer/actor Yang Ik-June to get this energy out. For more on the inspiration to create the film, see selections from the
Intro and Q&A with

Breathless

director/writer/main actor Yang Ik-June here
.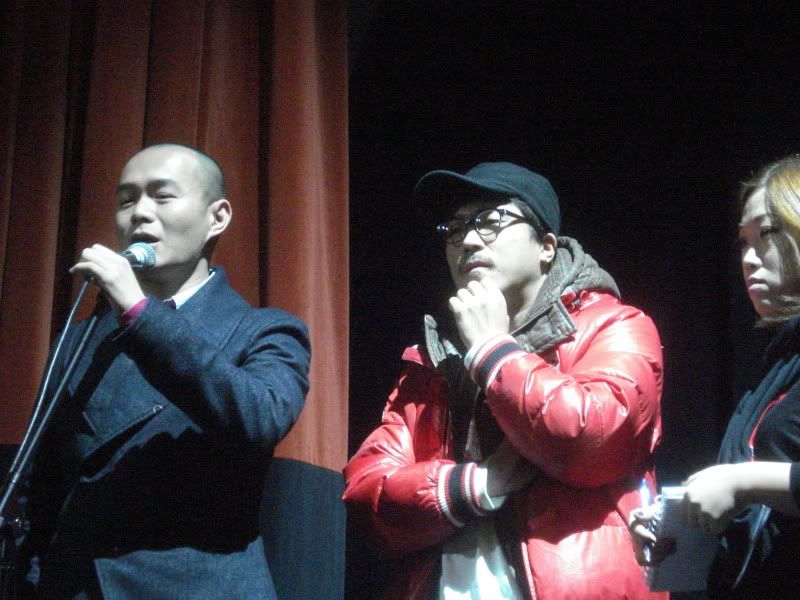 International Programmer Raymond Phathananavirangoon (left),
Breathless
director Yang Ik-June (centre)
International Programmer Raymond Phathananavirangoon (left),
Breathless
director Yang Ik-June (centre) and translator
The
Toronto Reel Asian International Film Festival
2009 ran from November 11-15, 2009 in Toronto, Ontario, Canada.