Day 4 was all Innis, all day! It was also the first day of the festival where it was still light out when arriving to the venue. I can still feel the time change, that's for sure! Day 4 was a day of laughter and heart with films that had the audience in giggles to others enrapturing our hearts.
Rather listen than read? Check out my
Day 4 Vlog here
.
Unlocked
Dir: Mio Adilman
Cast: Bobby Del Rio, Jean Yoon
Canada, 14 minutes
Funny short film following a guy whose battling anger issues, and odd bike locking occurrences. Very familiar settings for the Toronto crowd, especially for anyone who goes to film festivals in the city will appreciate the humour.
See the
introduction to

Unlocked

with director Mio Adilman and actor Bobby Del Rio here
.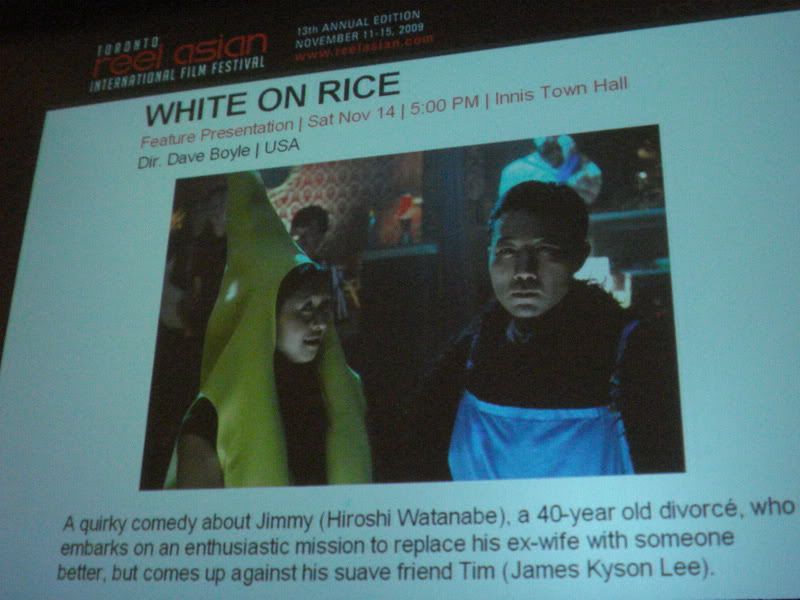 White on Rice
Dir: Dave Boyle
Cast: Hiroshi Watanabe, Nae, Mio Takada, Lynn Chen, James Kyson Lee
USA
Enthusiastic comedy about a Japanese family living in the States, a couple and their young child along with the his Uncle, who comes to America when he 'ran out of food' after his wife divorced him. The logic of that plays through for the main character, Jimmy, whose life is a string of non-successes, and his tunnel vision ambitious with not the best of social graces is the core of the comedy at play. Although I enjoyed a lot of the overall story and specifically the industrious albeit often left out son, I didn't quite connect to Jimmy's character, mostly because it wasn't clear why he was so inept. Although I did laugh a lot, I wasn't always laughing along with the audience for the whole time.
Yang Yang
Dir: Cheng Yu-chieh
Cast: Sandrine Pinna, Bryant Change, Huang Chien-wei
Taiwan
Absolutely beautiful film following Yang Yang, played by Sandrine Pinna as a young woman whom at first appears to live an ambitious albeit simple life. Things don't stay simple for long as family dynamics and social circles mesh bringing inadvertent complications. The beautiful thing about the film is that it gracefully unfolds over time and every step of the way we are enraptured with Yang Yang, just as all those are around here. We don't seem to know where the films going, because she doesn't appear to know where she is going either. Although the journey is neither simple nor without it's trails, it's one that we are compelled to watch and want to support her along the way through the bad decisions and the good. From the gorgeous and emotional score to the absolutely riveting performance by Sandrine Pinna, the film completely takes you away into her world. A rare treat.
See introduction with a a
special message

Yang Yang

from Director Cheng Yu-chieh via audio clip here
.
The Animated Heavy Metal Parking Lot
Dir: Leslie Supnet
Canada, 1min 40seconds
The Animated Heavy Metal Parking Lot
was a brilliant choice to put with
Fish Story
as they both celebrate music and total zaniness. A tribute to and underground classic
Heavy Metal Parking Lot
, this animated version gives us a frantic, fast and frank discussion of punk vs metal.
See introduction to
The Animated Heavy Metal Parking Lot

with directror Leslie Supnet here
.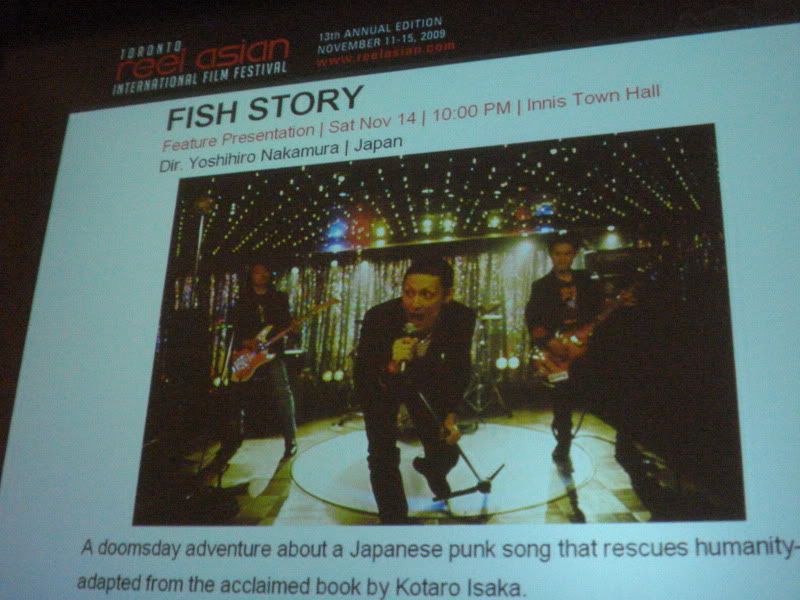 Fish Story / Fisshu sutôrî
Dir: Yoshihiro Nakamura
Cast: Ito Atsushi, Kora Kengo, Tabe Mikako, Moriyana Mirai
Japan
Fish Story is introduced as a film that it's better to not know much about it, which is 1) intriguing and 2) lets you know it's going to be a challenge to review. Actually, when I hear that I assume the film will be non-narrative but
Fish Story
is, although in a unique, mash up way. What I can tell you is that it's brilliant, funny and has freaking awesome music. It has a post apocalyptic flair to it, and seeing it a day after 2012 came out is pretty serendipitous timing. Although it does ponder questions like how you would spend your time if you knew the world was going to end, or if you believe in the unbelievable, the joy of it really is that unfolds beautifully in front of the eyes like a puzzle slowly being put together but where each and every piece is a gem unto itself. It's a wild ride, and one that I would high recommend going on.
You can find the main
song from

Fish Story

here
, if it gets as stuck in your head as it does in mine!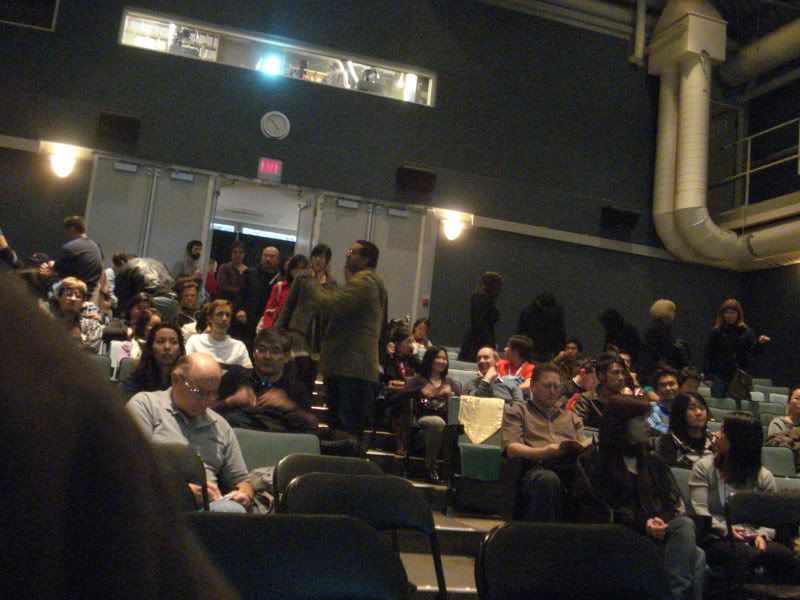 Audience flocks in for the screening of
White on Rice
The
Toronto Reel Asian International Film Festival
2009 runs from November 11-15, 2009 in Toronto, Ontario, Canada.