It's that time of year. Time to print up or paste & post lists of favourite, best of's, most influential, most memorial, most... well anything list of films, tv, books, etc. Looking back at the last ten years in film, I realized how closely I remember my life through the films I've seen. I remember where I saw them and with who, where I lived at the time, where I worked, how I was doing and what my interest or focus in film what at that time. My life has changed drastically in these past 10 years, and the memories have held strong. Because I like lists, I am going to do a list of 10 movie memories per year for the past decade. Although award winners may grace this list I am clearly stating that this is not a best of list, not even all the films listed are even good films, but they were all very memorable experiences.
Parameters:
1. Major series are excluded: (
Harry Potter
, Lord of the Rings,
Star Trek
, Bourne) because I love all of the films, have already explored some of the recently and because they just would have claimed too much space over the lists.
2. Almost exclusively films I saw in the theatre the year they were released.
2000
:
A Year in Movie Memories
2000 Feels like a million years ago, not 9 (or is it 10? I hate year math) and to think at that time I was married (now divorced), studying fashion at Seneca and living very close to one of the biggest theatres in Toronto. All of those things played big parts of my life, and ironically it was when I started getting interested in film again. I'd always been a film fan, but in the mid/late 1990's I stopped going to the theatre in favour of clubbing. All that changed when I walked into the GenEd office at Seneca needing to pick up an extra class. The woman started rhyming off possibilities: Sociology, Psychology, Astronomy, and then ... Film. I said "Film", firmly. She looked at me questioningly, trying to push the course outline to me before I settled. I said I wanted Film, I didn't care what the outline said as long as I got to watch film. Who knew that decision would have such an impact from there on in, and I lucked out by getting a hard-as-nails kick ass teacher that didn't allow talking when we watched anything and had a strict standard of quality. We got along very well. The class was awesome, way better than sewing flat felled seams but there is something special about the scent of muslin being freshly steamed. Life is a funny thing.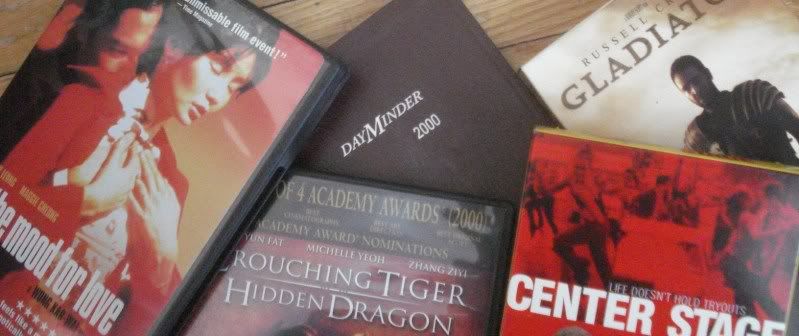 Now to my 2000 movie memories. Films are listed chronologically by viewing date.
Pitch Black
I love this movie. I love the
character Fry played by Radha Mitchell
, I love the visual style, I love that it was scary and had great sounds. And, I'll admit it I love that it brought us Vin Diesel. Saw it three times in the theatre. Three times!
U-571
Remember when I said not all the films are good films? Case in point. Now, I like submarine movies but I would be telling a huge lie if I said much of anything about this film at all. Why? Well, at the time I was hanging out with my sister and her boyfriend and he had several times tried to convince us to go to the movies while we were hanging out at the pub. I never thought it would be a great idea, but finally gave in and we all went to see
U-571
, or perhaps I should say we were all present in the theatre during the film but in reality we all had a nice nap at the theatre. Lesson confirmed: never go to the movies after the pub!
Gladiator
I remember the first time I saw the preview for
Gladiator
, it was shown in front of Pitch Black. From director Ridley Scott (whom I love).. with Russell Crowe (whom I just began to love from
The Insider
).. epic historical film with brilliant music. I was sold. Before I even saw the film I was sold. A world of awesome. Although I still think Russell Crowe won the Oscar for this in lieu of
The Insider
.
Centre Stage
This was the first film I ever saw on a plane, on the way to Mexico for honeymoon. Wow, that feels like a long time ago. I still remember the stewardess saying "Centre Stage" over the intercom in a distinctly French Canadian accent. The film itself is pretty predictable but certainly enjoyable dance flick that hits all the regular marks and then some.
The Contender
Saw this one for my film class but I really didn't like it, so much so that I decided to go see something else so I wouldn't have to write about it. I was so miffed that if copped out on it's own moral structure, and that's consistently something that will turn me off of a film. But, on the flip side it was the first time I was able to spot Gary Oldman without looking up the cast list and hot damn I was proud, he was quite the chameleon until this point.
Almost Famous
Another recommendation from my film teacher and it this one blew me away. I think I had forgot how good a film could be, not just entertaining but touching and heart wrenching and real and beautiful all at the same time. And, enter Billy Crudup who takes Gary Oldman's just vacant spot as the actor who no matter what he is in I can never recognize him (for reference, first actor to hold that title was D.B. Sweeney from
Memphis Belle
and
Fire in the Sky
).
Crouching Tiger, Hidden Dragon
Ok, so this one is kicking around on a lot of people's lists. It was one that really seemed to come out of nowhere at the time but had mammoth word of mouth. It was the first time as an adult I went to the theatre and they were sold out of tickets... we were dumbfounded. Sold out? The year before we walked into
Star Wars: Episode 1 - The Phantom Menace
with no problem and this film was sold out? But when I did see it... oh boy. So beautiful. I think this film is the absolutely perfect date movie.
Girlfight
Enter Michelle Rodriguez in her film first role, portraying a teenage girl who gets into boxing. That was enough to get me in the door but this film sticks with you, not only does it have that whole inspirational sport thing going on but it still is gritty without being dirty. It also has a great story with interesting characters, it also adeptly explores gender dynamics, family relationships and coming of age all in one. Also has an amazing sound scape, I can still remember what it sounds like.
In the Mood for Love
This film was recommended to me by my good friend Nick, and she has freaking excellent taste in film - after seeing this I would see anything she recommends. The atmosphere created in this film is absolutely captivating, even trance like at times. It's not even so much about what even happens but just being with the film when it does what it does. I instantly became a die hard Wong Kar Wai fan and will see anything he directs, along with anything actors Tony Leung and Maggie Cheung are it. It's positively divine. From the lists I've seen going around, this film may be the most listed film for 2000.
Proof of Life
And this could be the least listed. Seeing this in the theatre was not that fun, didn't even really like the film and there were kids running around like crazy while their Dad watched this film. Who would take kids to a film about kidnapping and ransom to begin with? Anyhow, it's not really the film itself I remember all that much it was that I worked a really boring job at the time and would repeatedly call Moviefone to hear the the promo trailer just to hear that awesome accent. Yep, those were the days.
Next Up will be 2001: When thing started to get a bit darker