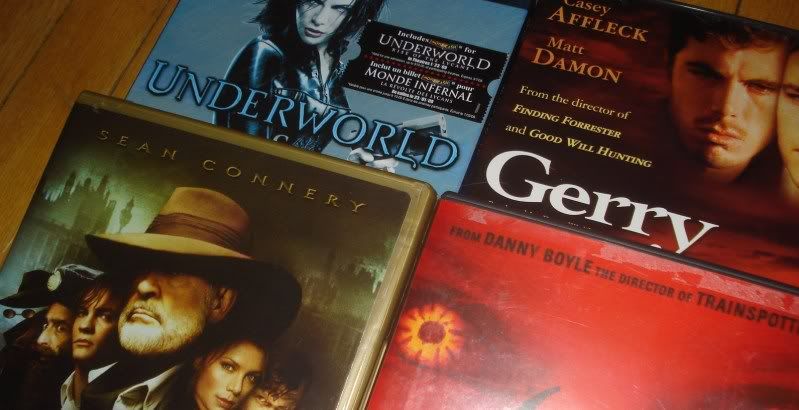 In 2003 I started getting really serious about film and started writing my newsletter
Film Fan Fridays
which was in email format until 2006 when I brought it
online
for all to enjoy. The reasoning behind starting it was I was flabbergasted at how often I would mention a film in release to people and they had never heard of it. I realized I could let them know, every week, the films that were coming out here in Toronto. The focus has always been to spread the word on Canadian, Foreign and Independent film as they are the ones that tend to be the least heard of and often end up on my faves of the list, however I won't deny that even I get blown away by certain blockbusters and series. Knowing your options is the first step in making good choices on film watching. I really stuck to those guns in 2003, not only spreading the word but making a big effort to get out to Canadian film, which means I spent a lot of time at The Carlton.
As with previous years
2000
,
2001
and
2002
the parameters or the list are films seen theatrically, no series included and films are listed in the chronological order in which I saw them. This is a list of favourite movie memories, not a best of list.
Hurt (2003)
This is one of the many films I saw at the Carlton in 2003, and sadly to a very small audience. It's a Canadian film about a trio of teens played by Terra Vnesa, Andrew Martin-Smith and Stephanie Nikolaidis, that all quite plainly, hurt. It's emotionally haunting and brilliantly acted by the young cast and it's stuck with me for six solid years.
Les invasions barbares / The Barbarian Invasions
More Canadian goodness with the highly acclaimed, multiple award winning (including 6 Genies, Oscar for Best Foreign Film and many more) drama that follows
The Decline of the American Empire / Le Déclin de l'empire américain
. Technically you could call it a sequel but the tones of the two films are so different that it almost doesn't feel like a sequel, and the first film isn't required viewing to the second even though it's the film is like meeting up with old friends after many years of past. The emotional journey of the film is absolutely incredible. I'd say this is one film I would recommend to anyone as it's straight up essential viewing.
Owning Mahowny
You have to that a film was made on the biggest Canadian bank fraud ever. Not a robbery, heist or anything flashy like that but white collar fraud. Stars Philip Seymour Hoffman in a fantastic performance as the bank manager with a gambling problem. This was another film seen at the Carlton and it's re-affirmed my long standing belief to stay and watch all of the credits because when they rolled I recognized the name of someone I knew who worked on the film and it felt awesome to see their name up on the screen.
Whale Rider
This is one movie that if you don't cry in it, I'll start thinking you aren't actually human. Absolutely beautiful New Zealand film that follows a young girl played by Keisha Castle-Hughes on her journey to be accepted for who she is. I also remember I saw a preview for it (after seeing the film) when I went out to see Seabiscuit and just watching the preview made me cry. For freaking hell, just writing about this film makes me tear up. It's fantastic.
Gerry
I was instantly drawn to this film from the image in the TIFF 2002 program which just showed 2 guys walking. This film is an experience, the pace is slow but somehow manages to be engrossing and hypnotic. This is another one I saw at the Carlton and the print had a mark through part of the picture for the majority of the film but that kind of added to the charm. I also got a good giggle over the fact that one of the couples in the theatre clearly didn't 'get' the film.
Final Destination 2
Yet another sequel that I watched without (ever) seeing the first, and I really don't think it matters. I was happy as can be as I saw this film. At the time I was working a contract gig and finished early on late notice, so I had the afternoon free and headed to the movies. That happened pretty frequently so I started carrying showtimes with me, but this was the first time I managed to get to one.
The League of Extraordinary Gentlemen
I really don't understand what people have against this film, I found it tons of fun as a great adventure film with a mish mas of characters and creatures including a woman vampire. But it's on this list as it was the first time I had heard someone use the term steampunk to describe the style, and although I kept forgetting that word over and over again I still remember being fascinated by the idea of steampunk.
28 Days Later
This was probably the first really scary movie I saw by myself at the theatre and while I was there I was wondering why the hell I decided to do that. At one moment I got so scared that I jolted in my seat and almost launched my tea halfway across the theatre. It was totally worth it though, fantastic film.
Underworld
Seeing
Underworld
was a thrilling experience. Let's start with the kick butt female protagonist who can take anyone to task, looks awesome and defies authority for the greater good. Oh, and she's a vampire. Selene, played by Kate Beckinsale easily made it onto my
Favourite Film Characters
list. This film also was the first film I saw that had Michael Sheen in it and from the first moment he graced the screen I knew that we were seeing one phenomenal actor.
The Last Samurai
Retrospectively I'm surprized I saw this as I don't usually see war films, but I'm glad I did see it. Tom Cruise is fantastic but what I really remember about the film is that it was the first film I saw that had the charismatic Ken Watanabe in it and for his performance alone I was blown away, and from then have always made an effort to see his work.