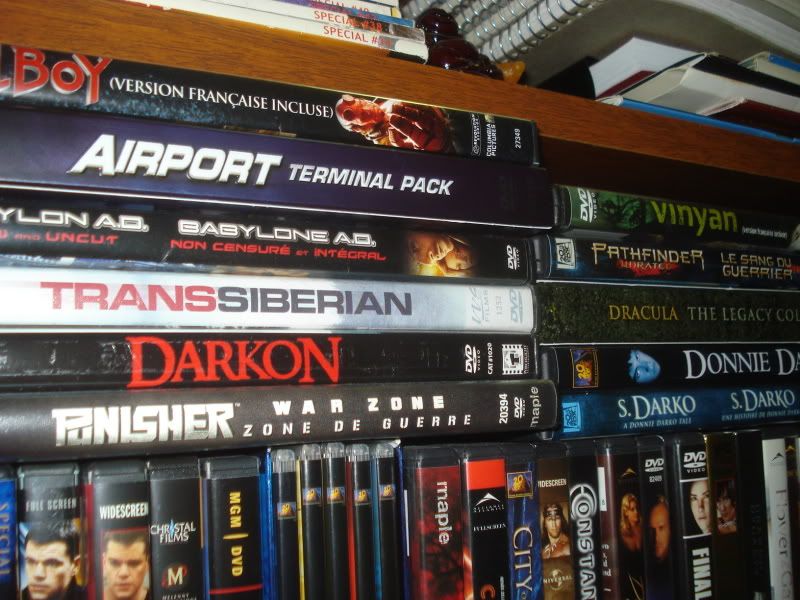 Last year one of the
film challenges I set for myself
was to see all the unseen films I had around the house be they borrowed or owned. I'm not usually one for purchasing films unseen but they started to pile up so this seemed like the perfect solution. The challenge completely worked and I made my way through the titles by the end of the year. Ironically, throughout the year I ended up acquiring exactly the same number of titles
so now I have another 18 films to get through. If it worked once, I've got faith it will work again. So here comes the 2010 Own/Unseen Challenge.
Challenge Status:
Over and Incomplete
Films Seen:
11/19
Airport - seen
Airport '77
Airport 1975
Alexander
- seen
Babylon A.D. - seen
Cargo 200
Concorde: Airport '79, The
Darkon - seen
Dracula's Daughter - seen
House of Dracula - seen
Kwaidan
Miss Julie (1999)
Pathfinder
- seen
Punisher: War Zone - seen
S. Darko - seen
Son of Dracula - seen
Titan A.E.
Transsiberian
Vinyan - seen
Update at the end of 2010:
I sadly only made it though 11 of the 19 titles in my owned/unseen challenge, and I did made a good go of it (albeit it mostly at an end-of-year push), I just couldn't make it through them all. Even though I've continued to accumulated more unseen films throughout the year, doing this challenge really got me thinking strongly about buying films I haven't seen yet. I do plan on working through most of the remaining titles, maybe I'll see them by the end of 2011.