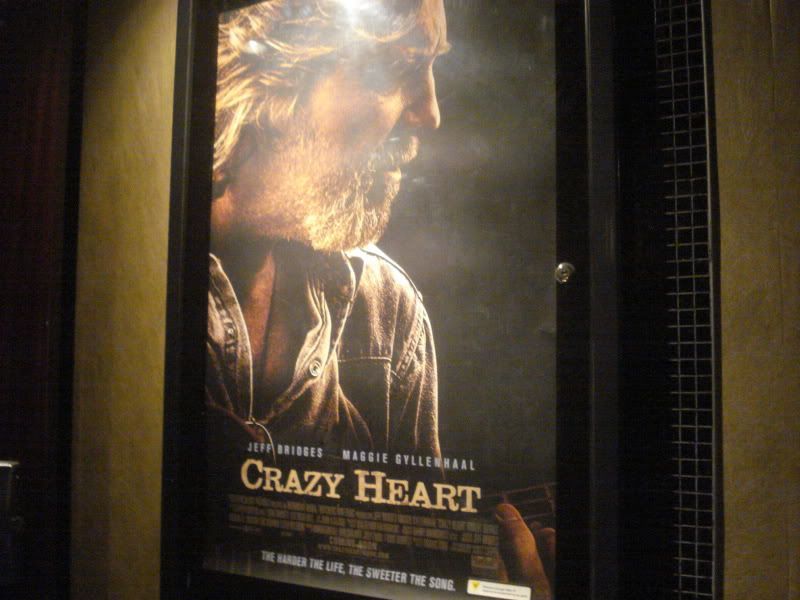 Dir: Scott Cooper - feature film directorial debut
Cast: Jeff Bridges, Maggie Gyllenhaal, Robert Duvall, Colin Farrell
USA
,
2010
Seen:
January 15, 2010
Reason to see:
The
trailer
moved me almost to tears
I've sat a little bit on reviewing
Crazy Heart
, because after seeing it I became stumped on how to express what I thought about it. My initial reaction to the
trailer
was so strong that it put my expectations rather high, add to that Jeff Bridges has received several acting nominations for his performance, and since then has won not only the Golden Globe (Acting - Drama) but also the Screen Actor's Guild Award. Is it an award worthy performance? Yes it is, I can't deny it that but I'm stuck because it's a story we've seen many times before.
I'm not usually one to complain over seeing one story more than once, and it's not like we will likely every stop seeing films about troubled artists because seeing their journey can often be heartbreaking, inspiring, emotional and showcase their artistry - which is a great story to show in film. But here it feels so very similar to
A Star is Born
, even though
Crazy Heart
is based on the novel by Thomas Cobb.
I wasn't connecting as much to this film as I expected so, as much like
The Wrestler
I didn't feel much empathy to the main character. Do I feel like they are in a tough situation? Yes. Do I think they do anything to change that? Not so much. I think the tolerance level for empathizing with troubled artist is lower than it used to be, or perhaps it is that the expectations are higher.
As the film is character driven, what it does have on it's side is the performances. As already mentioned Jeff Bridges is intense in his performance as country singer Bad Blake. Maggie Gyllenhaal does a great job as well, even though her character's back story as a journalist feels underdeveloped, it actually works in the favour of the film as if it's from Bad Blake's perspective. Colin Farrell was completely compelling in his supporting role, even though I was completely surprized to see him in it as I don't remember seeing that in any of the trailers or promos at all, which is a little strange.
Overall, even though the story felt familiar it is still a powerful journey. But what really stood out for me was the quiet moments of the film, the relationships as they built up tenderly and the awkward moments of truth. But tragedies do hit their marks very well along, all of which felt genuine which made them the harder to watch to see happen.
Shannon's Overall View:
I enjoyed it, but not as much as I expected
I'm not sure I'd watch it again but I'd get the soundtrack
I'd recommend it to fans of music films and those who enjoy watching films for great performances
16 minutes of preshow including 4 commercials and 5 previews:
Greenberg, A Prophet, Nowhere Boy, Knight & Day
and
Date Night
Return to Film Reviews
© Shannon Ridler, 2010