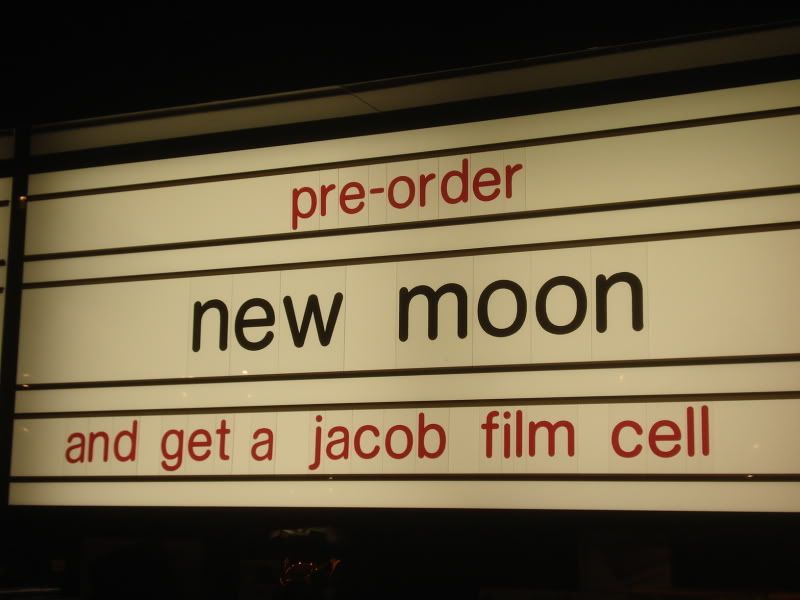 The word is out -
The Twilight Saga: New Moon
DVD gets a release date: Saturday March 20, 2010. It will be interesting to see the different deals and extra that will be on or included with the releases. The above picture is from an HMV in Toronto where you can pre-order the 2 Disc DVD for $19.99 if you put down a deposit of $10 and the bonus is a film cell with Jacob. Amazon.ca has a pre-order price guarantee which is pretty handy and what I tend to pick. It looks like they are just doing the 2 Disc Special Edition as opposed to
Twilight
which had several versions.
In terms on extras, Amazon.com indicates the following:
Audio commentary with Director Chris Weitz and Editor Peter Lamber
A riveting six-part documentary that takes you behind the scenes
Exclusive band rehearsal footage with Muse
Music videos from Death Cab for Cutie, Anya Marina, and Mute Math
I'm really hoping there will be a cast commentary and will keep my fingers crossed for one, although there is no word on that as of yet. There has been rumblings of extended and deleted scenes, so fingers crossed for those too!
The Twilight Saga: New Moon
DVD on
Amazon.ca
:
The Twilight Saga: New Moon
DVD & Blu Ray on
Amazon.com
:
Swords, Sandal and Spartacus

Latest review in the
Sword & Sandal Marathon
is the 1960 film version of
Spartacus
,
directed by Stanley Kubrick and starring Kirk Douglas. I really enjoyed revisiting it and continue to have a lot of fun with this marathon. If
Sword & Sandal Marathon
and
Spartacus
are your gig too then we are both in for a treat with the upcoming "Spartacus: Blood and Sand" Miniseries starring Andy Whitefield, Manu Bennett, Peter Mensah, Nick Tarabay, John Hannah and Lucy Lawless. The series premieres this Friday January 22, 2010 on Starz, but plays here in Canada starting Monday January 25, 2010 at 9pm EST on TMN. For times in your area,
check your local listings
. For more information on the miniseies check out the
"Spartacus:Blood and Sand" website
.
Here's to being entertained!