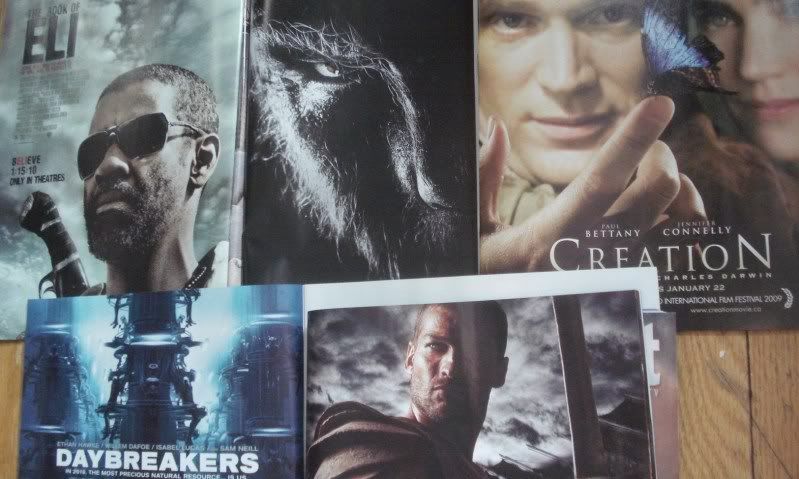 As
New Moon Mondays
has the new flavour of all things fantastical, what better way to start off the year but by looking at the upcoming 2010 fantastical films? It looks like a big year ahead with many epic films from monsters to fantasy to one of my new favourite terms: sword & sandal films! Let's have a look, shall we?
Vampires, Werewolves & Monsters, Oh my!
Did you think I would start with any other sub-genre? Of course not. We start the year off right with the Jan 8, 2010 release of the Spierig brothers
Daybreakers
starring Ethan Hawke, Willem Dafoe, Isabel Lucan and Sam Neill in a world where vampires rule but their food supply is turning...sparse. More vamps with
Let Me In
(Jan 15, 2010 - revised release date: Oct 1, 2010), the UK/USA re-make of 2008 Swedish Vampire film
Let the Right One In / Låt den rätte komma in
starring Richard Jenkins (The Visitor), Kodi Smit-McPhee (
The Road
) and Chloe Moretz ((500) Days of Summer) and I'm guessing this one will be pushed back as it's set for release in less than 2 weeks yet we've not even seen a trailer yet. Flipping from fearing the sun to the moon, we have the
The Wolfman
starring Benicio Del Toro set to release on February 12, 2010 and I'm very curious on this one as the two trailers were so drastically different in tone I have no clue what to expect. If you love both vamps and werewolves and are part of the Twi-crowd than you already know one of the biggest anticipated films of the year is
The Twilight Saga: Eclipse
, the third installment of the series hits theatres in a mid week release on Wednesday June 30, 2010. Last but not least is
Beastly
a re-telling of "Beauty and the Beast", set in New York and Alex Pettyfer (Stormbreaker), Vanessa Hudgens (High School Musical) and hitting theatres July 30, 2010.
Fantasy
2010 has it's fair share of fantasy and the titles that I'm looking forward to start with teh March 5, 2010 release of
Alice in Wonderland (2010)
which pairs up director Tim Burton (
Sweeney Todd: The Demon Barber of Fleet Street
) with Johnny Depp and Helena Bonham Carter onces again - more casting includes Mia Waskikowska, Anne Hathaway, Michael Sheen, Lee, Alan Rickman and Crispin Glover. Towards the end of the year we will see the third in the Narnia series with
Chronicles of Narnia: The Voyage of the Dawn Treader
(December 10, 2010) - I enjoyed both first in the series already release and look forward to this one but I have to remember to read the book first! Last up in straight up fantasy is actually a bit of a stretch with M. Night Shyamalan's
The Last Airbender
(July 2, 2010) based animated TV Show "Avatar" involving quests, powers and the elements. The film stars Dev Patel, Cliff Curtis, Nicola Peltz, Noah Ringer, Jessica Andres and Jackson Rathbone.
Fantastical / Religious
Strange to have not one but two religious centric fantastical films in one year, and even more strange is both are directed by Scott Stewart and starring Paul Bettany. Normally I'd call foul on overusing ideas or something but they both look freaking awesome. First up is
Legion
(January 22, 2010) where Paul Bettany stars as a fallen angel who comes to earth during a biblical apocolypse, and also stars Dennis Quaid, Lucas Black, Kevin Durand, Tyrese Gibson. Later in the year we have
Priest
(August 27, 2010) which is a vampire film based on a graphic novel by Min-Woo Hyung starring Paul Bettany in the title role and also starting Cam Gigandet.
Ideas

Ideas & Concepts - oh no! Not... thinking! Thinking is good, no? Well that's up in the air when it comes to this flicks... first up is
Creation
starring Paul Bettany (oh my, it's like.. the year of Paul Bettany!) as Charles Darwin in this Darwin biopic out on January 22, 2010. More current conceptual is the thriller
Inception
(July 16, 2010) the latest from Christopher Nolan (Memento, Batman Begins) whom seems to have yet again come up with a killer idea with this film starring Leonardo DiCaprio, Ellen Page, Joseph Gordon-Levitt, Michael Caine, Ken Watanabe, Marion Cotillard, Tom Hardy and Cillian Murphy.
1 Man Vs. ... the... World!
Revenge. Survival. Redemption. Who knows what else, but all these guys have a mission and in most cases it's for them alone and they are gonna get it done and blow some stuff up along the way. The year stars off with Denzel Washington kicking butt vs Gary Oldman and lackies in
The Book of Eli
(Jan 15, 2010). Then on January 29, 2010 it's Mel Gibson's turn to get revenge for his daughter in
Edge of Darkness
. Matt Damon steps in on March 12, 2010 in a non Bourne-but-similar-feel-but-that's-okay-because-Bourne-was-good with
Green Zone
- but let's be hones, it looks cool and who doesn't love a hero searching for the truth? Jon Favreau and Robert Downey Jr. team up again for the much anticipated sequel to
Iron Man
:
Iron Man 2
(May 7, 2010). Another frequent team-to-screen brings us the latest version of
Robin Hood
(May 14, 2010) and that team that brought us the powerhouse of Gladiator: Ridley Scott and Russell Crowe.
Action Women
The boys can't have all the fun, these femme fatale are set on kicking butt, taking names and in one case attempting to continue to survive a zombie apocalypse. First up is the July 23, 2010 release of
Salt
where Angelina Jolie kicks some major butt. Later in the summer it's Milla Jovovich's turn vs those ever undead-living zombies in
Resident Evil: Afterlife
(August 27, 2010)
.
Oh, if it's afterlife - did the zombies find redemption? Should I move this to the religious section? Perhaps not.
Magic Reigns
If Paul Bettany has all the religious films, then Nicolas Cage got the magic cards starting with March 19, 2010 release of
Season of the Witch
set in the 14th century and involving knights, monks and witches and than later in the year with the July 16, 2010 release of
The Sorcerer's Apprentice (2010)
a live action version of the Walt Disney's
The Sorcerer's Apprentice
which also stars Jay Baruchel, Monica Bellucci and Alfred Molina. But when muggles talk magic we know the big contender in that arena this year will be
Harry Potter and the Deathly Hallows: Part 1
(November 19, 2010)
,
the
first of two parts adaptation of the 7th novel in the Harry Potter series by J.K. Rowling. I have to pull out the books and start to re-work my way through that series in anticipation of the film.. but since it's November there is still lots of time.
Sword & Sandal
I love the term Sword & Sandal - don't you? I don't think I can ever get enough of these epic films but this year there are already several on the release schedule and out of them I'm most looking forward to
Clash of the Titans (2010)
(March 26, 2010), a re-make of the 1981 film of the same name this time starring Sam Worthington (
Terminator Salvation
) as Perseus, Liam Neeson as Zeus, Alexa Davalos as Andromeda, Gemma Arterton as Io, Mads Mikkelson as Draco and Danny Huston ad Poseidon. Directed by Louis Leterrier (The Transporter 2). Epic! Also sandal-y is
Percy Jackson & The Olympians: The Lightning Thief
(Feb 12, 2010) which is based on the Rick Riordan young adult novel based in Greek mythology with a modern twist and stars Logan Lerman (
3:10 to Yuma (2007)
,
Gamer
) stars as Percy Jackson. Last up in the category is
Prince of Persia: The Sands of Time
, based on the video game, starring Jake Gyllenhaal, Gemma Arterton, Ben Kingsley and Alfred Molina, directed by Mike Newell and hits theatres May 28, 2010.
If you are a fan of
Sword & Sandal
films? If so you are in luck - I'll be doing a marathon in anticipation of the release of
Clash of the Titans
. More info will be up tomorrow!
See details all these titles, links to trailers and even more
Upcoming 2010 releases here
. All release dates subject to change.
New Moon Mondays
is a weekly Monday article focusing on fantastical & epic films