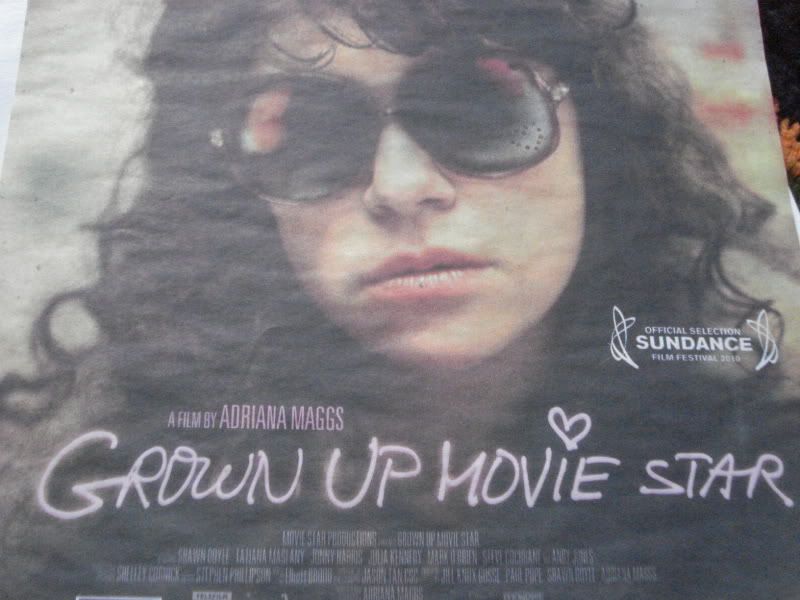 Writer/Dir: Adriana Maggs - feature film directorial debut
Cast: Tatiana Maslany, Shawn Doyle, Jonny Harris, Julia Kennedy, Mark O'Brien, Steve Cochrane, Andy Jones
Canada
,
2010
Seen:
February 3, 2010 at Scotiabank
Reason to see:
Canadian
It's no secret that I'm a huge fan of Canadian film, so whenever we have a new Canadian film in release I get excited. But when
Grown Up Movie Star
hit the screens I hadn't heard a word about it, which got me a little cautious but also curious so I I headed out to see what it was all about.
Oh my goodness, this film knocked my socks off. I'm literally sockless. How refreshing to see a film that is so honest and open about the curiosity and interest in coming of age themes, but also maintains the real awkwardness as people fumbling towards experience? It's absolutely astonishing to see, and I love that it doesn't hide any of the bad or good of that comes of the journey of our protagonist Ruby, played by the open and expressive Tatiana Maslany
.
We get a complete 360 view of her teen life from everything to testing out her own self-discovery amongst the daily dramas of a home life that has more of it's fair share of complications.
One of the rocks of the film is the performances by Shawn Doyle as her Ruby's father Ray, whose own journey is fascinating to see. It's also great to see such a natural father/daughter relationship between Ray & Ruby, one that sure as hell ain't perfect but feels very real and one that you were rooting for on an emotional level.
I loved how the film was so open to showing us everything that it did, and how it embraced the awkwardness of life and how that can shift the world very quickly or have subtle lasting effects. The performances are brilliant and I loved watching the characters lives unfold. I couldn't recommend
Grown Up Movie Star
more, it's absolutely fantastic.
Shannon's Overall View:
I loved it
Ill watch it again
I highly recommend it, especially if you enjoy coming of age films
14 minutes of preshow including 3 commercials and 5 previews:
Passenger Side, Greenberg, Nowhere Boy, Cooking with Stella
and
A Prophet
Return to Film Reviews
© Shannon Ridler, 2010