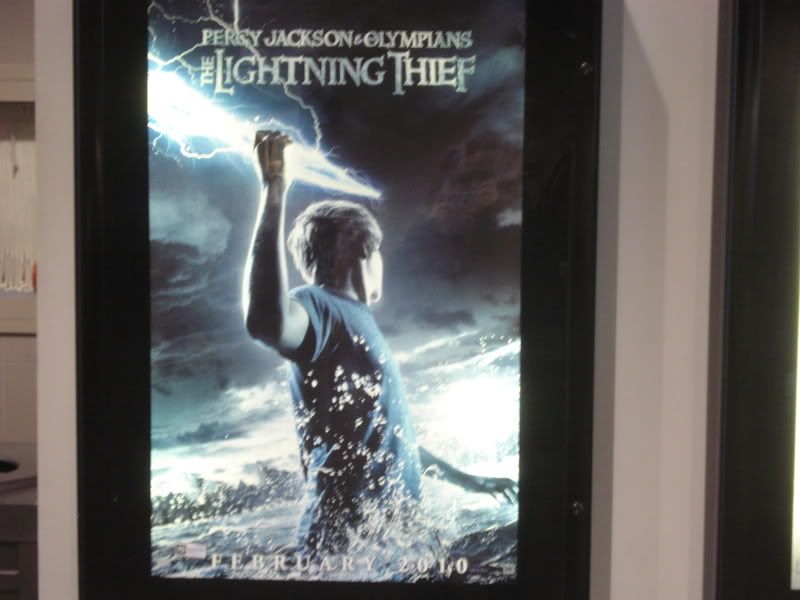 Dir: Chris Columbus (
Harry Potter and the Philosopher's Stone
,
Harry Potter and the Chamber of Secrets
, I Love You, Beth Cooper)
Cast: Logan Lerman, Alexandra Daddario, Brandon T. Jackson, Kevin McKidd, Pierce Brosnan, Catherine Keener, Sean Bean, Uma Thurman, Rosario Dawson, Steve Coogan, Jake Abel
USA
/
Canada
,
2010
Seen:
February 12, 2010
Reason to see:
Urban fantasy in combination with Greek Mythology? I'm so there. Plus it's based on the book series. Also fits in for this weeks selection for the
Sword & Sandal Marathon
*
I had really hoped to read the book that went with this film before seeing it, but that didn't quite pan out (not like I don't have enough
reading planned for this year
). Oh well, there being too many books to read is a problem I'm fine with having. But, in the end that is okay because after seeing
Percy Jackson & the Olympians: the Lightning Thief
I'm still looking forward to reading the book it's based, as well as the whole Olympians series.
I loved the world this film is set in, and I think urban fantasy might be my new favourite subgenre. Combining Greek mythology and an urban setting is a brilliant idea, and it provides a opportunity to explore concepts of strengths, weaknesses, natural abilities, training, knowledge and skill in an interesting way. That is the genius of the film - it's not heavy handed in putting these two ideas together, but does so in a creative and seamless manner so that it unfolds beautifully and intuitively for the viewer.
The film follows the title character, Percy Jackson played by Logan Lerman (
3:10 to Yuma (2007)
,
Gamer
) who is as new to this concept as we are. Logan Lerman does a great job getting across the comedic elements of the story and is certainly believeable as a resistant participant. I enjoyed how much of the young cast is showcased at the heart of the film, alongside Percy we have his friend Grover (Brandon T. Jackson) and the strong and adept Annabeth (Alexandra Daddario). The focus of the film really is their adventure and their stories, which was great to see. Not to say the adult cast isn't important, they are, but they add as opposed to overwhelm world which is great to keeping it centred on the teens. The adults do have some great moments though, Kevin McKidd is wonderful as Poseidon, and both Rosario Dawson and Uma Thurman are delightful.
In terms of being a
sword & sandals
film, it's a bit of a stretch. Swords - yes, sandals - no, but with the mythological elements it fits in enough for me. As opposed to the other films in the marathon, this one will likely be the only kids movie. But, if you have an adventurous spirit I think you will enjoy it.
The only thing I wasn't super sold on was some of the effects, but only some of them and only when it had to do with scale, which seems to rarely work seamlessly in film. This film is about the spirit of adventure, innovated storytelling and great characters - and it lands all of those marks. It was a heck of a lot of fun and I look forward to learning more about the world.
I only noticed after the fact that the release date of February 12, 2010 aligns to the opening of the 2010 Winter Olympics! Way to tie it into current events!
Shannon's Overall View:
I loved it
I'll buy it
I'd recommend to fans of adventure films & urban/new takes on mythology
14 minutes of preshow including 1 commercials and 7 previews:
Diary of a Wimpy Kid, Marmaduke, Despicable Me, The Karate Kid (2010), The Last Airbender, Cats & Dogs: The Revenge of Kitty Galore
and
The Last Song
Return to Film Reviews
© Shannon Ridler, 2010
* The
Sword & Sandal Marathon
is a 13 week marathon exploring sword & sandal films in anticipation of the 2010 release of
Clash of the Titans (2010)