Day 3 at
Cinéfranco
had a great range of films. The comedies ran strong with family friendly
Le petit Nicolas / Little Nicholas
and need a family quick
Tricheuse / So Woman!
, I found myself really taken in by the dramas of the day. The haunting immigrant tale of
Eden à l'Ouest / Eden Is West
was captivating and centred in an absolutely fantastic performance by Riccardo Scamarcio. But the highlight of the day was ending off with a screening of the emotionally powerful
and three-time Genie nominated
3 saisons / 3 Seasons
with
director/co-writer Jim Donovan and co-writer/actress Carinne Leduc were in attendance at the screening.
Eden à l'Ouest / Eden Is West
Dir: Costa-Gavras
Cast: Riccardo Scamarcio, Juliane Köhler, Odysseas Papaspiliopoulos
France
/
Greece
/
Italy
Eden à l'Ouest / Eden Is West
follows Elias, an illegal immigrant through his journey for a better life. Never knowing what will happen next and constantly keeping a watchful eye, he navigates his way from one unknown situation to the next. Riccardo Scamarcio gives a stand out performance as Elias, and keeps the audiences so so involved in this film. He's got the hunger for freedom, but a you can always see the fear lurking inside keeping him on edge and ready to bolt if backed into a corner. And his steely eyes drawn in a lot of the ladies along the way, although in an interesting take here is they always seemed more interested him that vice versa. I love how much the film kept ambiguous, which keeps the viewer in a virtual parallel to the experience Elias has of being in a new country and not knowing where he be next and often communicating more in instinctual reaction as opposed to common ground through language.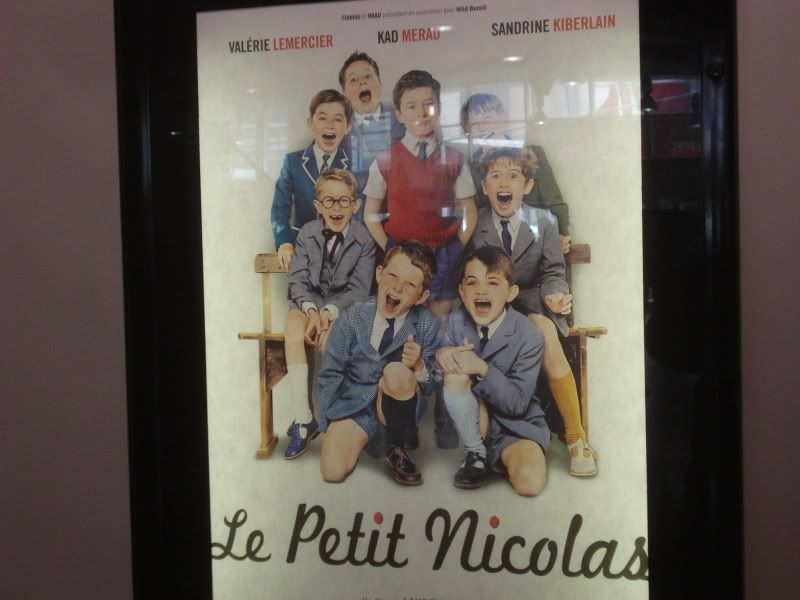 Le petit Nicolas / Little Nicholas
Dir: Laurent Tirard
Cast: Maxime Godart, Valérie Lemercier, Kad Merad, Sandrine Kiberlain, Vincent Claude, Victor Carles
France
I totally didn't anticipate digging this one. Kids movie, comedy, lots of kids in the house, but wow it was a lot of fun. It has a great whimsical energy to it and takes the idea of one misconception going really wrong and following through on that through and through. Following Nicolas and his friends as they try to fix the scenario, we are treated to the crazy creativity of solutions only kids would think of to solve their problems. Refreshing, inviting and optimistic the film completely charmed the audience over, myself included.
3 saisons / 3 Seasons
Dir: Jim Donovan
Cast: Caroline Néron, Romano Orzari, Carinne Leduc, Shawn Baichoo, Frank Schorpion
Canada
3 saisons / 3 Seasons
was easily the most anticipated film for me this year at
Cinéfranco
. Toronto gets a lot of films released, but we don't get everything and it pains me when a
Genie nominations
film doesn't hit the screens. But, festival come to our rescue and therefore the three time
Genie nominated
3 saisons / 3 Seasons
(Best Motion Picture, Performance by an Actress in a Leading Role for Carinne Leduc & Film Editing) played last night. What a powerhouse films. After finally seeing it, I'm surprized it wasn't nominated for writing and directing as well. Following several relationships with common themes, we see the world through many different eyes and lives, but are subtly aware that all life is connected. It's that beautiful subtly and strong performances that make
3 saisons / 3 Seasons
a
cut above
.
The films is graceful even when dealing with harsh subject matter, which is so refreshing. It doesn't shy away from the harshness, but doesn't dwell in it visually and it doesn't need to because the audience can help but feels as we are invested in all characters in film, flaws and all. There is a beautiful honesty in the film, one that makes the lives of the characters feel so real that feel right alongside them every step of the way. Beautiful, bold and brilliant,
3 saisons / 3 Seasons
is a must see
.
3 saisons / 3 Seasons
has a repeat screening on Wednesday March 31, 2010 at the Revue Cinema at 9pm
.
I highly recommend checking it out.
Cinéfranco
2010 runs from March 26 - April 3, 2010 in Toronto, Ontario, Canada