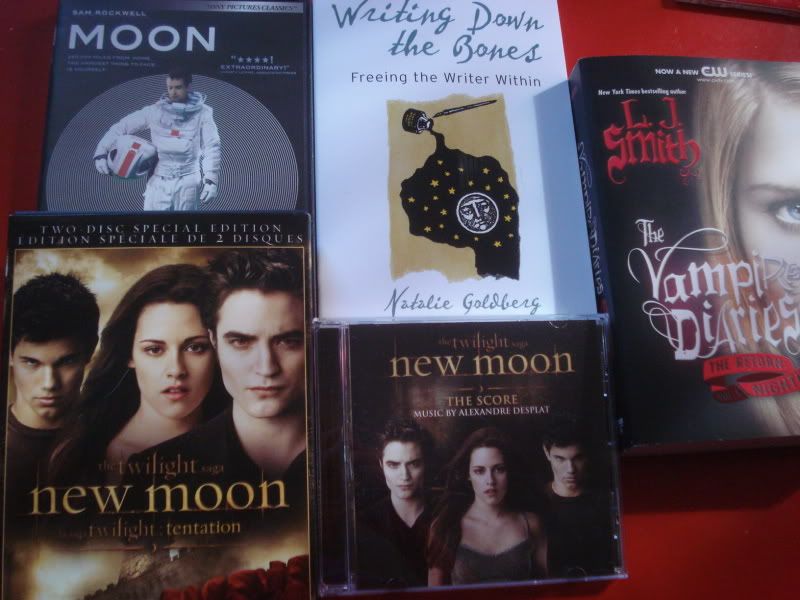 This month the picks for the DIY club are getting back to the well roundedness of getting DVD, CD and a book or two! Imagine that, going back to the original concept! They are all items from my
wishlist
and I'm thrilled to have them in my hot little hands.
Moon DVD
I'm so glad to finally have
Moon
. It was one of my
favourite films of last year
, which although I don't number that list, if I did -
Moon
would be in the top 5. It's kind of crazy that I haven't reviewed it, but the review would be something like: "See Moon. Now." Seriously, if you've ever enjoyed SciFi, see this film. Outstanding performance by Sam Rockwell, and it's a brilliant film from concept to completion. The score by Clint Mansell is so good it almost hurts. Hard to believe it's a directorial debut from Duncan Jones, and I can't wait to see what he does next. Until then - I'll be re-watching
Moon
.
Writing Down the Bones: Freeing the Writer Within by Natalie Goldberg
Got this one out of the library and really found it inspiring but knew it would take me longer than the 3 weeks to get through it in earnest. Hoping to get cracking on it next week!


Vampire Diaries The Return: Nightfall by L.J. Smith
Now we get to the completist nature kicking in again. I have all the other Vampire Diaries books and totally inhaled them last September. Yep, nothing cooler than reading Vampire Diaries in line at
TIFF
. Heh. Anyhow, wanted to make sure I got this before the possibility of it having some kind of TV-Tie-In cover like the other version have. I have no idea if the book will end up relating to the show, but you never know. It's the first in a trilogy that comes after the original four books.
The Twilight Saga: New Moon DVD
This is a bit of a cheat to include, as I actually won the DVD. BUT - I had already ordered it so it was technically a part of my DIY Club this month. It's not secret that I found
The Twilight Saga: New Moon
a disappointment but I couldn't not buy it, and after re-watching there is enough good in there that it's fun to re-watch (although the editing drives me nuts). Looking forward to checking out the director & editor commentary along with the 6-part behind the scenes making of documentary. This is the 2 Disc special edition, and although it was previously stated there would be deleted/extended scenes - there isn't any of that on this edition. Also, originally it was indicated there would only be 2 versions of DVD but now there are at least 5. Too many editions for me to keep up with. I have one and I'm sticking to it!
New Moon Score CD
The completist got the best of me again! I wasn't a huge fan of the
New Moon
score - in fact a lot of the time I found it distracting and leading in the film. But, I enjoy listening to scores while writing and I am a fan of Alexandre Desplat's work on other films like The Curious Case of Benjamin Button, Coco Avant Chanel and
The Golden Compass
. And just noticed he's on board for scoring Harry Potter and the Deathly Hallows Part I. Wow. That's awesome.
Titles on Amazon.ca (Canada):
Titles on Amazon.com (US):
Looks like I'm not the only one who like receiving things in the mail!