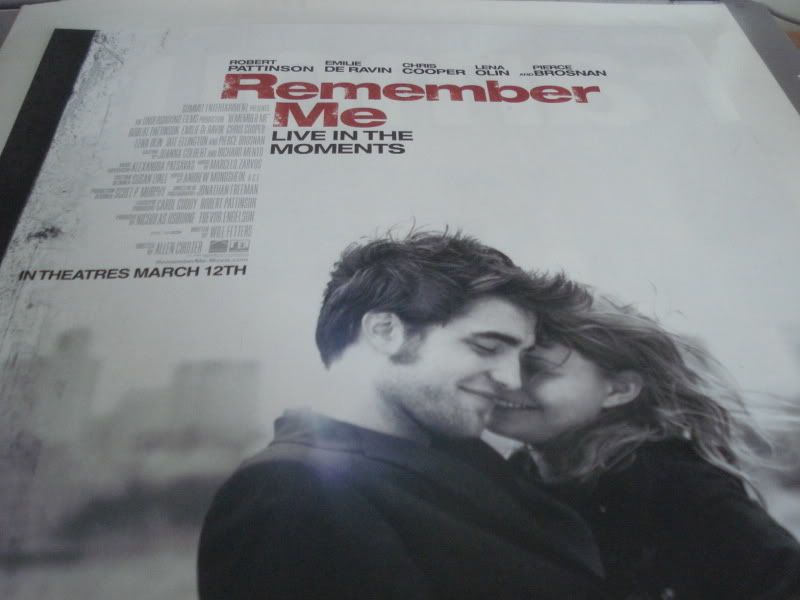 Dir: Allen Coulter (Hollywoodland)
Cast:
Robert Pattinson, Emilie De Ravin, Pierce Brosnan, Chris Cooper, Martha Plimpton, Lena Olin
USA
,
2010
Seen:
March 10, 2010
Reason to see:
Won free tickets!
I'll admit that I went to see this film in part to see Robert Pattinsons acting skills (yes, I'm a
Twilight
fan, but I'm also objective). It's research folks! And besides, the trailer looked interesting and it features tons of actors I enjoy, along with Robert Pattinson who plays the lead character Tyler, a broken early twenties guy, Pierce Brosnan as his Dad (aka mean Dad #1), Emilie de Ravin as Ally "the love interest" and Chris Cooper as her Dad (aka mean Dad #2). Lots of opportunity for conflict and interesting relationships, no? You'd think that, wouldn't you. Too bad that none of the characters were likable or believable, in any way. Both the Dads were one dimensional and both Tyler & Ally felt under developed and in unrealistic or not believable day-to-day life situations.
I'm thrilled that I lucked out into winning free tickets, because I would have been miffed to pay to see this film. The biggest question I left with was not being sure what they were thinking or who this film was made for. New Yorkers, perhaps, but it certainly isn't the romance it has been marketed to be. We have two attractive leads in a relationship, but romance? Not really. There is a hint of the idea the complicated nature of real life being not perfect and odd happenstance, but doesn't have any awkwardness that would be present if that was what they were going through. There is a certain amount of chemistry between the leads at times, it's not enough to pull you in and certainly not enough to carry through the film to care enough about the relationship or the people involved. The screening I went to introduced this film as being one about lost, which is much more accurate that any the trailer or any other marketing I've seen. It's not the happiest of topics, but certainly can resonate with a lot of people and can be done well but felt like a missed opportunity here. There was also more violence than I would have expected. If they were going with 'real life is harsh' thing, they certainly got that, but placing it in the everyday kept it grounded in being really depressing.
It's really too bad, because I am a fan of all the actors involved here, but didn't enjoy any of the performances. Any of them. It's a shame too because they've all got the chops.
Shannon's Overall View:
I didn't love it
I'd not likely watch it again
I'd recommend people who enjoy dramas featuring broken characters
15 minutes of preshow including late start, prizes, no commercials and 2 previews:
The Runaways
and
Letters to Juliet
Return to Film Reviews
© Shannon Ridler, 2010