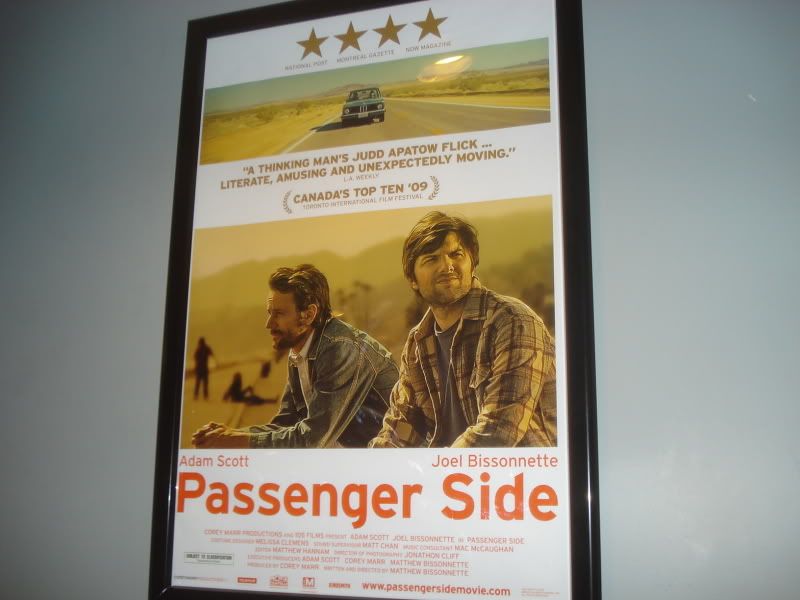 Adding some giggles to this weeks Thrills, Chills and Spills with an exclusive advance screening of
Passenger Side
on Wednesday, April 7, 2010 at 8:00pm at The Royal with Special Musical Guests Mac McCaughan and Jim Wilbur of Superchunk and Portastic.
Passenger Side
is a urban road movie starring Adam Scott and Joel Bissonnette as brothers on an inadvertent journey around town together. The dynamic between to two is amazing, with pitch perfect dialogue that gives the relationship depth and distance at the same time. Written & directed by Matthew Bissonnette (Who Loves the Sun, Looking for Leonard).
Passenger Side
was a selection for
Canada's Top Ten 2009
and will opens theatrically in limited release April 23, 2010. Tickets for the advance screening are available at at Soundscapes (572 College St.), Rotate This (801 Queen St. West) and
online
.
Scott Pilgram vs. The World
trailer
has arrived. It looks pretty fun and although I've never read the graphic novels that it's based I'm always interested in what Edgar Wright (
Hot Fuzz
, Shaun of the Dead) is up to. I love the Toronto-ness of it. TTC Buses! Casa Loma! Bring it! Also, had no idea Anna Kendrick was in it. The film stars Michael Cera who has to 'defeat' the 7 enemies of his new girlfriend. It will hit theatres on August 13, 2010
Jumping from one kind of Chris Evans news to another, Chris Evans has been cast as Captain America. I thought the film would be called Captain America, but no.. the title is
The First Avenger: Captain America
according to the
IMDb Page
. Other confirmed details include Hugo Weaving as Red Skull, and Joe Johnston (
The Wolfman (2010)
) in directors chair.
More action abound, or a-bond. Some information has been released on Bond 23. No name yet but several details are confirmed. Daniel Craig comes back for the third time as Bond, Frieda Pinto (Slumdog Millionaire) has been cast as a Bond girl and Sam Mendes (American Beauty,
Revolutionary Road
) and word is he wants to re-invent the genre. Interesting there, as Casino Royale came out just a few years ago and it really spoke well to a new kind of Bond. I wonder what we are in for this time. Thanks to
Geeks of Doom
for this great info!
The thriller release of this week would have to be Atom Egoyan's latest
Chloe
starring Julianne Moore as Catherine, a women who hires a Chloe (Amanda Seyfried) to see if her husband (Liam Neeson) is faithful. Also stars Nina Dobrev ("The Vampire Diaries") and Max Thieroit. Chloe hits theatres tomorrow!
See more info on
upcoming 2010 releases here
.