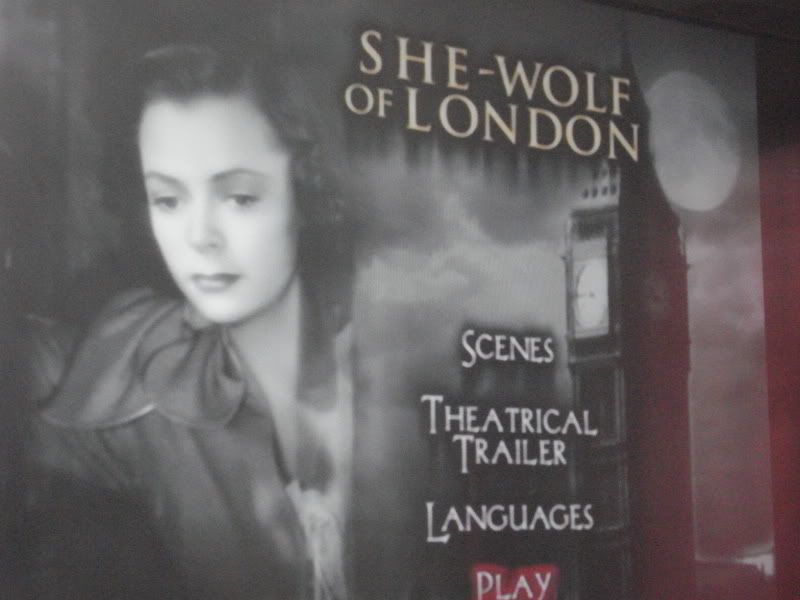 Dir: Jean Yarbrough (Angels in Disguise, She's in the Army, South of Dixie)
Cast: June Lockhart, Sara Haden, Jan Wiley, Don Porter, Lloyd Corrigan, Dennis Hoey, Martin Kosleck, Eily Malyon, Frederick Worlock
USA
,
1946
Seen:
April 24, 2010
Reason to Watch & Review:
For
The Wolfathon
*
I hadn't heard much abut
She-Wolf of London
, but it was on the same DVD as
Werewolf of London
so I thought I would give it a go for The Wolfathon, especially as there don't seem to be to many femme focused werewolf films. The focus here is a lot more on the femme than the werewolfness though, although I appreciated the almost completely female focused of the sotry and characters. The primary cast is a trio of women: the young & engaged Phyllis Allenby (June Lockhart), her aunt Martha (Sara Haden) and Martha's daughter Carol (Jan Wiley) who all live together on the Allenby estate with (gasp!) no men in the house. Shocking, isn't it? Well it did come out in 1946 and they are actually rather playful with the gender dynamics which makes it pretty entertaining.
The ladies are just going about their lives when fear is raised from attacks in a nearby park and the now there is a mystery is on to solve regarding the cause. Intertwined into the mystery are family histories, romances and local folklore. The film feels like serial in a lot of ways, using a lot of the ideas and themes from werewolf films with it's own spin on things but overall doesn't bring too much new to the mix. It actually felt more like a just a straight up drama than a werewolf film, as there wasn't a lot of horror elements or effects involved but rather kept the focus of the mystery side of things while presenting themes of remorse and regret. As a werewolf film, it's not quite up to the others I've seen but it is an enjoyable watch.
Shannon's Overall View:
I enjoyed it
I'll watch it again
I'd recommend it to fans of classic dramas
Return to Film Reviews
© Shannon Ridler, 2010
*
The Wolfathon
is a marathon exploring werewolf films in anticipation of the 2010 release of
The Twilight Saga: Eclipse