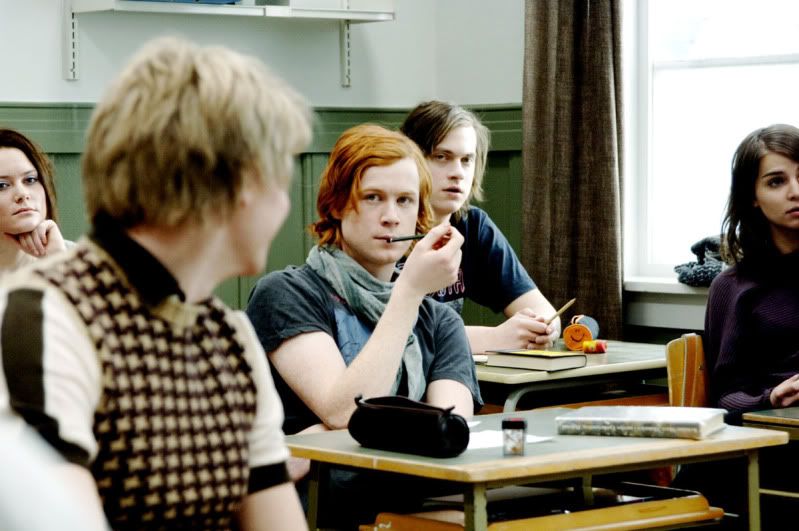 Above: The Man Who Loved Yngve
The Man Who Loved Yngve
Dir: Stian Kristiansen
Cast: Arthur Berning, Ole Christoffer Ertvaag, Ida Elise Broch, Rolf Kristian Larsen
Norway
Teen angst runs high in
The Man Who Loved Yngve
, set in Norway circa the fall of the Berlin Wall. The film is centred on Jarle (Rolf Kristian Larsen), who miraculously seems to have the best it can get as when it comes to the 80's, plays in a synth-pop band and is going out with Katrine (Ida Elise Broch), who is the best girlfriend. Everything breaks loose when there is a new boy in town, Yngve (Ole Christoffer Ertvaag) and suddenly life seems to take on a whole new level of angst for Jarle. Beautifully shot and with strong performances by the young cast, we are treated to a fascinated coming of age story that is sure to resonate. The soundtrack is a great combination of reminiscent 80's power tunes along with more subtle choices, and of course - the band in the film as well. It's an emotional roller coaster ranging from sensitive to sweet to tragic all in one. Very impressive.
The Man Who Loved Yngve
screens at
Inside Out
on:
Wednesday May 26, 2010 at 7:30pm at the ROM
Assume Nothing
Dir: Kirsty MacDonald
Documentary
New Zealand
Absolutely beautiful documentary showcasing portraits on 5 gender-variant artists from photographer Rebecca Swan's book
Assume Nothing
. From interviews, photo shoots and stills we are presented with discussions on gender identity as the film creates and showcases imagery and language to reflect back non-binary gender presentations. I loved the openness of the film and that it not only discussed but also defined, presented and created imagery and celebrated words that crossed over from the gulf of the limited thinking. It walk the walk and talks the talk, as well as being beautiful from start to finish.
Assume Nothing
screens at
Inside Out
on:
Friday May 28, 2010 at 5:15pm at the ROM
And Then Came Lola
Dir: Ellen Seilder
Cast: Ashleigh Sumner, Jill Bennett, Cathy DeBuono, Jessica Graham, Candy Tolentino, Angelyna Martinez
USA
Ashleigh Sumner stars as Lola, a woman on a simple quest at the request of her girlfriend Casey (Jill Bennett) to deliver a package. Except, it's not so simple. Is it ever that simple? It's a story we see more than once as the film is structured a la
Run Lola Run / Lola Rennt
, with each incarnation presenting new problems and roadblocks, but the fun here is that it's also used as a not just running-through-the-motions, but also running-though-the-relationship with discussions of inadvertent self-discovery along the way. I enjoyed the creative spin on the structure and also that a variety of styles were used from animation to stills along with the live action. The highlight of the film was definitely Ashleigh Sumner who absolutely shines as Lola, she's got brilliant comedic timing and delivery that had me in stitches.
And Then Came Lola
screens at
Inside Out
on:
Saturday May 29, 2010 at 9:30pm at the ROM
Above:
And Then Came Lola
For more information, check out the
Inside Out website
,
Film Schedule
,
Festival Planner
,
Online Box Office
,
Ticket Availability
,
Box Office Information
,
Venue Information
and
Party Information
.
The
Inside Out Toronto LGBT Film and Video Festival
2010 runs from May 20-30, 2010 in Toronto, Ontario, Canada.