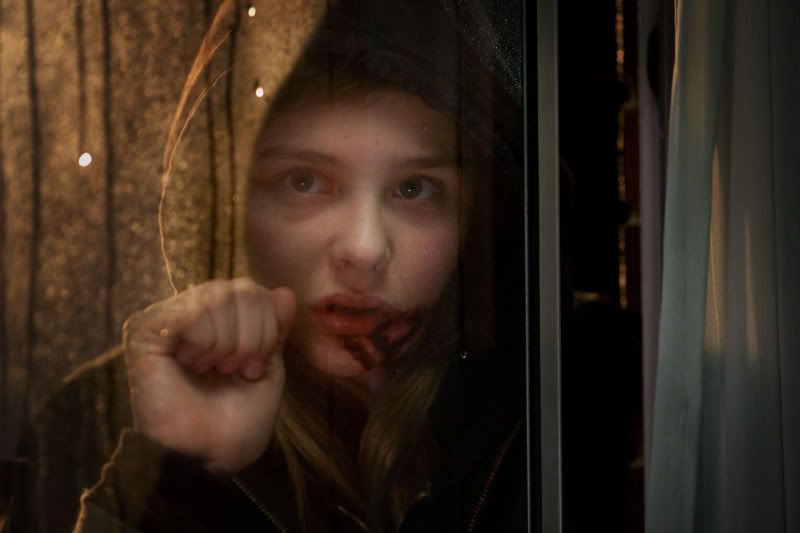 This are starting to clear up.
I was one of the many hesitant when I heard about
Let Me In,
as I'm a huge fan of
Let the Right One In / Låt den rätte komma in
. But when it was revealed that the new version is actual an English film based on the same book, not a straight up remake I started to be interested again. Now we finally get an actual look at the film and I'm feeling conflicted all over again. Why? Those shots look very familiar to
Let the Right One In / Låt den rätte komma in
. They also looks freaking amazing. What's a vampire fan to do? I'll have to wait until October 1, 2010 and see the film and then I'll know for sure!
If the folks in the stills look familiar, I'm not surprized. The casting couldn't have come a better time with Chloe Moretz (Hit Girl in
Kick-Ass
) playing Abby pictured above. The below shot is her with Kodi Smit-McPhee (
The Road
) who plays Owen. If your are racking your brains on the anglicized names, Abby was Eli and Owen was Oskar in the original. Not bad choices, however very 'clear' choices. Rounding out the cast, Richard Jenkins (The Visitor) plays Abby father. Interesting. Sounds like they might be strongly focusing on the coming of age angle as well. Very interesting.
I could gripe about the amazingness of the 2008 version til the cows come home, and how we don't need a remake, but I can't help but become more and more curious about this new version. I want to see what director Matt Reeves (
Cloverfield
) does with it. In 4 1/2 months we'll know! Hmm, this may mean I should snag and finally read the book they are based on. My
to read pile
grows at an astonishing rate these days!