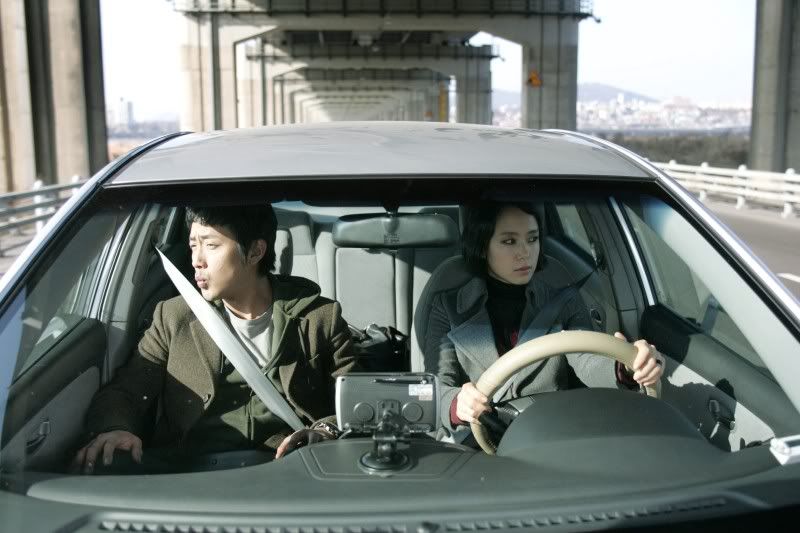 Dir: Lee Yoon-ki (Ad Lib Night / Aju teukbyeolhan sonnim, Love Talk / Reobeu tokeu)
Cast: Jeon Do-Youn, Ha Jung-woo
South Korea
,
2010
Reason to see:
South Korean film is always a yes for me.
Unconventional urban road movies seem to be a new hyper niche cropping up (
Adrift in Tokyo / Tenten
,
Passenger Side
), and being a film-loving urban-dweller I couldn't be more happy. Especially when the films are this good.
My Dear Enemy / Meotjin haru
is the latest edition here, as it follows Hee-soo (played by Jeon Do-Youn), whom unexpectedly turns up to collect a 1-year old debt from ex-boyfriend Byoung-woon (played by Ha Jung-woo). The setting is Seoul, Korea and the quest is a sum $3,500. Feels almost like an adventure film, eh? Nope. Action? Wrong again. It's a beautifully subtle drama that gently explores relationships, challenges assumptions and tags us along for the ride.
The amazing thing is, we actually do feel like we are being tagged along for the ride. Through extremely effective visuals we are often watching from afar, through glass, doors, windows or literally just from a distance. This makes the film not only beautiful to watch but also invokes an emotionally layered effect that keeps the viewer shifting their viewpoints and opinions of the characters almost subconsciously. At times, it can feel as we are the observer and others voyeuristic, whereas at other times you may not even notice the distance at all. This play between closeness, distance and clarity is not only seen in the film visually but also with the characters themselves whose motives and viewpoints are also portrayed with this every changing depth perception that gives that not only a truly real feel to them but also makes us continually curious about them wanting to know more. The film threads these shifts so beautifully and subtly throughout that I was completely captivated and mystified while watching. Huge kudos to the Jeon Do-Youn and Ha Jung-woo whose stellar performance shift and meld along the way, I don't know how they did it. They are so so subtle, but so real and present in every beautiful moment.
Going into the film I had heard lots of acclaim so I had set the bar pretty high. I can happily say that even with high expectations,
My Dear Enemy / Meotjin haru
exceeded those expectations. Brilliantly acted and beautifully shot, it presents us with a gentle yet rich film experience that needs to be seen to be believed. It's absolutely captivating - don't miss it.
Shannon's Overall View:
I loved it
I'll watch it again
I highly recommend it
Return to Film Reviews
© Shannon Ridler, 2010