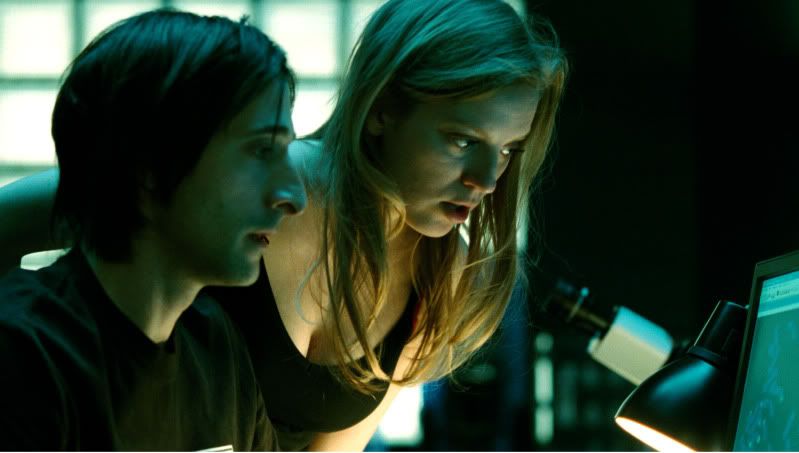 Adrien Brody & Sarah Polley as Clive & Elsa, Courtesy of E1 Entertainment
Dir: Vincenzo Natali (Cube, Getting Gilliam, Cypher)
Cast: Sarah Polley, Adrien Brody, Delphine Chanéac
Canada
/
France
/
USA
,
2010
Reason to see:
I'm always up for science fiction films, I've been hearing good things about

Splice

for ages, plus it's from
Cube
director
Vincenzo Natali
I'm going to start my review by straight up recommending this to fans of dark science fiction. You don't need to know more - feel free to come back and read the review after you see the film, but you really don't need to know more.
Splice
is an excellent dark science fiction film, and fans of that will certainly enjoy it. It's best seen with knowing the least about it. But, if you want to know more I'll still be spoiler-free as always.
Splice
stars Sarah Polley and Adrien Brody as Elsa & Clive, genetic scientists that work on splicing genes. I loved Elsa & Clive. Loved them. It's refreshing to see hipster scientist couple that work together at work and at play. Great stylistic choices here from wardrobe, to all their dwellings. Sarah Polley and Adrien Brody also have great chemistry and made a very believable with very strong performances. I can't imagine the film with anyone else in it, which is a testament to how good they are.
The film is strongly science focused and uses this focus to it's advantage by not only by creating a very plausible, accessible yet fantastical scenario, but also by bringing into play moral questions in scientific research and discovery. It walks a very interesting line of dark, light and grey, pulling us not only with curiosity but also emotionally along the way.
The thing is, it gets really dark. Much darker than I was expecting, not in terms of violence or gore which are present and done extremely well, but more along the lines of things that crop up when exploring the darker side of human nature. It certainly plays some deal breaker cards that I know people find disturbing. For that, I admit I was slightly disappointed because I really wanted to love and praise the film, but I can't widely recommend it due to the disturbing factor. I'm sure the intent is to push some buttons here, so in that sense it certainly succeeded, I just wasn't expecting it to go there.
It is an exceptionally made film and I'm sure it will go over well with genre folk, in fact I'd say they will be in heaven watching
Splice
. I'm thrilled to see a Canadian co-production get such a wide release and enthusiastic response so far, I'll be curious how much it can crossover to mainstream audiences considering the darkness it delves into. Very curious.
Warnings:
gore, violence and 'darker side of human nature' type stuff that may be disturbing
See also:

Splice
DVD Review
Shannon's Overall View:
It's very well done and I wanted to love it, but it was dark in ways I wasn't expecting
I'll own it
I'd recommend if you like your sci-fi to walk on the dark side
Return to Film Reviews
© Shannon Ridler, 2010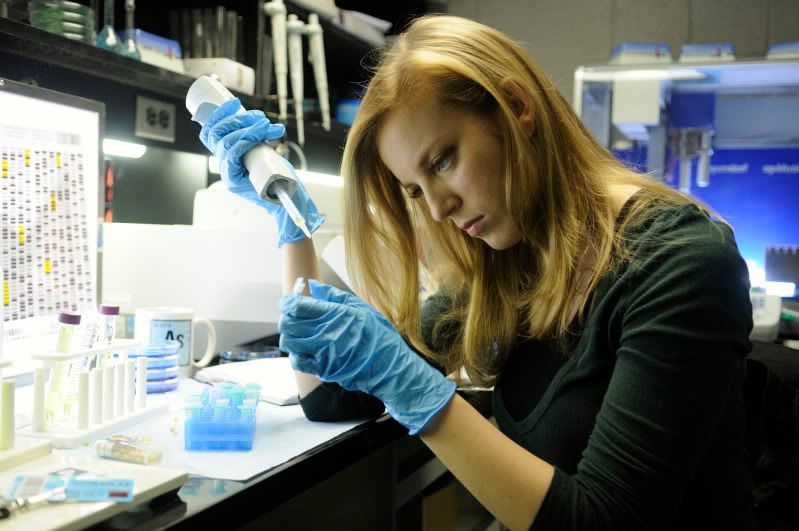 Sarah Polley in
Splice
, Courtesy of E1 Entertainment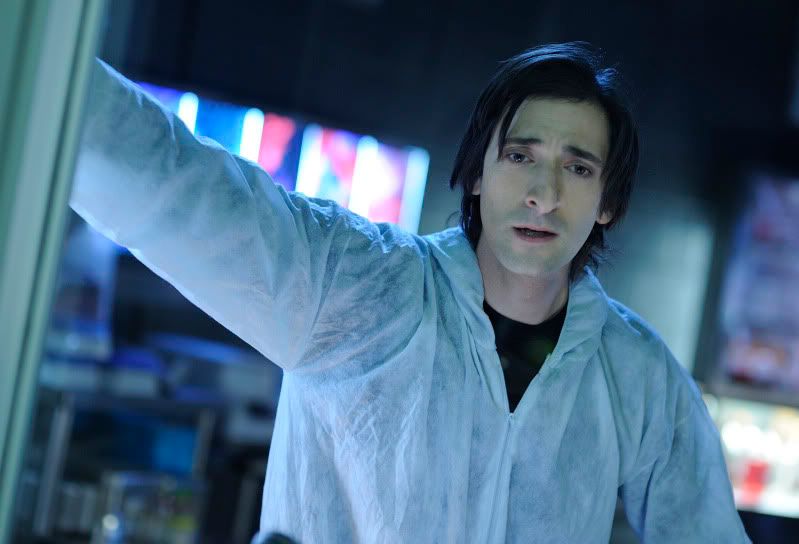 Adrien Brody in
Splice
, Courtesy of E1 Entertainment