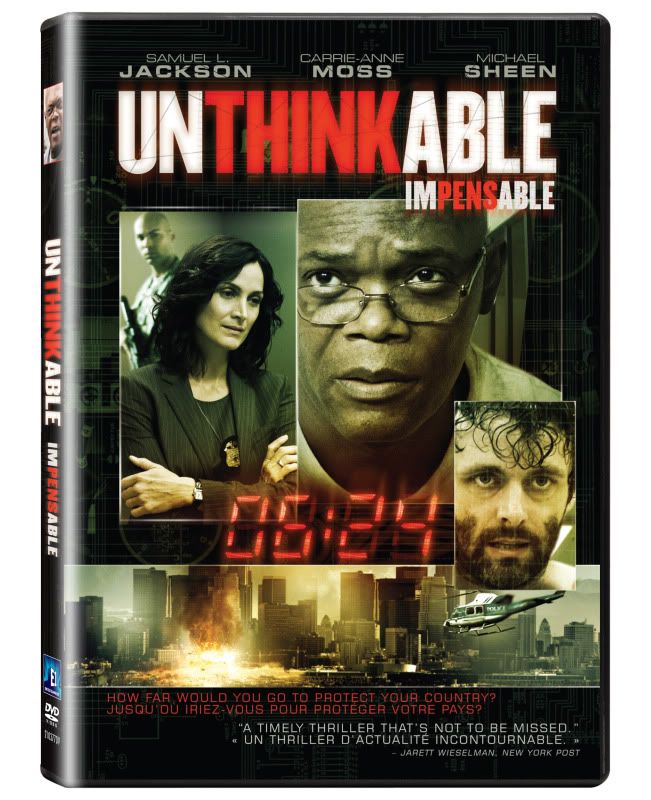 Courtesy of E1 Entertainment
Dir: Gregor Jordan (Ned Kelly, Buffalo Soldiers)
Cast: Samuel L. Jackson, Carrie-Anne Moss, Michael Sheen, Brandon Routh, Gil Bellows, Martin Donovan, Lora Kojovic
USA
,
2010
(DVD Release)
Reason to see:
The casting caught me. Samuel L. Jackson, Carrie-Anne Moss and Michael Sheen? Yes, yes, yes.
Unthinkable
is a psychological thrilled with political context centred on issues of terrorism, counter-terrorism and information retrieval. With that in mind, it's clear pretty quickly that the interrogation is going to involve torture and I wanted to get that out there as I know it's a deal breaker for many viewers. There is lots of torture in this film as it's a film discussing the morality of using it, when or if you will cross the line and why.
I will admit that at times it was hard to sit though, but I was impressed by several aspects of the film. It's shows with startling vividness the different arguments on the subject, from objections to legalities to humanity and beyond, and all of these ring 100% true for the characters. I believed every word that was being said whether it was horrific, heartfelt or humiliating. The actors do a fantastic job here, and I admit that was my draw to the film. The lead pain maker and enigma 'H', the most enthusiastic of the bunch is played by Samuel L. Jackson (Unbreakable, The Negotiator), FBI agent Helen Brody and voice of reason is played by Carrie-Anne Moss (The Matrix Trilogy,
Normal
) and the terrorist is played by none other than Michael Sheen (
Underworld: Rise of the Lycans
, The Queen,
The Twilight Saga: New Moon
) who yet again proves he can slide into any role with the utmost believability.
If you like tussling with questions of morality, than this film is definitely for you. It also packs in action, holds the tension is held high and has character arcs are very interesting to watch unfold. Keeping the context of the subject matter in mind, the content can be very disturbing not only visually but in terms of ideas. However, it does a great job of voicing different opinions and experiences on the subject without being gratuitous or preachy which is quite a feat.
Warnings:
Lots of torture.
DVD Extras:
Commentary with director Gregor Jordon: This commentary is fascinating and well worth checking out. It touch of the philosophical debate of the subject matter, political climate and topical nature of the film as well as the experts and consultants used through the filming process including the FBI. There is also insights to working with actors Samuel L. Jackson, Carrie-Anne Moss and Michael Sheen, the casting process, technical aspects of the film making process and what it was like being on set. It's one of the most informative & entertaining commentaries I've checked out.
Alternate Ending (with director commentary from Gregor Jordon).
Unthinkable
was
released on DVD June 15, 2010
as is available on
Amazon.ca
&
Amazon.com
Shannon's Overall View:
It's a hard film to 'like', but it brings up a lot relevant questions
I wouldn't watch it again due to the torture, but I'd listen to the commentary again
I'd recommend it to fans of political thrillers who can take handle the torture element
Return to Film Reviews
© Shannon Ridler, 2010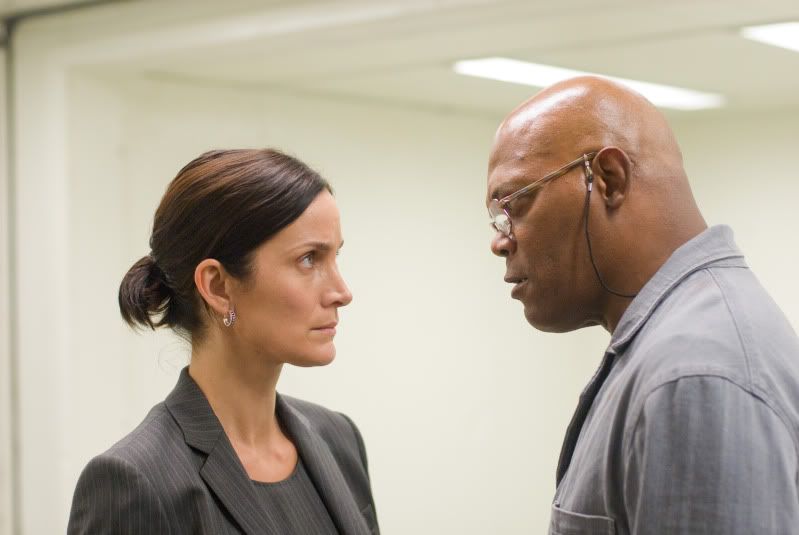 Carrie Anne Moss and Samuel L. Jackson from Unthinkable, Courtesy of E1 Entertainment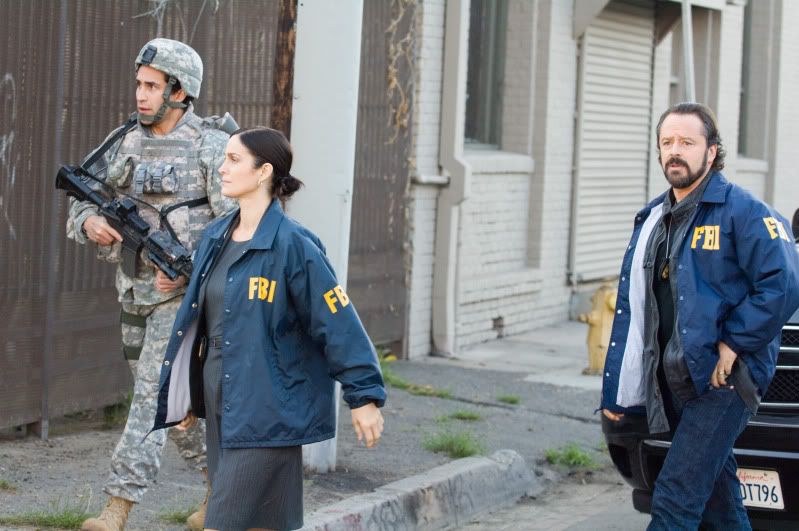 Carrie Anne Moss and Gil Bellows from Unthinkable, Courtesy of E1 Entertainment