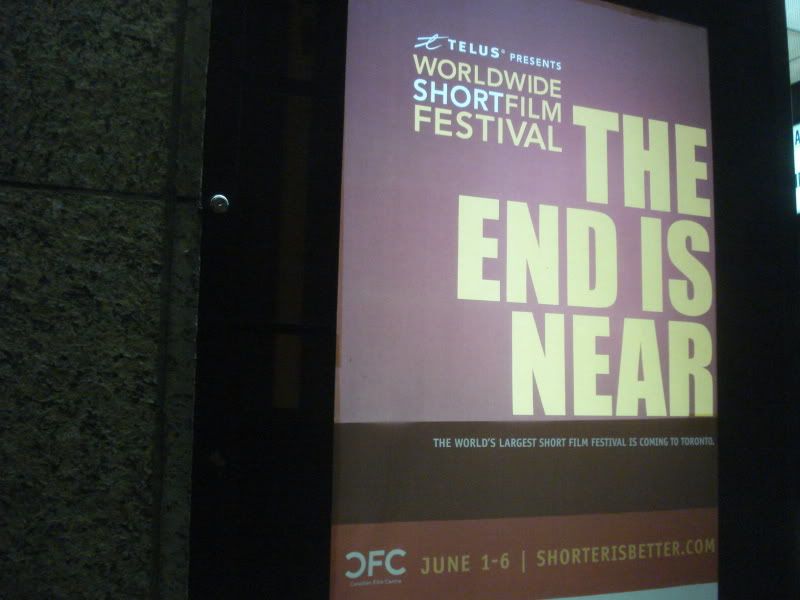 Day 3 at the Worldwide Short Film Festival was another grey, but thankfully not that rainy day. More importantly it was another day of short film and one with lots of guests at the festival including directors from the
Celebrity Shorts
program Daisy Gili (The Summer House) and Chadd Harbold (One Night Only), and from
Official Selection 8: The New Social Sciences
Simon Jaquemet (Laura's Party). The
Celebrity Shorts
program had quite a lively audience, and the program was followed by a interesting Q&A (
see clips here
). From live action to animation, docs to the bizarre it was a great day for short film - and even had Canadian shorts & talent to boot.
Official Selection 8: The New Social Sciences
Wood If
Dir: J.B. Sugar
Documentary
Canada, 4 minutes
Fun documentary showcasing woodworking in process with an unusual display of projects in curious definitions of their respective 'home' settings. Very clever.
The Wonder Hospital
Dir: Beomsik Shimbe Shim
Cast: Winna Regan
USA, 12 minutes
Inventive and bizarre short that was in equal parts high concept and truly bizarre dream/nightmare like states. Playing with ideas of perception not only of what we see but how we see, we travel though a bizarre set of hoops our little protagonist jumps though before and after possible 'improvements'. I loved how this short film had a very strong point of view in such a bizarre high concept world. One of the smartest & savviest I've seen at this years festival
.

The Astronomer's Sun
Dir: Simon Cartwright & Jessica Cope
Cast: David Bunting, James Caroll
UK, 6 minutes
Charming and sweet animated short film following a unique and distanced family. Surprizingly touching and emotional, it spoke volumes in simple storytelling against beautiful visuals.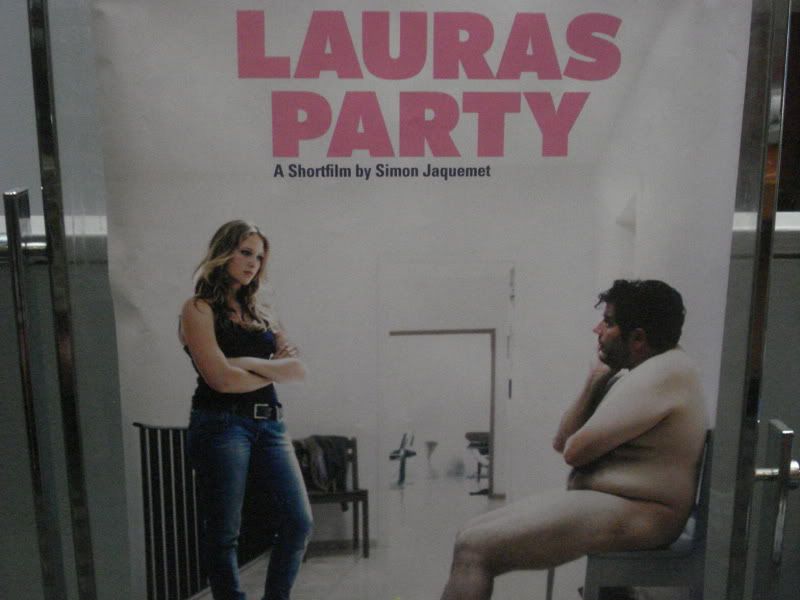 Laura's Party
Dir: Simon Jaquemet
Cast: Bruno Cathomas, Joelle Witschi
Switzerland, 21 minutes
Having a birthday party isn't too much to ask, is it? We follow Laura as she tries to do simply that, to have and enjoy her birthday party but her motivations become greyer and greyer as the short moves on. Very emotionally charged and walking a beautifully ambiguous line, Laura's Party is a fascinating character study heightened by the stellar performances by the cast.
Laura's Party director Simon Jaquemet WSFF Senior Programmer Myrocia Watamaniuk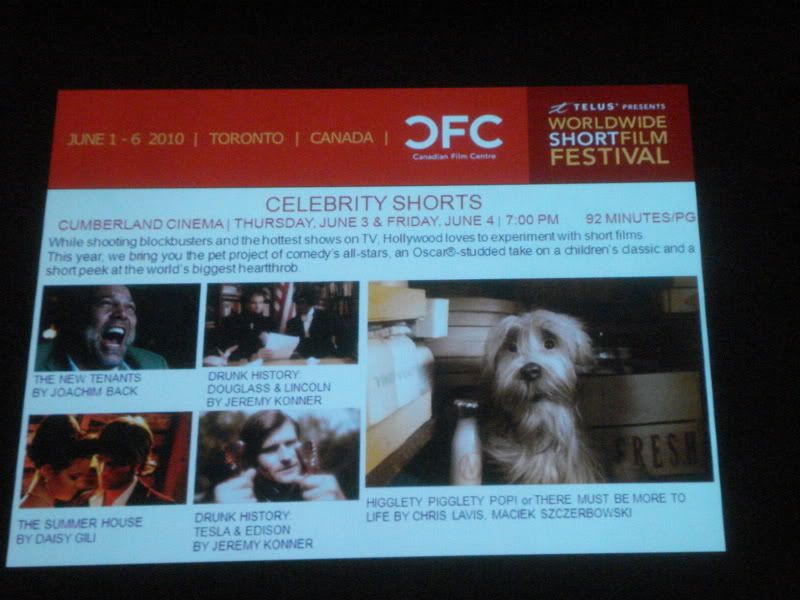 Celebrity Shorts
The New Tenants
Dir: Joachim Back
Cast: Vincent D'Onfrio, David Rakoff, Jamie Harrold, Liane Balaban
Denmark/USA, 20 minutes
Hilarious comedy centred on new tenants is an apartment building whom have no idea that it's anything out of the norm. Stellar performances and witty dialogue makes this short film a cut above and a joy to watch, in all it's dismal glory.
The Summer House
Dir: Daisy Gili
Cast: Talulah Riley, Robert Pattinson
UK, 14 minutes
Historically pairing the moon landing with first love, Talulah Riley plays a young woman visiting France and recovering from her ex played by
Twilight
's Robert Pattinson. Ah, such hardship. Actually, it is and it gets the emotional tone of love and loss spot on in all it's messy truths.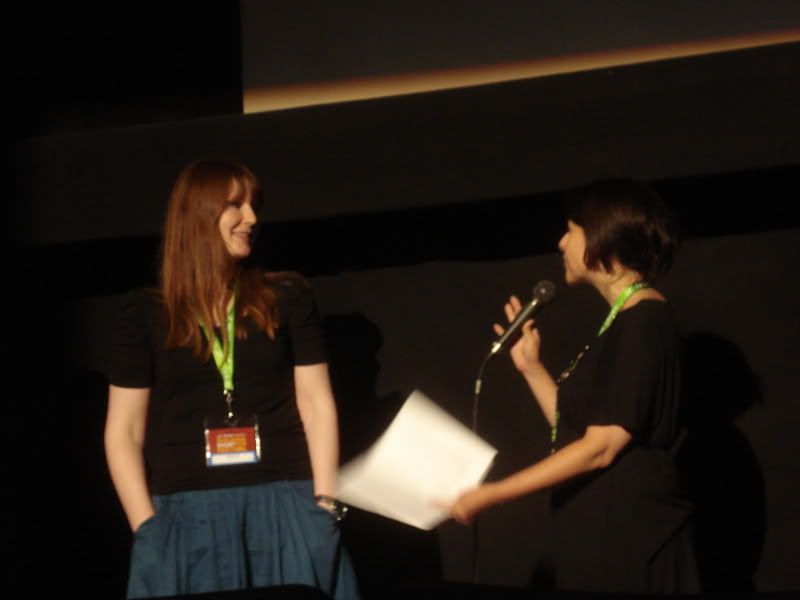 The Summer House director Daisy Gili with WSFF Senior Programmer Myrocia Watamaniuk
One Night Only
Dir: Chadd Harbold
Cast: Kristen Wiig, Garret Dillahunt, Brian Petsos, Amy Seimetz
USA, 18 minutes
Two couple out on the town for One Night Only whom don't know each other that well, or perhaps too much. Great music and fantastic acting make this an highly enjoyable short to watch. All the performances are strong, but sfter seeing Kristen Wiig in this dramatic role I'm totally psyched to see her do that again. A real treat.
See selections from the
Q&A with directors Daisy Gili (The Summer House) and Chadd Harbold (One Night Only) here
.
The
Celebrity Shorts
Program plays again at the Worldwide Short Film Festival on Friday June 4, 2010 at 7pm at the Cumberland.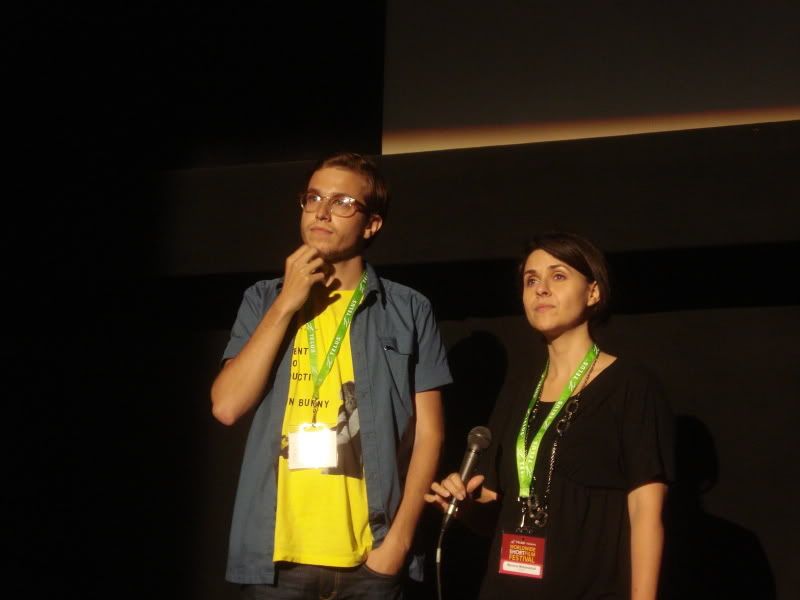 One Night Only director Chadd Harbold with WSFF Senior Programmer Myrocia Watamaniuk
For more information on the festival, check out:
Worldwide Short Film Festival website
,
Program Descriptions
,
Film Schedule
,
Symposium Details
,
Location Information
,
Box Office Information
or
Purchase Tickets online
.
The Worldwide Short Film Festival runs from June 1-6, 2010 in Toronto, Ontario, Canada.