Day 4 at the
Worldwide Short Film Festival the sun came out to play again, as did short film fans. I caught one program on Day 4 - Official Selection 11: Not Just From Venus, and it was a screening with an enthusiastic audience and lots of filmmakers in attendance which is always such a treat. Let's have a look at a selection of the shorts.
Official Selection 11: Not Just From Venus
Slip
Dir: Chelsea McMullan
Cast: Linnea Swan
Canada, 6 minutes
Gorgeous and kinetic 1-shot movement piece set in the Harrison baths here in Toronto. Absolutely fascinating perspective and play between the camera and subjects, this short film was a total treat.
Gayby
Dir: Jonathan Lisecki
Cast: Jenn Harris, Matthew Wilkas
USA, 12 minutes
Hilarious comedic short centred on friends thinking about having a baby together. Fantastic dialogue & performances, and beautifully captured awkwardness made this short a very enjoyable watch.
Chloe and Attie
Dir: Scooter Corkle
Cast: Joyce Robbins, Jacqueline Robbins
Canada, 8 minutes
Chloe and Attie
achieved an amazing feat of creating an energy in the film that was equal parts caring and creepy. I don't think I've ever seen that before. Unusual premise that ironically really is a what-you-see-is-what-you-get scenario, as unbelievable as it may see. Very unique and successful storytelling.
Homeland
Dir: Juande Marfil
Animated
Czech Republic, 6 minutes
Lively and expressive animated film that showcases an unlikely relationship that is almost beyond description. This one totally won me over, being both cute and bizarre and featuring a frantic knitter.
Birthday / Födelsedag
Dir: Jenifer Malmqvist
Cast: Åsa Karlin, Lotten Roos
Poland/Sweden, 18 minutes
Emotionally charged short featuring a lesbian couple on one of their birthdays. Brilliant display of family and relationship dynamics, fantastic chemistry and brilliant performance made this a huge stand out. You feel right there with them in the truths of the moments as they capture an impressive array of emotions from conflicted to celebratory. Fantastic.
For more information on the festival, check out:
Worldwide Short Film Festival website
,
Program Descriptions
,
Film Schedule
,
Symposium Details
,
Location Information
,
Box Office Information
or
Purchase Tickets online
.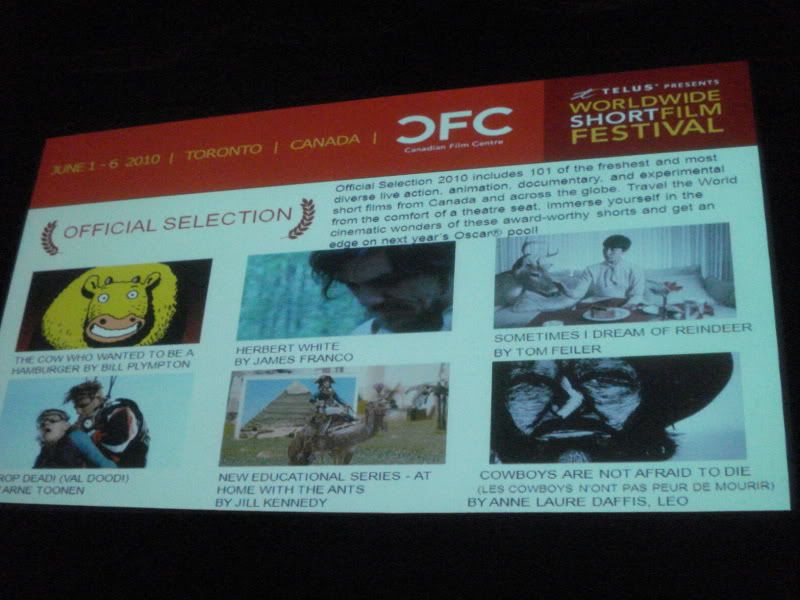 The Worldwide Short Film Festival runs from June 1-6, 2010 in Toronto, Ontario, Canada.