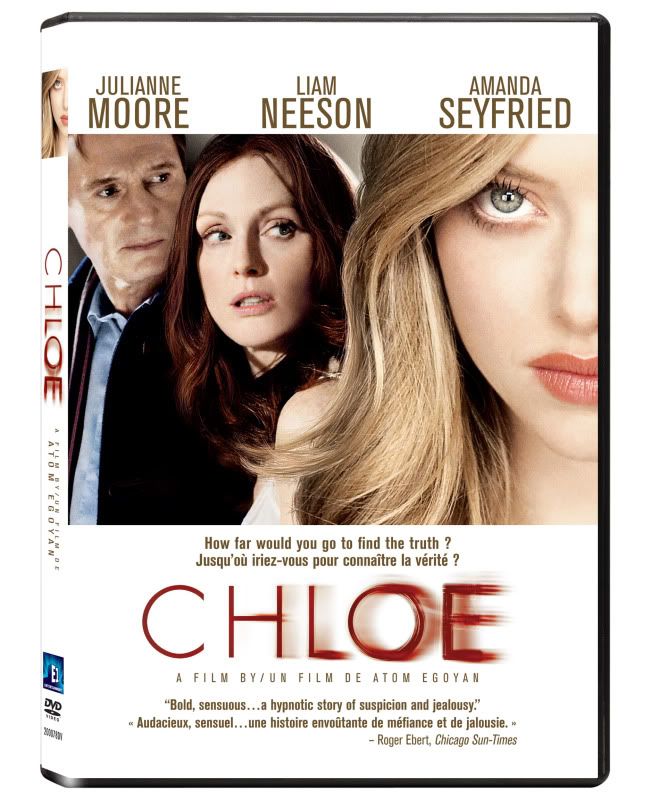 Courtesy of E1 Enterainment
Dir: Atom Egoyan (Adoration, The Sweet Hereafter)
Cast: Julianne Moore, Amanda Seyfried, Liam Neeson, Max Thieroit, Nina Dobrev
Canada
/
USA
/
France
,
2010
Reason to see:
Atom Egoyan films are always must sees in my book
Atom Egoyan's latest film brings us a suspense thriller based centred on how much we trust the ones we love. Playing with questions like: How far would you go? What kind of role would you take to find out more. An active one? A passive one? Would you bring others into the mix on this ... exploration? is a fascinating place to begin. We begin alongside Catherine, played by Julianne Moore, who ponders these questions while questioning her husband David's (Liam Neeson) fidelity.
Julianne Moore is fantastic as Catherine, pairing emotional fragility with a strong desire for the truth. It's a great character which brings the suspicious wife idea to a whole new level by pushing the boundaries to search for the truth. We also have a stunning turn for Amanda Seyfried whom carries the sexy title role with maturity and grace, she's charismatic and mysterious and pulls us right into the screen. I was very impressed with this transition to a more adult role, though there were just a few moments where I was slightly confused and something felt a little off. But, she was great the vast majority of the time. Liam Neeson delivers a perfect performance as the husband David. I also have to say that it's a refreshing to see film that although it's about the relationships, it's predominately focused on the female characters, and in essence the guy is literally 'the husband'.
I enjoyed the tone of
Chloe
, a lot. The tension is held very well giving it the perfect current for the thriller aspect of the film, keeping the the viewers curiosity level engaged at all times. The balance of intrigue and emotion keep the film driving forward at all times. The suspense is played very well, and I know that I'm already curious to watch it a second time round.
I loved seeing it set so clearly in Toronto, and I'm sure fellow Torontonians will appreciate the setting as much as I did. From Cafe Diplimatico to Allen Gardens to Yorkville we get to see many of the great downtown spots of our city. It's fun to pick out all the familiar places and ponder where others could be.
Overall I found it to be a strong drama-based thriller with very interesting and unique characters brought to life with intensity from the lead actors. My emotions as well as curiosity & mind were engaged throughout the entire film.
DVD Extras:
Commentary with director Atom Egoyan, writer Erin Cressida Wilson and actress Amanda Seyfried (Chloe):

The commentary here is really great, it discusses everything from the roots of the film, to the filming process and visual choices, to the theme and character intentions and decisions. As it film is set in Toronto there are also lots of notations to where things were filmed, especially the exteriors, so that's a special treat for anyone who has been to or lives in Toronto. I love how open the commentary is about the film being open to interpretation and how if they watched it again, they would see different things and have different thoughts. It's predominately remarks and discussion between Atom Egoyan & Erin Cressida Wilson, with Amanda Seyfried chiming in on character, choices and clothes.

Introducing Chloe: The Making of Chloe (25 minutes):

Fabulous accompanying documentary featuring director Atom Egoyan, producer Ivan Reitman, writer Erin Cressida Wilson, actors Julianne Moore (Catherine), Amanda Seyfried (Chloe), Liam Neeson (David) & Max Thieroit (Micheal), Joe Medjuck (producer), Paul Sorossy (director of photography). The documentary is extremely well put together, with separate sections on dedicated to different element of the film from The Love Triangle to Cast to Toronto to Erotic Dialogue and more. I particularly enjoyed the Long Time Collaboration section which has a great behind the scenes look at Atom Egoyan and director of photography Paul Sorossy working on a scene together and you get such a slice of life moment of the creative process.

Deleted Scenes (4 minutes):

2 deleted scenes, which are extensions of scenes from the film and quite interesting. They are also referred to and discussed in more detail during the commentary.
DVD release date for
Chloe
is July 13, 2010 where it is available at
Amazon.ca
&
Amazon.com
Shannon's Overall View:
I enjoyed it
I'll watch it again
I'd recommend it to fans of drama-based thrillers
Return to Film Reviews
© Shannon Ridler, 2010
Originally reviewed for Theatrical Release - March 26, 2010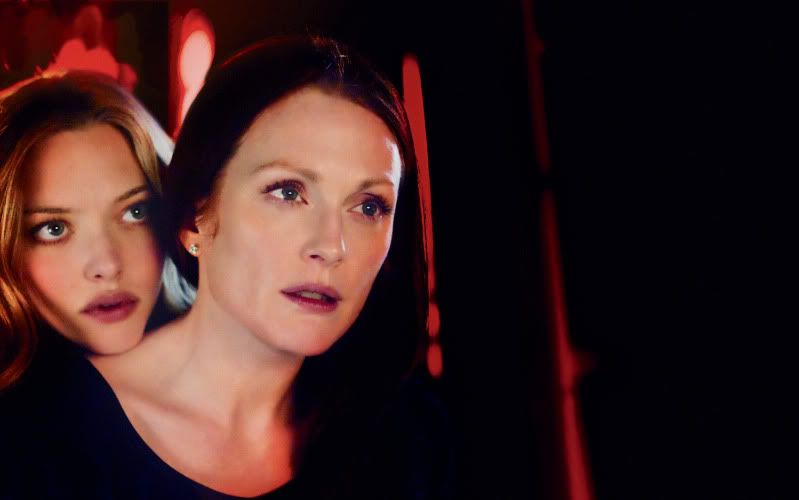 Amanda Seyfried and Julianne Moore as Chloe and Catherine, Courtesy of E1 Entertainment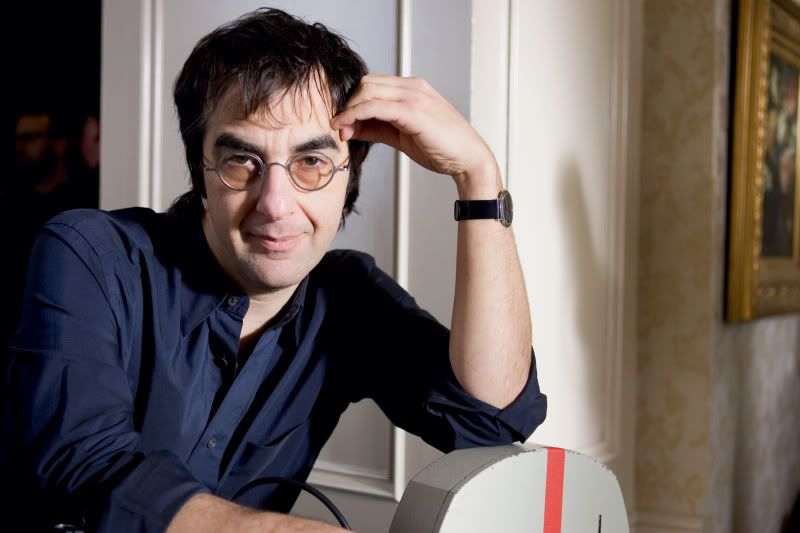 Director Atom Egoyan, Courtesy of E1 Entertainment