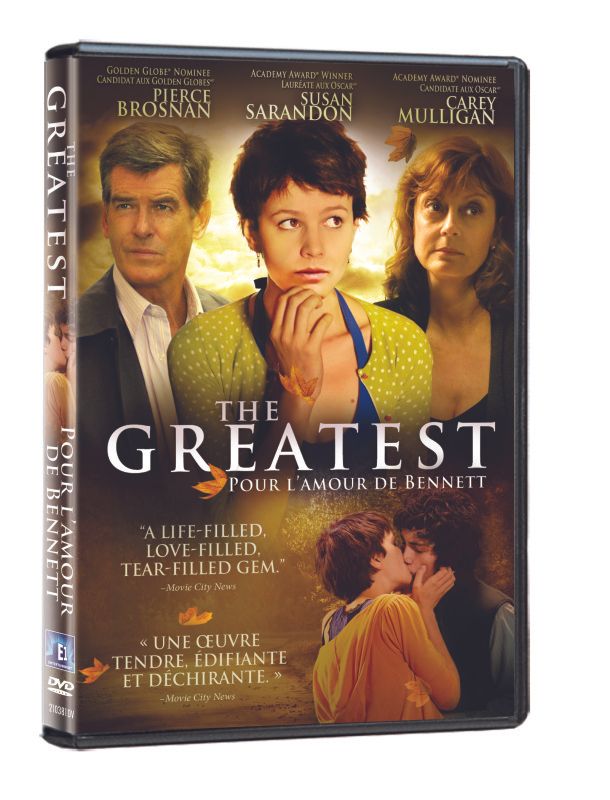 Courtesy of E1 Entertainment
Writer/Dir: Shana Feste - feature film directorial debut
Cast: Carey Mulligan, Pierce Brosnan, Susan Sarandon, Johnny Simmons, Aaron Johnson, Zoë Kravitz, Michael Shannon
USA
,
2010
Reason to see:
The
trailer
was compelling and it has a great cast
The Greatest
is a family drama that is centred in an unusual coming together of people, be they family or non-family, after a traumatic loss of someone dear to all of them. Allen and Grace star as the parents, (played by Pierce Brosnan and Susan Sarandon), whom have lost their golden boy son Bennett (played by Aaron Johnson of
Kick-Ass
and
Nowhere Boy
). Soon thereafter, a girl that is unknown to them shows up at their door pregnant with their son's baby. The girl, Rose (played by Carey Mulligan from
An Education
) now enters the family household which is full of grief, pain and emotional turmoil.
The film does a great job of showing an diverse array of reactions to grief, from honest yet hurtful dialogue, to escapism, to simply not dealing with it at all. It also showcases how different people need different things, the complicated interactions of family dynamics and how families change & morph during times of trauma. Emotions can run high, you can become obsessed or distant. All the reactions are very honest and believable. The cast here is solid and it's wild to see that this film was filmed right after
An Education
, but before it came out - so now, we all know who Carey Mulligan is but at the time she was not yet well known. I was actually particularly impressed with Johnny Simmons whom plays Bennetts younger and not-so-perfect brother Ryan, he delivers in every single scene he is in.
The Greatest
is a solid family drama, but I think it will play best as a cathardic experience for people who have experience family loss themselves. With different characters and experiences to recognize or react to, it can serve as a great way to see the experience from a bit of a distance and therefore a gentle way to honour such experiences. It certainly can provide a release, which I think is a beautiful gift to the viewer.
DVD Extras:

Interviews with director Shana Feste and actors Pierce Brosnan, Carey Mulligan and Johnny Simmons (30 minutes):

quite extensive interviews are included here, from first time feature filmmaker Shana Feste on the inspiration to do the film, Pierce Brosnan with regards to both acting and being involved as a producer on the film as well as all of the actors discussing their characters and working with each other.

Deleted Scenes (16 minutes):

6 deleted scenes, one of which they actually show in several takes and versions

which is quite fascinating. There is also a great scene with Grace (Carey Mulligan) and her mother that I would have loved to have seen in the film.

Trailer
DVD release date for
The Greatest
is July 13, 2010 where it is available at
Amazon.ca
&
Amazon.com
Shannon's Overall View:
I enjoyed it
I'd watch it again
I'd recommend it people dealing with grief and to fans of family dramas
Return to Film Reviews
© Shannon Ridler, 2010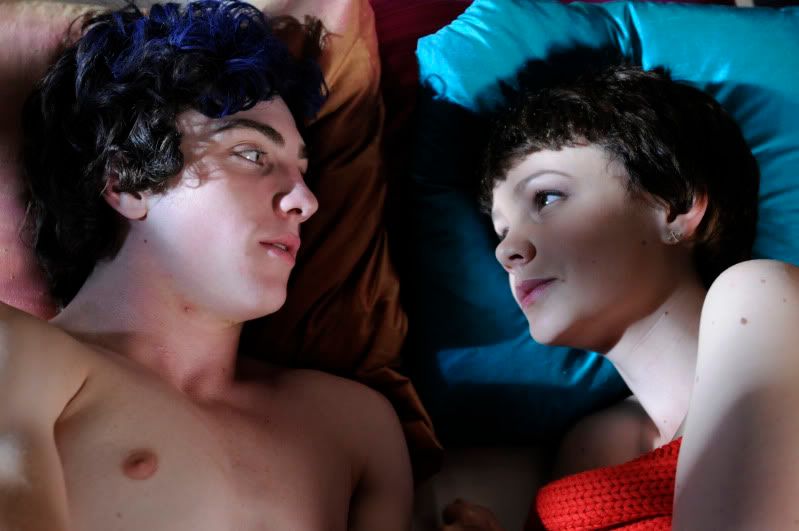 From left to right Aaron Johnson and Carey Mulligan from The Greatest, Courtesy of E1 Entertainment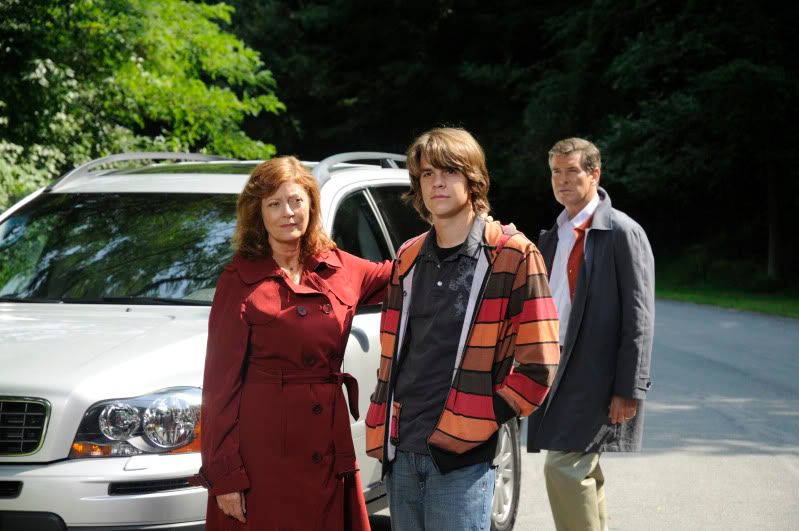 From left to right Susan Sarandon, Johnny Simmons and Pierce Brosnan from The Greatest, Courtesy of E1 Entertainment