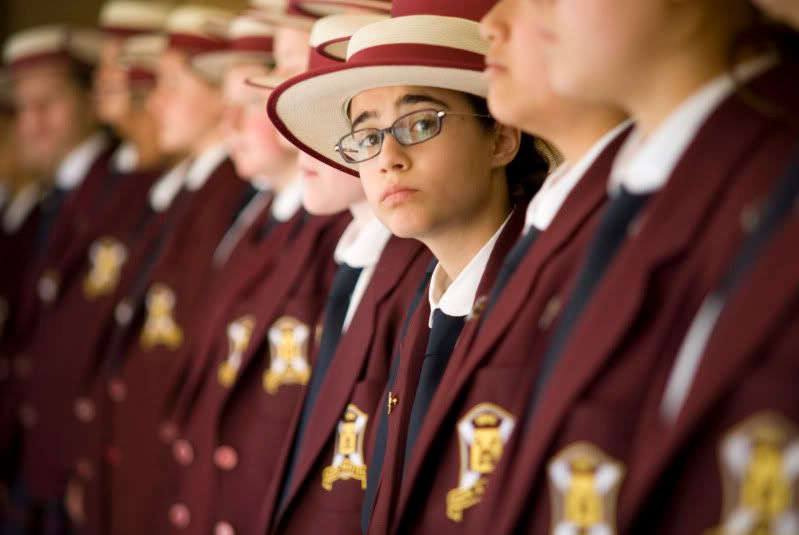 Writer/Dir: Cathy Randall - feature film directorial debut
Cast: Danielle Catanzariti, Keisha Castle-Hughes, Essie Davis, Russell Dykstra, Christian Byers, Toni Collette
Australia
,
2010
Reason to see:
Early
teen coming of age comedy with female protagonist. Yep, I'm in.
Hey, Hey It's Esther Blueburger
starts with Esther (played by Danielle Catanzariti), a private school girl who doesn't quite fit into the private school world, just days before her Bat Mitzvah and dealing with the awkwardness of everything from inviting people who don't really like her to lunch time dramas to coping with the all the regular day to day school and family life.
First off, I have to say that it's extremely refreshing and encouraging to see a teen coming of age comedy that feels like it perfectly fits the age of the characters to the age and experience of teen girls. The normal dramas of life, friends, school and boys. Yay! What a treat. Second, Esther is so beautifully awkward in so many ways, she's got a lot of class smart but socially not so much - but again, it's in a very regular, shy, emotional, trying-to-impress kind of way. She's very relatable, as well as being very endearing. As Esther does her best to pass the time in a world and skins she's not overly comfortable with, enter public school attendee and resident cool girl in that outsider-who-is-cool-way Sunni (Keisha Castle-Hughes from Whale Rider) whom befriends Esther. We get in on the beginnings of a very true friendship with all the tentative first friends moments from awkward trying-to-impress moments to true kinship and everything along the way. The adventure has begun!
The performances here are really great here, not only from Danielle Catanzariti who literally carries the film, but also Keisha Castle-Hughes. We also have Toni Collette (The United States of Tara) in the mix, who plays Sunni's relaxed and fun mother Mary.
But it's really about Esther, and above all else I loved how she wasn't perfect. She made mistakes, bad decisions, screws up along the way to fumbling to figure out who she is and where she fits in the world. It's odd because the film really shows this in an interesting light, and it's not as though it breaks conventions of twists and tricks you, but it shows the honest results to honest mistakes. At 13, you are going to make mistakes regardless if you are the perfect know-it-all or the underdog that we are cheering for. I loved the honesty of that.
DVD Extras:
Interviews with Cathy Randall (director), Miriam Stein (producer) and actors Danielle Catanzariti "Esther", Keisha Castle-Hughes "Sunni" & Toni Collette "Mary"(12 minutes):

very succinct Q&A style interviews that cover the reason to make the film & the truthfullness of the script to character insights, the cast working together and the issues of being an outsider & peer pressure.

In search of Esther (19 minutes):

a fast paced making of including the process of &footage from casting the role Esther, snippits of press interviews, insights into the filming process including the opening number and discussion & commentary from the cast and crew (some of which is also in the interviews)

The Only One music video (4 minutes)
DVD release date for
Hey Hey It's Esther Blueburger
is July 13, 2010 and is available on
Amazon.ca
&
Amazon.com
Shannon's Overall View:
I enjoyed it
Il watch it again
I'd recommend it early teen girls and people who like early teen coming of age films
Return to Film Reviews
© Shannon Ridler, 2010