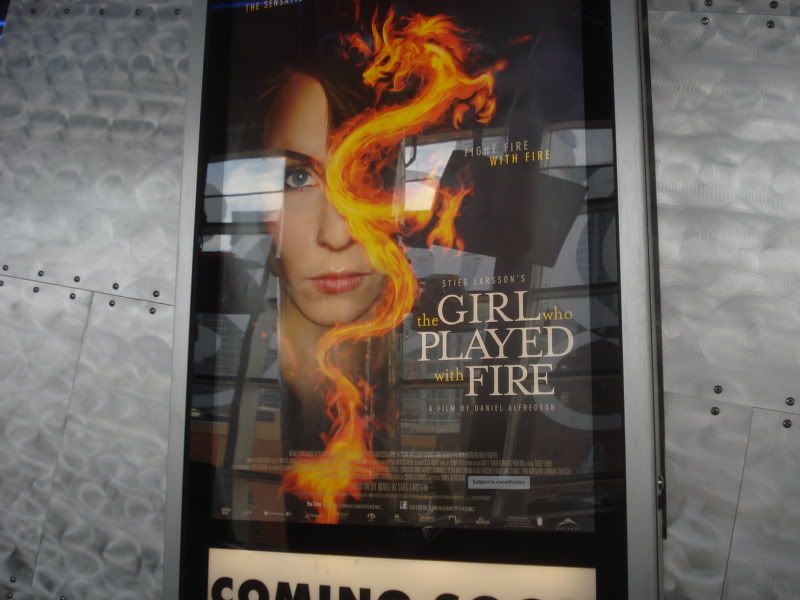 Back in January when I wrote my original list of
Most Anticipated Films of 2010
, the majority of them were actually being released Jan to June, something I didn't really notice at the time, and it means at the halfway point of the year we have a lot of the year left, and not that many films from the original list. I'll re-iterate: not many more films left on the list! Six months left of the year and only 5 of those 21 titles remain (and one has been booted to 2011). I can't stand that, so I made a new list as many more that have surface.
But, before we get to that I wanted to take a time out and list off what I consider the best films of 2010 so far. I don't rate films when I review them, as not all films even if they are exceptional, suit all viewers. That being said, all of these titles are ones that I consider perfect. So, you can take that as a 10/10 or a 5-star review or 'insert catch phrase for greatness' from me to you.
Best of 2010 (so far) in Alphabetical Order
Donation, La / The Legacy
Eclipse, The (2010)
Fish Tank
Frozen
Girl with the Dragon Tattoo, The / Män som hatar kvinnor
Grown Up Movie Star
How to Train Your Dragon
J'ai tué ma mère / I Killed My Mother
Last Station, The
Losers, The
Love at the Twilight Motel
Mao's Last Dancer
Misfortunates, The / De helaasheid der dingen
My Dear Enemy / Meotjin haru
Prophet, A
Square, The
Trotsky, The
Wild Hunt, The
Interesting to note that only
Frozen
&
The Trotsky
are films that make it from
my most anticipated list
to
best of list
.
So here's a bit of a re-jigged list for the second half of the year. One title has been bumped to 2011 (
Beastly
, now moved to March 18, 2011), but the remaining titles of
Inception, TRON: Legacy, Chronicles of Narnia: Voyage of the Dawn Treader and Harry Potter and the Deathly Hallows Part I
survive from Part 1 to Part 2. September, which is usually a month where I miss a lot of regular releases because of TIFFing, is very testosterone heavy with the release of Buried, Machete and Warrior. Wow.
Shannon the Movie Moxie's 21 Most Anticipated Films of 2010, Part 2 (July - December 2010)
17. True Grit
The Coen Brother's remake of the 1969 western True Grit with a casted including Jeff Bridges in the role of Cogburn (played in the original by John Wayne) Matt Damon as La Boeuf, Josh Brolin and Barry Pepper. Here's hoping it's awesome!
(release date December 25, 2010)
16. Let Me In
I keep flip flopping on being excited about this remake and not, but it continually stays on my mind. Based on the same book as the glorious 2008 Swedish Vampire film
Let the Right One In / Låt den rätte komma in
, this english version is helmed by
Cloverfield
director Matt Reeves and stars Chloe Moretz ((500) Days of Summer,
Kick-Ass
), Kodi Smit-McPhee (
The Road
) and Richard Jenkins (The Visitor)
(release date October 1, 2010)
15. Machete
I'm not usually a fan of vengeance films, but Danny Trejo (Heat, Desperado) is such a bad ass I can't help but get behind this crazy film. It's a feature length film based of the faux trailer from Grindhouse (
Planet Terror
/
Death Proof
) starring Danny Trejo as a man...out for revenge... with a machete! Also stars Michelle Rodriguez, Jessica Alba, Robert De Niro, Cheech Martin and Lindsay Lohan. Directed by Ethan Maniquis & Robert Rodriguez
(release date September 3, 2010)
(14. Warrior
- bumped to 2011)
Tom Hardy (
Bronson
), Joel Edgerton (
The Square
), MMA, troubled home life & training for a tournament. Gets better and better after each comma there. Also stars Nick Nolte & Jennifer Morrison, directed by Gavin O'Connor (Pride & Glory).
(release date September 17, 2010. Bumped to October 7, 2011)
13. Resident Evil: Afterlife
I couldn't be more surprized to include this on the list but the trailer has me smiling and cheering watching Milla Jovovich & Ali Larter kick zombie butt in this 4th instalment of the series, and in 3D, although I'll see it in 2D. (release date September 10, 2010)
12. Buried
For premise & casting alone has me intrigued: Ryan Reynolds plays a man who wakes up buried inside a coffin. Yikes. Directed by Rodrigo Cortés (Concursante).
(release date September 24, 2010)
11.
Inception
Carry over from the
original list
and moves up from 17 to 11, and was tempted to but it higher but realized that avoiding knowing anything about it feels like so much work! But, still excited for Christopher Nolan's latest with this intriguing looking film starring Leonardo DiCaprio, Ellen Page, Joseph Gordon-Levitt, Tom Hardy, Micheal Caine and so many more amazing actors. I didn't love
The Dark Knight
but will always praise the brilliance of
Memento, The Prestige
and
Batman Begins
. (release date: Friday July 16, 2010)
10. Mr. Nobody
Another film where I'm very curious to see it and I don't want to know much about it. Solid praise out of TIFF'09 and what looks like a wild idea and some fantastic styles, categorized as a drama/romance but has a sci-fi feel conceptually as oppose to stylistically and one heck of a cast: Jared Leto, Sarah Polly, Diane Kruger & Rhys Ifans. Can't wait. (release date August, 2010)
9. Nowhere Boy
Bumped from March to October 2010 only makes me want to see this film more! Also so curious to see Aaron Johnson performance as John Lennon in this biopic, as it's so different from playing the title role in
Kick-Ass
. Also starring Thomas Sangster, Kristin Scott Thomas, Ann-Marie Duff, Calum O'Toole and Jack McElhone. Directed by Sam Taylor Wood who directed the brilliant and award winning short
Love You More
. (release date October 15, 2010)
8.
The Girl Who Played with Fire / Flickan som lekte med elden
With this film opening this week, I almost didn't include it but then I realized I have to because I'm really want to see it. Noomi Rapace & Michael Nyqvist reprise their roles from
The Girl with the Dragon Tattoo, The / Män som hatar kvinnor
as Lisbeth Salander and Mikael Blomkvist in the second part of the Millenium Trilogy based on the books by the late Stieg Larsson. This part of the trilogy is directed by Daniel Alfredson, whom also directs the third part of the trilogy
The Girl Who Kicked the Hornet's Nest / Luftslottet som sprängdes
. (release date July 9, 2010)
7.
Eat Pray Love
Refreshing to see a film with not only a female protagonist, but also firmly rooted in the female experience and personal journey. Based on the best selling book "Eat, Pray, Love" a memoir by Elizabeth Gilbert, where she chronicles experiences of a trip around the world after her divorce. Film version stars Julia Roberts as Elizabeth Gilbert, further casting includes James Franco, Javier Bardem, Billy Crudup, Richard Jenkins and Viola Davis. Directed by Ryan Murphy (Running with Scissors, "Glee" and "Nip/Tuck").
6.
The Disappearance of Alice Creed
This is a bit of a cheat as I've already seen the film, but I'm so excited to see that it's being released in theatres that I'm including int on the list. It's an absolutely perfect thriller with amazing storytelling and fantastic performances by Eddie Marsen (Happy-Go-Lucky, Sherlock Holmes), Martin Compston (Sweet Sixteen, True North) and Gemma Arterton (
Prince of Persia: The Sands of Time
). You don't need to know anything more about it - just see it. Directed by J Blakeson. (release date August 13, 2010 - Toronto, August 20, 2010 - Montreal & Vancouver)
5. The Tempest
I love Julie Taymor visual style and storytelling (Titus, Across the Universe), so I'm so excited for this Shakespearean adaptation with such a spectacular cast: Djimon Hounsou (
Gladiator
,
Blood Diamond
), Ben Whishaw (
Bright Star
) Alfred Molina, Chris Cooper, David Strathairn, Alan Cummings, Felicity Jones and to top it all off: Helen Mirren as Prospera. (release date December 10, 2010)
(4. The Adjustment Bureau
- bumped to 2011)
One of the few trailers this year that stopped me dead in my tracks, wanting to know more but not needing to know more because I knew I would see it. Stars Emily Blunt (
The Wolfman (2010)
,
The Devil Wears Prada
) & Matt Damon (The Bourne Trilogy, Gerry) in a romance/sci-fi flick with a chance meeting of a politician & a ballerina lead to mysterious complications. Based on the short story by Philip K. Dick and directed by George Nolfi. (release date September 17, 2010. Bumped to March 4, 2011)
3. TRON: Legacy
Huge jump for this title, going from
#14 on my original list
to #3! I'm continuing to avoid trailers which are starting to play in regular theatres. I've gone from being slightly skeptical to really excited, and continue to be fascinated by the fact they are keeping the casting from the original
Tron
with Jeff Bridges and Bruce Boxleitner (who will always be Sheridan from B5 in my eyes). That's gutsy. And I like gutsy. (release date: Friday December 17, 2010)
2. Chronicles of Narnia: Voyage of the Dawn Treader
Bumping from the
#3 spot to #2
, it's time to go back to Narnia! Although I was never a big fan of the books, I'm a huge fan of the first two Narnia films and the fantastical world they are set in and the adventures of the Pevensie siblings. It made me realize how seldom it is that we see strong sibling bonds, and being someone who has lots of siblings I treasure seeing this in film. (release date: Friday December 10, 2010)
1. Harry Potter and the Deathly Hallows Part I
Staying strong at #1
, this muggle wouldn't dare pick something else as their No. 1 anticipated film of 2010? I think not. Last year I did a
countdown
in anticipation for
Harry Potter and the Half-Blood Prince
where I watched & reviewed the first 5 films and wow, it was a lot of fun. I may try to re-read the books this year before the 7.1 film instalment comes out to keep me busy as I try to avoid all the trailers and spoilers for Harry Potter because I know I will be there, in the theatre, grinning from ear to ear to see what Harry, Hermione and Ron get up to, this time. (release date: Friday November 19, 2010)
See
Part 1 of My Most Anticipated 2010 Releases Here
.
And two extras, with release dates a little up in the air:
Never Let Me Go
This film would land in my top 5 if release date was confirmed. It's also one where I highly recommend reading the book by Kazuo Ishiguro first (see
book review here
). The film stars Carey Mulligan (An Education), Andrew Garfield (
Boy A
), Keira Knightly and Sally Hawkins (Happy-Go-Lucky) and is directed by Mark Romanek (One Hour Photo). See more at it's
IMDb Page
. (current
limited release date is September 15, 2010
but I have a feeling might be festivally and then hit theatres way later).
Centurion
Neil Marshall directing a film based on a splinter group of Roman soldier fight behind enemy lines, stars Michael Fassbender and Dominic West (This is a carry over from last list, still no Canadian release date).