Locked Out
Writer/Dir: Yasunobu Takahashi
Cast: Kiichi Sonobe, Takeru Shimada
Japan
,
2008
Locked Out
is an unconventional drama that takes a simple premise of a young character becoming lost and pairs it with an older character who has a seemingly much more complicated situation and puts them on a singular common ground. I love how the film defies definition in a lot of ways. It's an easy argument to say that Hiroshi (played by Kiichi Sonobe) is the protagonist, but the film feels equally about 6 year old Keita (Played by Takeru Shimada), and his journey as well as the journey of his mother to find him. The film likes to play with texture and shows and an interesting contrast between the sensitive drama that follows the plot of the film with an unreal nightmarish revenge fantasy that kind of loops in the background. It's an amazing parallel to different expectations and assumptions about the film itself, paring the everyday normalcy with the worst fears and worries that run through the emotions of the characters in the film.
I'm thrilled to see more and more films pop up that don't always play to the darkest of dark, but also show the lightness and compassion in human nature.
Locked Out
manages to not only play this these ideas, but also to make a greater commentary about the issue of 'thinking the worst' as well. Very surprizing to see and it makes for a highly enjoyable film viewing experience.
Locked Out
screens with
That's All
at the
Shinsedai Festival
on:
Saturday July 24, 2010 at 2:00 PM
The Japanese Canadian Cultural Centre
Takeru Shimada as Keita in
Locked Out
Our Brief Eternity
Dir: Takuya Fukushima
Cast: Kouta Kusano, Romi
Japan
,
2009
I'm always up for films that have any kind of science fiction element to it, and
Our Brief Eternity
does a great job of taking a science fiction idea and place it in the everyday, to explore human reactions, interactions and how people would cope in a world that shifted every so slightly. Here, our portagonist Teru (played by Kouta Kusano) runs into his ex-girlfriend Mio (played by Romi) who oddly has no recollection of him specifically, although does remember other things about their relationship. The film using a very interesting premise, explores, re-explores and re-creates their relationship, making the viewer ponder everything from fate to destiny to choices to even the power of memory. If we had the choice to choose, would we choose it all again? Could be develop the same relationship over and over again? Would we want to? Would we be the same person if we did, and would our partner be the same or different - or would we even remember? It takes these concepts and ideas and packages them nicely and organically in the a world that is familiar and believable, allow the viewer an interesting viewpoint to not only see how things would play out but also ask ourselves the same questions along the way.
Our Brief Eternity
screens at the
Shinsedai Festival
on:
Saturday July 25, 2010 at 12:00 PM
The Japanese Canadian Cultural Centre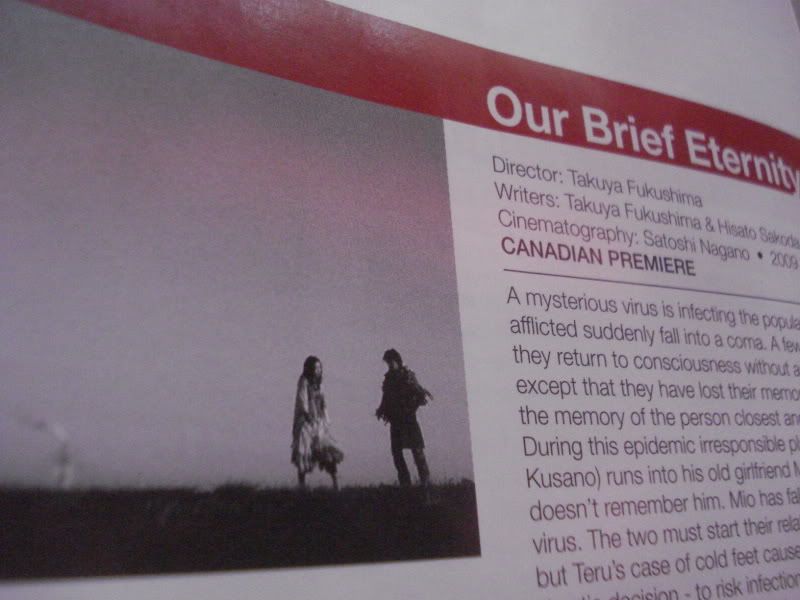 The
Shinsedai Festival
runs from July 22 - 25, 2010 at
The Japanese Canadian Cultural Centre
, Toronto, Ontario, Canada