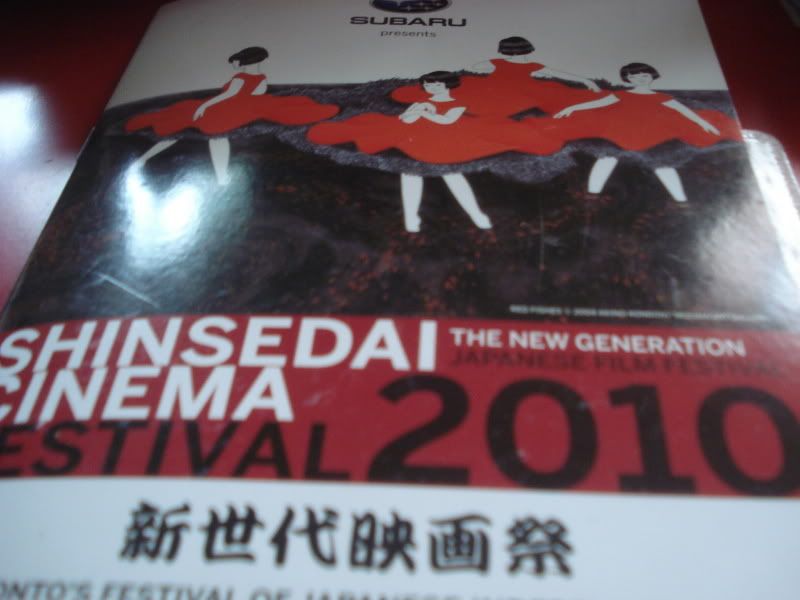 The
Shinsedai Cinema Festival
opens this week on Thursday July 22, 2010 and it's now in it's second year bringing Japanese independent film to enthusiastic film fans here in Toronto.
The whole shebang starts off with a pre-screening reception on Opening Night at the
The Japanese Canadian Cultural Centre
, followed by the first film of this years festival
Kakera: A Piece of Our Life
,
directed by Momoko Ando (who will be in attendance at the festival) and tells the story of 2 women in a rocky romantic relationship. Sounds good to me!
For experiential film lovers out there, one of the coolest things that is going on at
Shinsedai
this is year they are screening the 1993 film
The Water Magician
with live musical accompaniment by Toronto experimental quintet Vowls. I love seeing films with live accompaniment, it feels like such a special and out of time experience!
The festival brings us film from many different genres from crime films
Island of Dreams
and
Confessions of a Dog
, to sensitive drama
Locked Out
and even drama with a science fiction spin
Our Brief Eternity
. Documentary fan rejoice as the award winning
A Normal Life, Please!
will be screened at the festival, and it follows the challenge of and injustice of working with less than 6 hours a day to your own schedule. Wow.
If experimental film is your thing, you are in luck as the Jishu Eiga Room will be screening experiemental Japanese indie films throughout the day on July 24 & July 25, 2010. Titles included in this continuous program are
Dome Animation
,
Different Cities
,
Oh! Otsuka Drugstore
and a trilogy of shorts from Yuki Kawamura.
Update:

Dome Animation
and
Oh! Otsuka Drugstore
will be screened once, not continually. More more details on this update
go here
.
You like festivals with guests? Shinsedai has
tons of guests
! The list for this years festival is quite impressive and it includes
Momoko Ando
(director: Kakera: A Piece of Our Life),
Akino Kondoh
(director: Ladybirds' Requiem),
Gen Takahashi
(director: Confessions of a Dog),
Tokachi Tsuchiya
(director: A Normal Life, Please) and
Yasunobu Takahashi
(director: Locked Out). Also, there was a recent
special announcement
sharing that their 6th guest this year is
Shaq
, star of Gunman Champion.
For more information, check out the
Shinsedai Cinema Festival
,
Festival Schedule
,
Ticket & Box Office Information
,
Location Information
and
more About the Festival here
.
The
Shinsedai Cinema Festival
runs from July 22 - 25, 2010 at
The Japanese Canadian Cultural Centre
, Toronto, Ontario, Canada