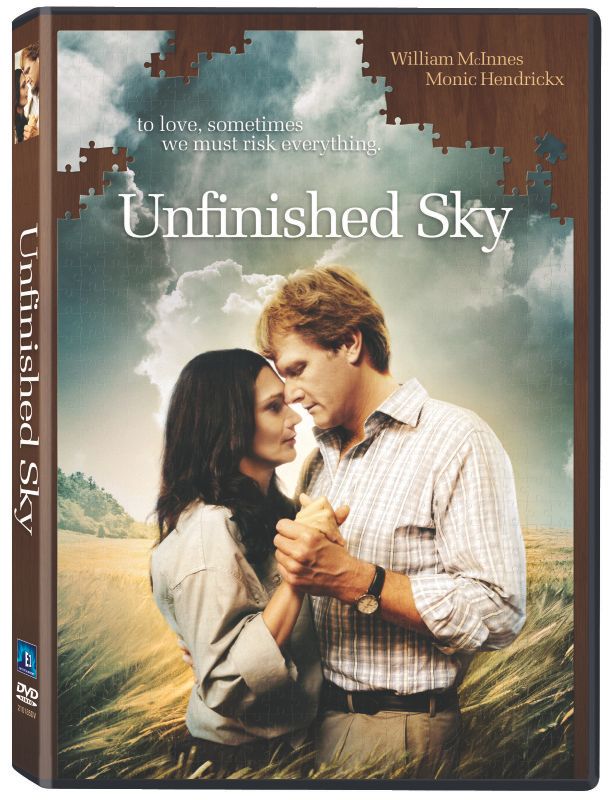 Courtesy of E1 Entertainment
Dir: Peter Duncan (Passion (1999), A Little Bit of Soul, Children of the Revolution)
Cast: William McInnes, Monic Hendrickx, Bille Brown, Christopher Sommers, David Field
Australia
,
2007
Reason to see:
Been loving Australian film recently
Unfinished Sky
is an Australian remake of
The Polish Bride
, a 1998 film from The Netherlands. Both films centre on a farmer who takes in a woman on the run. In
Unfinished Sky
, William McInnes plays the farmer John Woldring and Monic Hendrickx plays the Afghani refuee Tahmeena.
Interesting to note, that Monic Hendrickx is reprising the role from
The Polish Bride
here in
Unfinished Sky
which is incredible considering the different back stories of the two women, but she plays the role with such a deep understanding and adeptly showcases not only the terror and torment of the hardship she endured, but also a gentle fragility and a strong inner strength of determination. It's a graciously varied and fantastic performance to watch. Pairing the almost exclusively two hander film is William McInnes as the farmer, John Woldring, who lives a very reclusive life on his farm with the exception of his dog. Unlikely pairing for the two souls to meet, yet the most unlikely stories can often turn into the most interesting one. The beautiful thing here is that is to see not only the joint journey of John and Tahmeena, but also their separate yet parallel journeys of self-discovery, change, trust and hope.
The performances are brave, vulnerable and telling a tale of people who are in different ways imperfect and broken, but inevitably and gently propel themselves forward in life. All of this unfolds amidst the gorgeous cinematography and award winning cinematography from Bob Humpheys. In fact,
Unfinished Sky
is the well deserved winner if 5 AFI (Australian Film Institute) Awards, including best actor (William McInnes), actress (Monic Hendrickx), adapted screenplay (Peter Duncan), cinematography (Bob Humphreys), original score and sound along with 9 other wins from numerous Australian film industry awards.
A film that embraces the human spirit, not only for it's resilience but also the power of change, hope and the willingness to take a chance.
DVD Extras:
Cast & Crew Interviews (37 minutes, 9 interviews)

- Quite a nice selection of interviews with the cast & crew including writer/director Peter Duncan, actors Monic Hendrickx (Tahmeena), William McInnes (John), Bille Brown (Bob), Christopher Sommers (Mike), producers Cathy Overett & Anton Smit, director of photography Bob Humphreys and production designer Laurie Faen. I especially enjoyed the actor interviews as they went into more detail about their characters and specifically Monic Hendrickx who discusses not only this performance but also about reprising this character from The Polish Bride. The interviews with director of photography Bob Humphreys and production designer Laurie Faen are great, giving great insights on how the visual style of the film and how it changed at different stages as the film progressed.

Behind the Scenes Footage (8 minutes)

- This is literally behind the scenes footage, mostly of exteriors filmed and has a bit of a 'from afar' feel as there is no voice over, description, titles, explanations. Interesting to watch, but rather unusual and free form style.
Trailer
Unfinished Sky
was released on DVD July 6, 2010 as is available at
Amazon.ca
&
Amazon.com
Shannon's Overall View:
I enjoyed it
I'll watch it again
I'd recommend it to drama fans, especially if you enjoy stories of ordinary people in extraordinary circumstances
Return to Film Reviews
© Shannon Ridler, 2010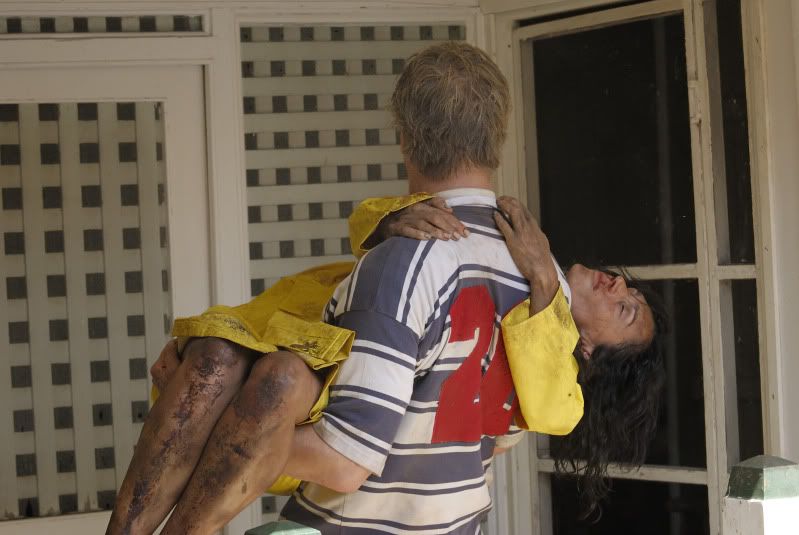 Courtesy of E1 Entertainment