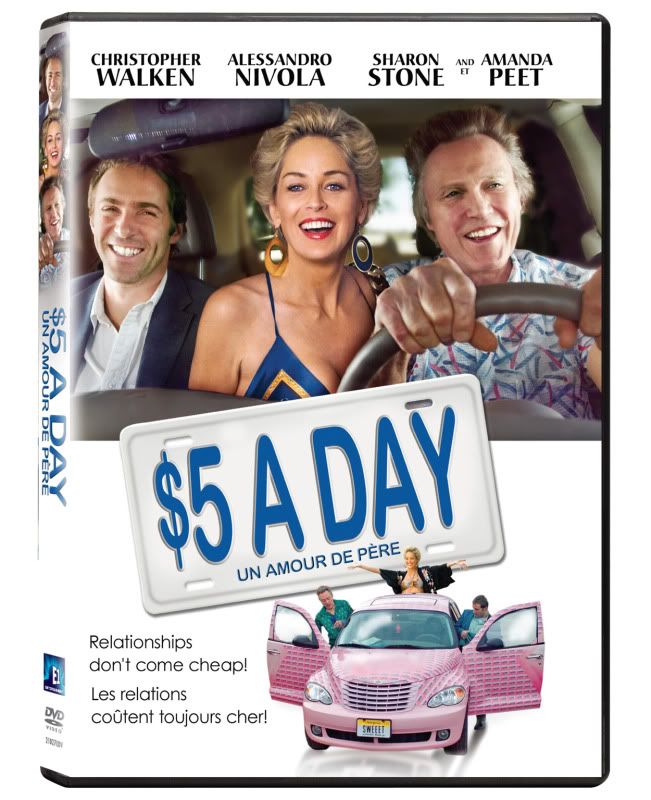 Courtesy of E1 Entertainment
Dir: Nigel Cole (Calender Girls, Saving Grace)
Cast: Alessandro Nivola, Christopher Walken, Sharon Stone, Dean Cain, Peter Coyote, Amanda Peet
USA
,
2009
Reason to see:
Casting got me. Christopher Walken alone would have sold me, but add Alessandro Nivola and Sharon Stone? Awesome.
Alessandro Nivola stars as Flynn, a restaurant health inspector who has actively distanced himself from his father Nat (Christopher Walken). Now Nat is a perpetual conman or creative thinker depending on how you look at it, and he reaches out to his son to in what appears to be one last effort to bury the hatchet between them.
Part road movie and part relationship drama,
$5 a Day
brings a rare form of father/son relationship to the screen. A relationship that is rich with history and where both sides are charismatic and collected in their own lives yet when they try to bridge together they falter in the similarities as well as their differences. It's a really great story and I love that it's an emotional story about a father and son, with an intensity to it that is very accessible and understandable without being too traumatic or trying. It feels very real, but also sweetly weaves in a comedic tone to it as well.
The performances here are the real treat of the film. Christopher Walken is amazing as the charming Nat, who bring a very unique viewpoint on life of being able to living very under the wire with creative financing which sometimes feels clever and other times strays over the line of a con, but his sense of being a genuinely nice human being makes you always wanting to root for him. This could easily have us pitted against Flynn, but we feel for him to from acknowledging his trying past to dealing with his turbulent present. Together the bring together a great sense of family, being people that know each other very well from their faults to their more charming personality traits.
Overall I found it to be a really refreshing watch to see an story of an adult family relationship and the attempt and effort to weave it back together. Both Alessandro Nivola and Christopher Walken are strong at bringing this relationship to the screen and into our hearts.
DVD Extras:
Interviews:

director Nigel Cole (10 minutes) on finding the project, the shoot, emotions casting and more, actors Alessandro Novola (7 minutes), Sharon Stone (6 minutes), Dean Cain (4 minutes), Peter Coyote (4 minutes) and Amanda Peet (2 minutes) on their characters, working together, and overall love and admiration of Christopher Walken. The Peter Coyote interview has some very interesting insights into independent film.


Still Galleries

: Photo Gallery (7 pictures), Production Stills (14 images) and Cast & Crew (13 images)
$5 a Day
is available on DVD as of August 24, 2010. Check it out over at
Amazon.ca
&
Amazon.com
Shannon's Overall View:
I enjoyed it
I'll watch it again
I'd recommend it for fans of dramas centred on family relationships
Return to Film Reviews
or see more
DVD Reviews
© Shannon Ridler, 2010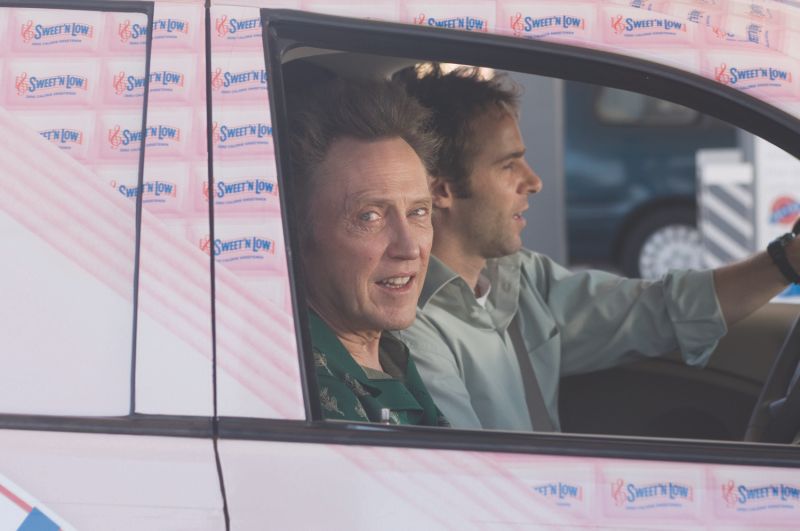 Christopher Walken & Alessandro Nivola. Courtesy of eOne Films