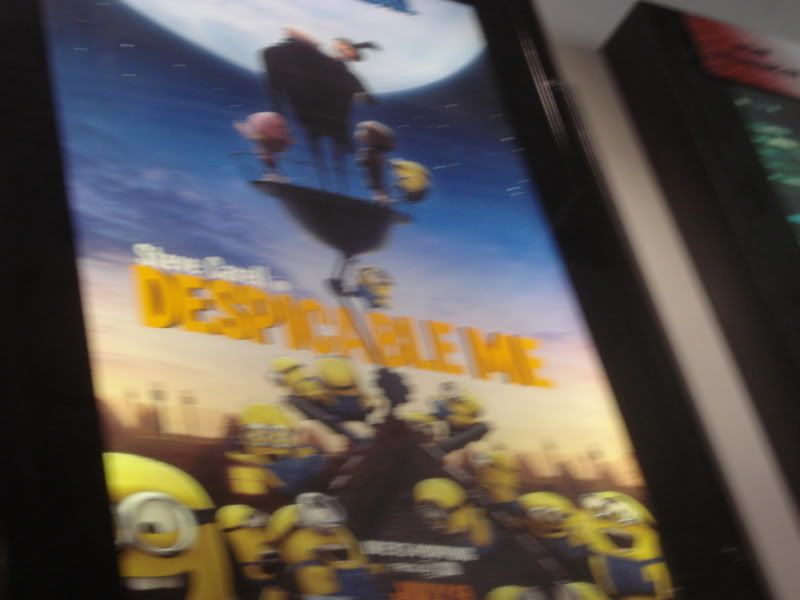 (Ironic that the picture I took is funny, considering it's in 3D and I saw it in 2D)
Dir: Pierre Coffin & Chris Renaud - feature film directorial debuts
Voices: Steve Carell, Miranda Cosgrove, Dana Gaier, Elsie FIsher, Jason Segal, Russell Brand, Julie Andrews, Will Arnett, Kristen Wiig
USA
,
2010
Seen:
July 16, 2010 at AMC in 2D
Reason to see:
Highly recomm
ended to me by
my sister Suzie
Initially, I didn't even consider watching
Despicable Me
. I don't tend to watch a lot of animated films or family films or 3D films, and I couldn't even really tell what it was about from first set of trailers other than that there was evil genius dude and these little yellow creatures. But then,
my sister Suzie
recommend it to me and said I'd like it, and that it had a trio of girls in it and one of them reminded her of me, herself and our sister
Jamie
. Well, there was no way I could resist it after that, and I was so glad because it's a marvelous and lovely film with a lot of heart.
It's a little odd to follow 'marvelous and lovely film' with 'it follows evil genius Gru' (voiced by Steve Carell), but it does. Yes, a film with heart and an evil genius! Off to a good start. Turns out Gru is a bit of an old school/world evil genius that's not quite up to snuff with the new realms of evil geniuses, but he's dedicate to being evil (gotta love dedication), so he launches a new evil plan, muwhahaha! Along the way, three orphan girls Margo, Edith & Agnes (voiced by Miranda Cosgrove, Dana Gaier & Elsie Fisher) cross his path and seem to fit quite perfectly into his evil plan. Did I mention this evil genius has a virtual army of cute little yellow minions to do his bidding, from creating & testing devices to all around general erranding? Yeah. So - we got 3 awesome girls, cute little minions and an evil genius. Making it a recipe for cuteness and hilarity.
Although laced with cuteness and humour, the actual story of the film really hits home on a lot of levels, dealing with themes not being wanted (the orphans) & not fitting in (Gru) that easily translate off screen to the yearning to be wanted, to fit in and to be loved. All very easily relatable there, and although it's filled with fun stuff along with way (especially the zany minions), the is the heart of the film is that it has a heart!
I was so happily surprized with Despicable Me, and I was so delightful to see a story that had so much fun and so much heart. I freely admit that being in a family with lots of siblings and having 2 sisters myself made me really enjoy the trio of girls in this film, but that is really the icing on an already awesome cake.
Shannon's Overall View:
I loved it
I'll buy it
I'd recommend it as a pure fun, cute comedy and a great family film
16 minutes of preshow including 2 commercials and 7 previews:
Nanny McPhee Returns, Tangled, Ramona and Beezus, Smurf'd, Alpha and Omega, Cats and Dogs: The Revenge of Kitty Galore
and
Megamind
Return to Film Reviews
© Shannon Ridler, 2010