Courtesy of eOne Films
Dir: George A. Romero (Night of the Living Dead,
George A. Romero's Diary of the Dead
)
Cast: Alan Van Sprang, Kenneth Welsh, Devon Bostick, Richard Fitzpatrick, Kathleen Munroe
Canada
,
2010
Reason to see:
Zombie films are always a yes for me.
Survival of the Dead
picks up a tangent story via the character of Sarge (Alan Van Sprang) from
George A. Romero's Diary of the Dead
, and leads us is a strangely Western direction - but it totally works! The film centres on a very 'us versus them' scenario, where neither 'us' nor 'them' are actually zombies, but rather two families that have been quarrelling long before the days of a long before the days of the walking (yes, walking... very slowly walking) dead. Of course the zombies add to this conflict between the two patriarch of Seamus Muldoon (Richard Fitzpatrick) and Patrick O'Flynn (Kenneth Welsh), because the two certainly can't agree on anything a lot which in this case includes the treatment of the zombies.
I have to say this is one particular zombie spin I've never seen before not only with the dealings with the zombies but infusing it with a western spin (on an island, no less) gives it the opportunity to pull out a lot of genre recognition laughs that add to the mix of zombie goodness. It also brings lots of fun effects, crazy kills and even sweeping landscapes to the screen.
I love a good zombie movie. They are a great way to have fun, relax and cheer for the slow-walking, non-talking, brain-eating undead and this one does all that and more. The DVD extra for the film are extensive and enthusiastic, you can really tell everyone had a great time being a part of and making the film.
DVD Extras (2 Disc Ultimate Undead Edition):

Introduction by George A. Romero (1 minute),

freaking hilarious introduction

Audio Commentary

with director George A. Romero, executive producer Peter Grunwald,

executive producer/film editor Michael Doherty, actor Kenneth Welsh (Patrick O'Flynn) & second unit director/stunt co-ordinator/actor (Len Muldoon) Matt Birman

. Very entertaining commentary, especially as it's the first look at the film for some people involved. You can really tell they had a great time filming it, and watching it together!

Time with George (9 minutes)

- informative discussion on everything from character inspiration to choice of CGI/pracitcal effects to copyright woes to finances.

HDNet: A Look at Surivial of the Dead (4 minutes)

- featurette with film footage and outlining the film premise, character set up, role of the zombies of the film, zombie lore and zombie rules.

"Walking After Midnight" (76 minute documentary)

- extensive documentary with behind the scenes, days on the set, lots of interviews with cast including several enthusiastic 'feature zombies', interviews with crew including look ad feel of the film, costumes, effects, speculation of what the title of the film would end up being and footage of festival circuit including Venice & TIFF screenings.

"Sarge" short film (4 minutes)

- short film featuring Sarge character played by Alan Van Sprang.

"A Minute of Your Time" shorts - 13 shorts, 20 minutes

- brief moments in time throughout the chronology of the film including festival footage, outtakes, interviews and on on set footage.

Storyboard Comparisons (2 minutes)

- 1 confrontation scene comparison of storyboard to actual film.

How to Create Your Own Zombie Bite (10 minutes)

- absolutely hilarious zombie bite recreation challenge taken on by Backyard FX.
George A. Romero's Survival of the Dead
is available on DVD as of August 31, 2010. Check it out over at
Amazon.ca
&
Amazon.com
Shannon's Overall View:
I enjoyed it
I'll watch it again
I recommend it to zombie film fans, especially of the fun/comedy zombie variety
Return to Film Reviews
or see more
DVD Reviews
© Shannon Ridler, 2009-2010
See original film review during TIFF 2009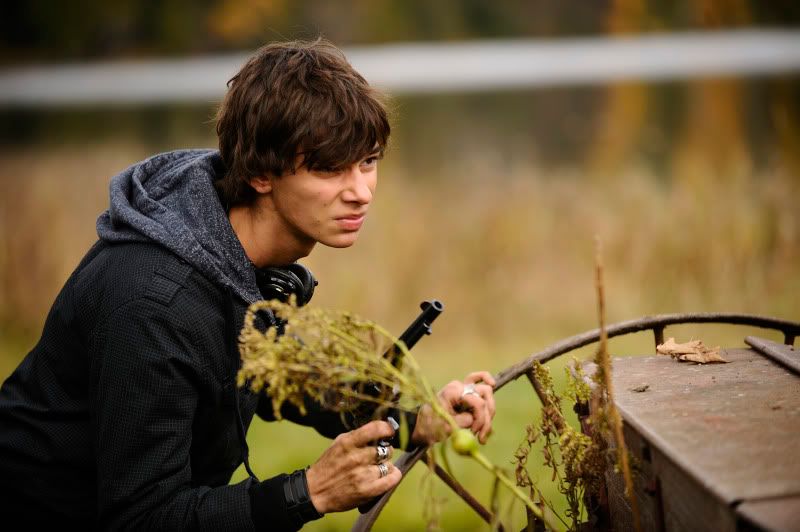 Devon Bostick in Survival of the Dead. Courtesy of E1 Entertainment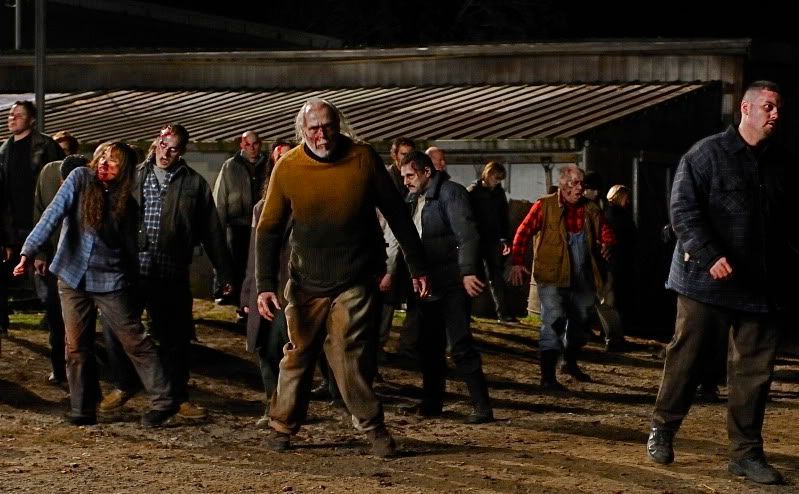 Courtesy of E1 Entertainment