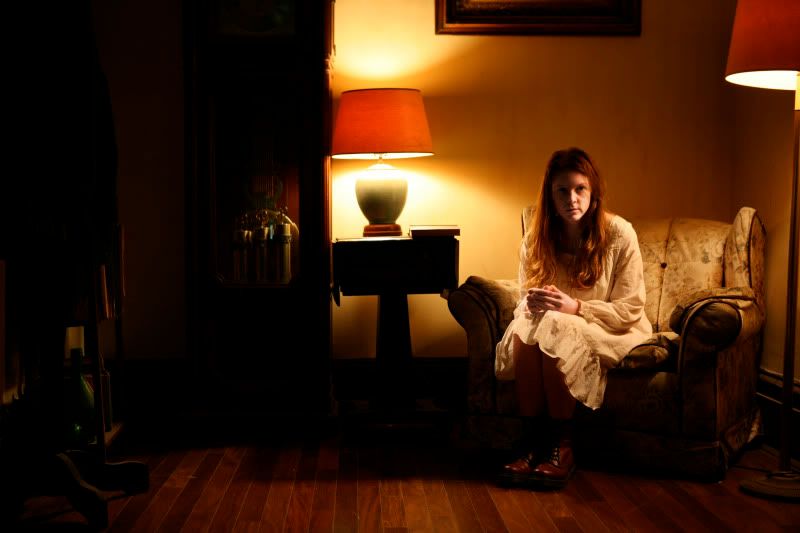 Ashley Bell as Nell in

The Last Exorcism
Dir: Daniel Stamm (A Necessary Death)
Cast: Patrick Fabian, Ashley Bell, Louis Herthum, Iris Bahr, Caleb Landry Jones, Tony Bentley:
USA
,
2010
Seen:
August 2010 as a part of the Toronto After Dark Film Festival
Reason to see:
I'm always up for supernatural
horror
The Last Exorcism
follows Cotton Marcus (Patrick Fabian), a man of the cloth who is setting out to debunk exorcism. Right from the get go that is a great premise giving use a knowledgeable character heading out into his own field to reveal 'the truth', and the amazing thing is even though we know he's a non-believer you still are completely charmed by him and personally, I was rooting for him the entire way. Filling the other half of the exorcism formula is Nell (Ashley Bell), an earnest and sweet-as-pie girl whose family has been started to see all the signs of the possessed. The film makes great use of documentary style film making to reel you in to the characters and their worlds, subtly bringing a very real closeness to the viewer of the situation and the realities in which the characters live.
One of the things I loved about the film was that it never dismissed or brushed off the beliefs of the characters, even if the audience might think that someone is off the rails, we still believe that they are off the rails - and that only makes it more scare. This created reality is one of the reasons that the film works so well because you never question anyones actions or motivations, and for that you have to give huge props not only to the story but also to the actors. Patrick Fabian is so charismatic as Cotton Marcus, giving a larger than life performance when he's 'on', but we also see and believe that he's a genuinely caring human being as well. Ashely Bell is a force to be reckoned with as the ever so sweet and earnest Nell, that you can't help but like her, feel for her and fear for her character. And the icing on the cake here is that everything you see in the film was actually done by Ashely Bell, no effects here it's all pure talent. It's astonishing.


The Last Exorcism
is everything I want to see in a horror movie. It's suspenseful, it's scary, it's got a great story and characters you actually care about. In short, it's absolutely brilliant.
See also:
Shannon's Overall View:
I thoroughly enjoyed it
I'll buy it
I highly recommend it to fans of horror, drama and thrillers
Return to Film Reviews
© Shannon Ridler, 2010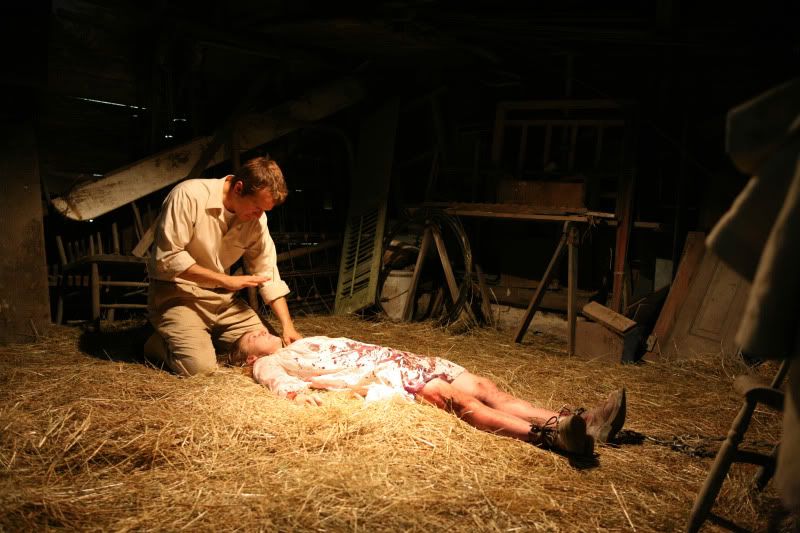 Patrick Fabian as Cotton Marcus and Ashley Bell as Nell in

The Last Exorcism