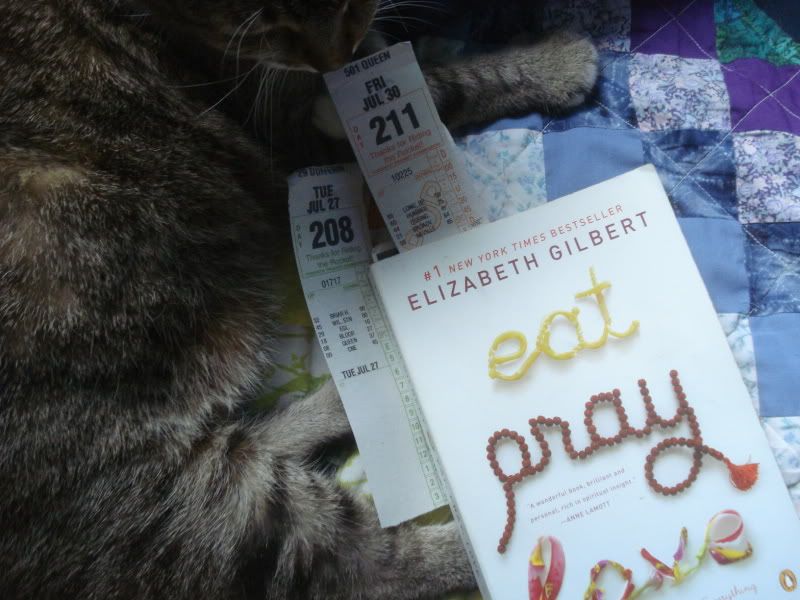 I think June must have been a crazy epic book reading month, because in July I 'only' got through 9 books and somehow that doesn't seem to compare with June's crowning 12. That 9 doesn't take into account the only partially read The Girl Who Played with Fire, which I had to return to the library before finishing it! I will get it again someday though! Now let's look at a selection of books that I did read in July, mostly ones for the
2010 Book to Film Challenge
.
Eat Pray Love by Elizabeth Gilbert
I absolutely adored this book. I had borrowed it from my sister years ago, before there was even mention of it being a film. I tried to read it years ago but I just couldn't do it, because it was at the time way to close to home. But now, I adored it. Reading the book, which is a 1 year memoir through Italy, India and Indonesia, is literally reading the journey of the author in search of everything, including herself. Inspiring, refreshingly open & honest and completely realitble, I'm delighted it enjoyed
158 weeks on the New York Times Best Sellers list
and I think all of my women friends have already read it so I feel really behind on this sucker but I'm so glad that I waited to read it, because trying to push through it years ago would have been not the right thing to do. Reading it now was perfect. I loved it. It was delightful, healing, truthful and powerful. Oddly, the reason to read predates the fact that's it is going to be a film, although it was inspiration to get through it before the films release on August 13, 2010. The film version stars Julia Roberts as Liz, with a supporting cast of Billy Crudup (Stephen) James Franco (David), Richard Jenkins (Richard) and Javier Bardem (Felipe). I hope the film stays very true to the journey of the book.
Harry Potter and the Goblet of Fire by J.K. Rowling (re-read) Book 4 of 7
Harry Potter reading countdown continues, as the plan is to read all of them before film 7.1 comes out in November. The Goblet of Fire is when the books blossom from a weekend read / very literal film adaptation to holy smokes that's a big sucker of a book / major adaptation to the film. This is the first book where I found huge elements were cut from book to film, albeit at 650 pages, you kind of have to. There is some shuffling of who does what and some characters completely omitted, but I think it's a solid adaptation, and I even like the film better in a lot of ways - specifically the art director of the World Cup and the Yule Ball - absolutely amazing. When I
reviewed the film last year
I noted and pondered on some odd gender things, and the book confirms that French school was not an all-girls only school, and I really wish they kept it that way in the film. Oddly it's never said one way or another if the Bulgarian school is just guys. Neville seems to be oddly inconsistent on the more or less scale here, I think in this one he's in the film more than the books - and who doesn't love Neville?
The Voyage of the Dawn Treader by C.S. Lewis, Narina book # ? I can't figure out the order
So a while ago we finally got a
trailer
for The Voyage of the Dawn Treader, which made me quick run and request a copy of the book although I was going to leave it for way later in the year. Resistance was broken and I had to read it and boy did I read it quickly, one day and mostly in transit being out and about on the town. What keeps me away from this series, although I always keep thinking it won't be there, is that it has some really strong religious undertones and analogies. I do like how they've done the film adaptations though, where that isn't as prevalent, it's like they found a happy medium where if it's something that is meaningful for you it's present and you can embrace it, but if it will rub you the wrong way it isn't so overt that it will throw you out of the film. Back to the book though, I was surprized that the trailer showed Susan and Peter as they aren't really in the book, which is more so the adventure is Lucy, Edmund, Caspian, Reepicheep and a new character Eustace whom I wrote in my notes as 'a bit of a git'. It story was sweeping adventure stuff all over the place and was overall a lot of fun and now I'm really looking forward to the film which hits theatres December 10, 2010 (in 3D).
Percy Jackson and the Olympians: The Titan's Curse by Rick Riordan (book 3 of 5)
Last up for this month is continuing the Percy Jackson series, and I'm continuing to really enjoy the books. Although I'm not super keen on their take on Artemis, which is an interesting interpretation but very keep women/men separate from each other, I love that Artemis is *in* the book. The series is a really fun take on Greek Mythology, not only in being very clever but often in being funny. I think this installment really enjoys going epic and really has things that would be stunning visually, I can totally see why they'd make these film adaptations because I could literally see what was happening while reading. It also gracefully incorporates Percy learning responsibility and the affect actions and decisions have giving really great character development. I can't wait to dive into Book 4!
This puts me at 15/20 of the books read for the
2010 Book to Film Challenge
with only what's left being
Harry Potter 5 - 7
,
The Tempest
and
Return of the King
which I never got through earlier this year. Looking promising to complete by the end of the year!
Fellow readers, feel free to friend me over at
GoodReads
!