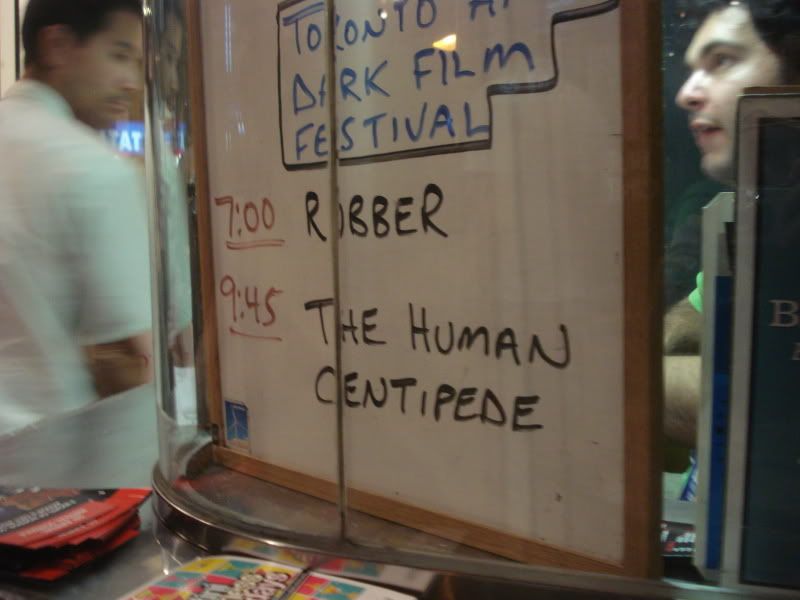 Writing about the last day at the
Toronto After Dark Film Festival
is happy and sad all at the same time. Happy because the films of the evening were fantastic, but sad as it was the last day and now we have to wait a whole year until it's return! Ah, best to remember the good times because there certainly were a lot of them!
Check out my
Day 8 Vlog
& videos from closing night at the festival including
Rubber

&

The Human Centipede

introductions
.
Rubber
Writer/Dir: Quentin Dupieux
Cast: Thomas F. Duffy, Roxane Mesquida, Remy Thorne, Wings Hauser,
France
Rubber
was easily one of if not the highest buzzed film of the festival this year, and from the concept alone certainly got people intrigued. That concept being a sentient, killer tire. Now that could have gone wrong, or boring, very easily but what sets the film apart is that it really understands film audiences and therefore has the ability to make not only a truly hilarious, but also a rather engaging film. After having the chance to see
Rubber
, it's no surprize that it's gone over brilliantly on the festival circuit, and in addition to playing at Toronto After Dark it has also played at Cannes, Fantasia, Melbourne and will also be screened at the upcoming Fantastic Fest. Truly a film for film fans of any genre, it's highly accessible (although has it's fair share of gore), smart, original and even exceeded my already high expectations. I can't wait to see it again, and would love to see it get played at regular theatres. If you get a chance to see it, take it - it's worth it.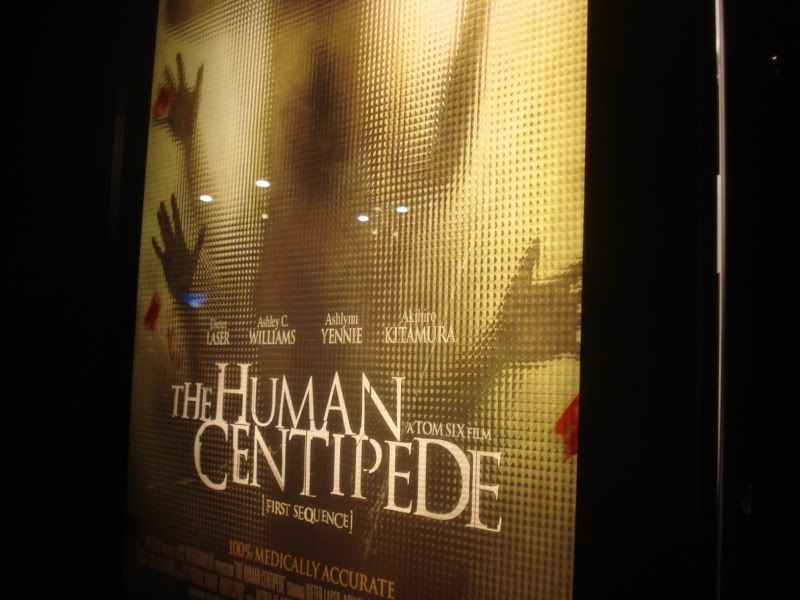 The Human Centipede (First Sequence)
Writer/Dir: Tom Six
Cast: Dieter Laser, Ashley C. Williams, Ashlynn Yennie, Akihiro Kitamura
The Netherlands
Pre-review Warning:
the concept along of the film is so gross that you might not want to read this review if surgical horror creeps you out.
Easily the most conceptually revolting film of the festival,
The Human Centipede
is centred on the medically accurate (shiver) idea of surgically connecting human bodies to create a human centipede. Talk about very literal dehumanization, plus complete grossness and add a lot of terrorizing to boot, this film is not for the faint of heart. It's been interesting to hear peoples reaction to the film, some think it was less gory than they expected, some appreciate that it's mostly conceptual and I think overall it's really the idea itself that completely creeps us all out. My reaction is that I was a little surprized at how it was over the top at times, especially with the performance of the evil doctor played by Dieter Laser, but seeing it with an audience actually made that over the top-ness a highlight. I (oddly) didn't anticipate just how disturbing the idea of someone being able to be detached enough from humanity to be able to perform such awful things would be so affecting, for me that was for me the real horror of it. The dehumanization, the ambivalence, the not seeing humans as humans, those qualities have huge potential for extremely disturbing horror. Although I found some of the acting uneven, I do have to give huge kudos to the Ashley C. Williams, Ashlynn Yennie and Akihiro Kitamura - I can't even imagine what the filming this film would be like. They are all very brave actors to take on such bizarre and challenge roles.
Missed it? Need to see this surgical horror again? You are in luck,
The Human Centipede
opens in Toronto on on Saturday August 28, 2010 at
The Toronto Underground
.
The
Toronto After Dark Film Festival
2010 ran from August 13 - 20, 2010 at the
Bloor Cinema
, Toronto, Ontario, Canada.