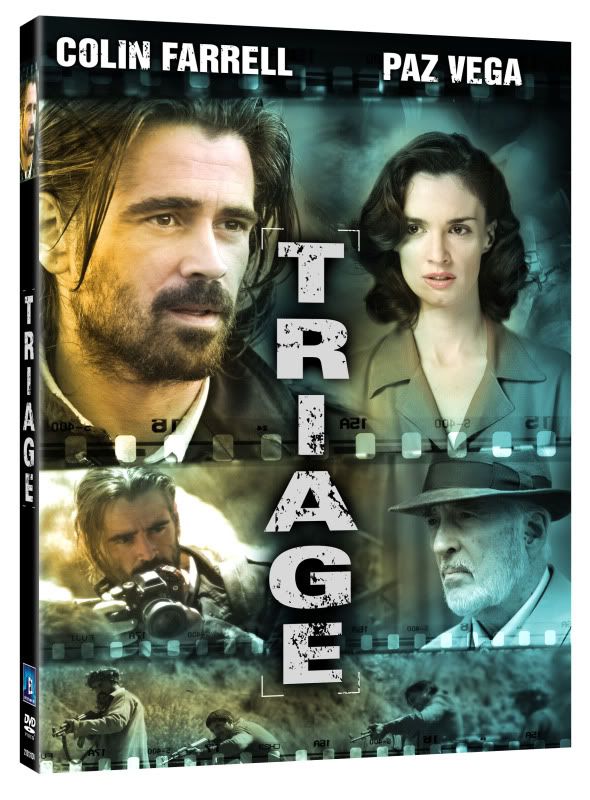 Courtesy of E1 Entertainment
Writer/Dir: Danis Tanovic (No Man's Land)
Cast: Colin Farrell, Paz Vega, Kelly Reilly, Jamie Sives, Branko Djuric, Christopher Lee
Ireland
/
Spain
/
Belgium
/
France
,
2009
Reason to see:
Missed it at TIFF'09
Triage
stars Colin Farrell as a resilient war photographer Mark Walsh, whom along with his friend and fellow photographer David (played by Jamie Sives), balance, or don't balance, their lives as photographers with their home lives with their wives (Paz Vega and Kelly Reilly).
Through the film we see the horror of war on a very personal yet distance level, clearly showing the perspective of being a physical presence yet not a participant in war as they show through the experience of the photographers. The film also deals with thematically with the different levels of engagement and the reactions of dealing and not dealing with the experiences that the characters go through. What happens when we pretend not to care? It is possible to maintain a continued distance? Does everyone have a breaking point? If so, what is it - and what happens afterwards? Is it possible to pick up the pieces or do you go past the point of no return?
The film asks and presents the audience with a lot of powerful questions, all the while showing us different perspectives of the situation through different characters in the film from Mark himself, to his wife, to their friends and coworkers and beyond. It also shows the complexity of sensitive nature of trying to help those who have gone through and seen such horrific events, from painful resistance to various methods of psychology all trying to achieve to goal of healing.
It's a powerful, although hard, film to sit through. The performances here are very strong, in particular with Colin Farrell, Kelly Reilly and the ever-amazing Christopher Lee. As a study of human nature and the horrors of war, it's very adept and rather sensitively tells a truly hard story.
Warnings:
disturbing imagery
DVD Extras:
The "Making of" Triage Featurette (19 minutes)

- commentary from writer/director Danis Tanovic, producers Cédomir Kolar & Alan Moloney and actors Colin Farrell, Paz Vega, Christopher Lee, Kelly Reilly, Jamie Sives & Branko Djuric discussing the film, it's message, the characters and working together. A fair amount of this footage is also included in the Soundbites special feature.

Soundbites (27 minutes)

- interview responses from cast & crew including writer/director Danis Tanovic discussing the book to script process, casting and message of the film. Also responses from actors Colin Farrell (Mark Walsh), Paz Vega (Elana Morales), Christopher Lee (Joaquín Morales), Kelly Reilly (Diane), Jamie Sives (David), Branko Djuric (Dr. Talzani) on their characters, the script and working with each other.

B-Roll Footage (9 minutes)

- on location footage of scenes with Mark Walsh (Colin Farrell) and Dr. Talzani (Branko Djuric).
Triage
is available on DVD as of August 10, 2010. Check it out over at
Amazon.ca
&
Amazon.com
Shannon's Overall View:
I thought it sensitively handled very strong content
I'd not watch it again, due to the disturbing imagery and content
I'd recommend it people who like drama based war films & films that study human nature
Return to Film Reviews
or see more
DVD Reviews
© Shannon Ridler, 2010

Colin Farrell as Mark Walsh. Courtesy of E1 Entertainment