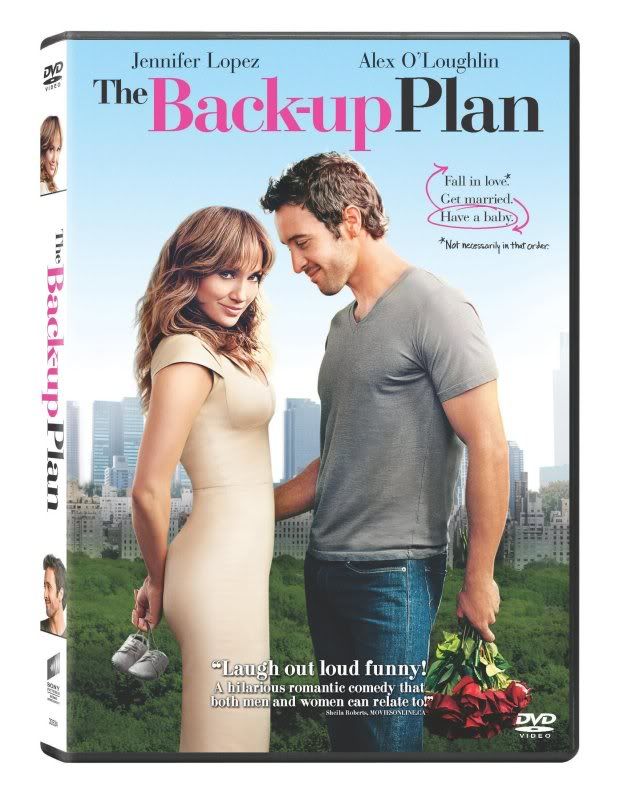 Dir: Alan Poul - feature film directorial debut
Cast: Jennifer Lopez, Alex O'Loughlin, Michaela Watkins, Eric Christian Olsen, Noureen DeWulf, Linda Lavin, Melissa McCarthy, Maribeth Monroe, Anthony Anderson, Robert Klein
USA
,
2010
Reason to see:
I'm very curious at the current trend in pregnancy comedies. And, after watching "Moonlight" I think see anything Alex O'Loughlin is in.
Jennifer Lopez stars as Zoe, a woman who's decided she wants a baby and isn't going to wait for the 'the elusive one' anymore, and heads out to be artificially inseminated. And because we all know when you finally give up on something, it *shows* up, enter Stan (Alex O'Loughlin of "Moonlight",
Whiteout
) the cute cab thief and of course, romantic interest.
In a lot of ways
The Back-Up Plan
plays as a double protagonist film film with Zoe dealing with her pregnancy, her mostly non-supportive friends and support group and being resistant to a new relationship; then we also see Stan being interested in the relationship but freaking out on being a hyper-fast land of possible parenthood. I quite enjoyed how they showed both of their journeys, it allowed for lots of opportunity for giggles, where each sides got to voice their excitement, concerns, or denials about the situation. We also get a freaking hilarious performance by Michaela Watkins as Zoe's friend Mona that has to be seen to be believed.
One of the things I I absolute adored about the film was the frankness, but not crudeness, of the dialogue as it relates to women's bodies, pregnancy, birth and the effects. Although humour comes into play, it's just funny and not degrading. It's sad how infrequent we see this in films, but here it plays it very close to straight which makes it all the more funny.
Alex O'Loughlin is pretty freaking perfect in the film, and it's few and far between the women I know who don't swoon when his name comes up. His does the leading man job very well with a character that is really pitch perfect, so much so that it's hard to believe he's single. But the thing is, who cares – this is where the fantasy of fiction comes into play in all the right ways, he says all the right things at all the right times. What doesn't feel quite all at the right times though is the arc of Zoe's pregnancy, there no time makers (seasons, calender, titles) other than symptoms and stomach size to let us know how far along she was, and sometimes it didn't quite jive - some things felt too early for the pregnancy or the relationship didn't feel aligned in time with the pregnancy. But I did like that Zoe's character isn't perfect, and that she has a very interesting and believable story which is gently unfolded.
The film is really about relationships, family and choices in a different way than I was expecting. In brings up to the forefront what could be considered more unconventional ideas, but does it in pretty conventional ways which keeps them very accessible. Overall, it's cute, it's frank, it's funny, the leads are ridiculously likable and the story is both sweet and hits on enough truth markers to reel us in.
DVD Extras:
Belly Laughs: Making The Back-Up Plan (11 minutes)

- featurette including behind the scenes, scenes from the film and interviews with director Alan Poul, writer Kate Angelo on inspiration and the idea, and actors Jennifer Lopez, Alex O'Loughlin, Eric Christian Olsen, Noureen DeWulf, Anthony Anderson, Michaela Watkins, Robert Klein, Linda Lavin and Tom Bosley on their characters, working together and films concept. The Michael Watkins & Robert Klein interviews are particularly funny, and everyone has glowing & wonderful things to say about Jennifer Lopez.

Deleted Scenes - 4 scenes (5 minutes)

- some extended, some deleted and all are well worth checking out for insight into the characters and some great moments.
The Back-Up Plan
is currently available on DVD. Check it out over at
Amazon.ca
&
Amazon.com
Shannon's Overall View:
I enjoyed it
I'll watch it again
I recommend it to fans of romantic comedies
Return to Film Reviews
or see more
DVD Reviews
© Shannon Ridler, 2010